Gretchen A. Gignac MD
Clinical Associate Professor, Hematology & Medical Oncology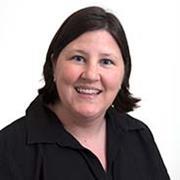 Sections
Hematology & Medical Oncology
Centers
BU-BMC Cancer Center
Evans Center for Interdisciplinary Biomedical Research
Biography
I am a medical oncologist who has clinical and research expertise in genitourinary medical oncology as well as clinical trials. My clinical practice is at Boston Medical Center and includes adult patients with cancers of the prostate, kidney, bladder, testicles and penis, as well as other solid cancers. My treatment expertise is in hormonal agents, chemotherapy, immunotherapy, targeted therapies, radioactive pharmaceuticals, bone targeted therapies, supportive and palliative care. I am also an educator in the Chobanian and Avedisian School of Medicine and Boston Medical Center Hematology and Oncology Fellowship Program.
Education
MD, University of Pennsylvania School of Medicine, 2001
BA, University of Rochester, 1997
Publications
Published on 1/1/2023
Gunn CM, Li EX, Gignac GA, Pankowska M, Loo S, Zayhowski K, Wang C. Delivering Genetic Testing for Patients with Prostate Cancer: Moving Beyond Provider Knowledge as a Barrier to Care. Cancer Control. 2023; 30:10732748221143884. PMID: 36946278.
Published on 11/4/2022
Jafari N, Chen A, Kolla M, Pompa IR, Qiu Y, Yu R, Llevenes P, Ennis CS, Mori J, Mahdaviani K, Halpin M, Gignac GA, Heaphy CM, Monti S, Denis GV. Novel plasma exosome biomarkers for prostate cancer progression in co-morbid metabolic disease. Adv Cancer Biol Metastasis. 2022 Dec; 6. PMID: 36644690.
Published on 6/16/2022
Quintiliani LM, Murray GF, Waite K, Salerno K, Gignac GA, Yuh D, Volandes A, Paasche-Orlow MK. "I'm in My Feelings Now": Examination of Advance Care Planning Video Declarations by People with Advanced Cancer from a Safety Net Hospital. J Palliat Med. 2023 Jan; 26(1):28-34. PMID: 35708552.
Published on 4/11/2022
Mori JO, Shafran JS, Stojanova M, Katz MH, Gignac GA, Wisco JJ, Heaphy CM, Denis GV. Novel forms of prostate cancer chemoresistance to successful androgen deprivation therapy demand new approaches: Rationale for targeting BET proteins. Prostate. 2022 Jun; 82(10):1005-1015. PMID: 35403746.
Published on 2/22/2020
Chua S, Qureshi MM, Boyd G, Gignac GA, Hirsch AE. Outcomes for Young Men With Localized Intermediate-Risk Prostate Cancer: An Analysis of the NCDB. Clin Genitourin Cancer. 2020 10; 18(5):e531-e542. PMID: 32220567.
Published on 6/13/2018
Karantanos T, Karanika S, Seth B, Gignac G. The absolute lymphocyte count can predict the overall survival of patients with non-small cell lung cancer on nivolumab: a clinical study. Clin Transl Oncol. 2019 Feb; 21(2):206-212. PMID: 29948974.
Published on 12/13/2017
Kan CK, Qureshi MM, Gupta A, Agarwal A, Gignac GA, Bloch BN, Thoreson N, Hirsch AE. Risk factors involved in treatment delays and differences in treatment type for patients with prostate cancer by risk category in an academic safety net hospital. Adv Radiat Oncol. 2018 Apr-Jun; 3(2):181-189. PMID: 29904743.
Published on 9/1/2016
Karantanos T, Karanika S, Gignac G. Uncontrolled diabetes predicts poor response to novel antiandrogens. Endocr Relat Cancer. 2016 Sep; 23(9):691-8. PMID: 27515296.
Published on 4/22/2015
Gunnarsson O, Basaria S, Gignac GA. Cardiometabolic and skeletal risk factors in black men with prostate cancer starting androgen deprivation therapy. Cancers (Basel). 2015; 7(2):679-87. PMID: 25913100.
Published on 5/20/2011
Gunnarsson O, Basaria S, Gignac G. The prevalence of metabolic risk factors in black men with prostate cancer undergoing consideration for androgen-deprivation therapy. J Clin Oncol. 2011 May 20; 29(15_suppl):e15082. PMID: 28020432.
View full list of 20 publications.