Gordon M. Burke MD
Adjunct Instructor, Cardiovascular Medicine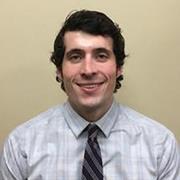 Sections
Cardiovascular Medicine
Education
MD, New York University School of Medicine, 2011
Interdisciplinary Sciences & Urban Studies, BA, Eugene Lang College, 2007
Publications
Published on 10/1/2021
Burke GM, Araujo Silva B, Marum AA, Bortolotto AL, Nearing BD, Chen MJ, Fostello S, Popma JJ, Verrier RL, Chang JD. Speckle tracking strain and ECG heterogeneity correlate in transcatheter aortic valve replacement-induced left bundle branch blocks and right ventricular paced rhythms. Open Heart. 2021 10; 8(2). PMID: 34611017.
Published on 8/19/2020
Boden WE, Burke GM. Will REFINE Resurrect the "Ischemia Hypothesis"? JACC Cardiovasc Imaging. 2021 03; 14(3):654-656. PMID: 32828767.
Published on 8/26/2019
Kiefer NJ, Salber GC, Burke GM, Chang JD, Guibone KA, Popma JJ, Hahn RT, Pinto DS, Strom JB. The Impact of Basal Septal Hypertrophy on Outcomes after Transcatheter Aortic Valve Replacement. J Am Soc Echocardiogr. 2019 11; 32(11):1416-1425. PMID: 31466847.
Published on 8/8/2017
Burke GM, Genuardi M, Shappell H, D'Agostino RB, Magnani JW. Temporal Associations Between Smoking and Cardiovascular Disease, 1971 to 2006 (from the Framingham Heart Study). Am J Cardiol. 2017 Nov 15; 120(10):1787-1791. PMID: 28865894.
Published on 1/6/2014
Burke GM, Wang N, Blease S, Levy D, Magnani JW. Assessment of reproducibility--automated and digital caliper ECG measurement in the Framingham Heart Study. J Electrocardiol. 2014 May-Jun; 47(3):288-93. PMID: 24792985.
Published on 11/1/2012
Burke GM, Sica DA, Frishman WH. Renal sympathetic denervation for the treatment of systemic hypertension. Cardiol Rev. 2012 Nov-Dec; 20(6):274-8. PMID: 22717655.
Published on 4/1/2009
Burke GM, Burke AM, Sherma AK, Hurley MC, Batjer HH, Bendok BR. Moyamoya disease: a summary. Neurosurg Focus. 2009 Apr; 26(4):E11. PMID: 19335127.
Published on 7/11/2007
Samanta J, Burke GM, McGuire T, Pisarek AJ, Mukhopadhyay A, Mishina Y, Kessler JA. BMPR1a signaling determines numbers of oligodendrocytes and calbindin-expressing interneurons in the cortex. J Neurosci. 2007 Jul 11; 27(28):7397-407. PMID: 17626200.
View full list of 8 publications.