Giovanni Ligresti PhD
Associate Professor, Rheumatology
Graduate Faculty (Primary Mentor of Grad Students)
72 East Concord Street | (617) 358-6786

ligresti@bu.edu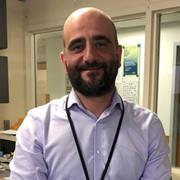 Centers
Arthritis & Autoimmune Diseases Research Center
Pulmonary Center
Biography
My laboratory focuses on lung repair and pulmonary fibrosis. We are currently investigating molecular mechanisms implicated in the differentiation of lung fibroblasts into myofibroblasts during lung fibrosis, with particular emphasis on transcriptional and epigenetic mechanisms driving persistent fibrogenesis in idiopathic pulmonary fibrosis (IPF). We have recently discovered that in the lung, myofibroblast differentiation occurs through the engagement of chromatin modifier enzymes and epigenetic readers. We found that the histone methyltransferase G9a and the epigenetic reader CBX5 play a critical role in lung fibroblast activation, and that targeting these epigenetic modifiers enhanced mitochondrial function, blocked ECM protein secretion, and attenuated lung fibrogenesis.
In addition, my laboratory is interested in investigating the impact of aging on the development of pulmonary fibrosis. We have recently discovered that the endothelium of aged mouse lungs is dysfunctional and this abnormality leads to capillary loss and persistent lung fibrosis following injury. Using a multi-omics approach (RNA-seq, ATAC-seq, and scRNA-seq) we have identified transcriptional programs in lung endothelial cells orchestrating lung vascular repair and whose abnormal activation with aging leads to persistent lung fibrosis.
Education
Biomedical Sciences, PhD, University of Trieste, 2008
MS, University of Trieste, 2004
Biology, BS, University of Trieste, 2000
Publications
Published on 7/25/2022
Caporarello N, Lee J, Pham TX, Jones DL, Guan J, Link PA, Meridew JA, Marden G, Yamashita T, Osborne CA, Bhagwate AV, Huang SK, Nicosia RF, Tschumperlin DJ, Trojanowska M, Ligresti G. Dysfunctional ERG signaling drives pulmonary vascular aging and persistent fibrosis. Nat Commun. 2022 Jul 25; 13(1):4170. PMID: 35879310.
Published on 5/1/2022
Ligresti G, Pham TX, Sanders YY. Circular RNA Methylation: A New Twist in Lung Fibrosis. Am J Respir Cell Mol Biol. 2022 May; 66(5):471-472. PMID: 35238732.
Published on 3/22/2022
Pham TX, Lee J, Guan J, Caporarello N, Meridew JA, Jones DL, Tan Q, Huang SK, Tschumperlin DJ, Ligresti G. Transcriptional analysis of lung fibroblasts identifies PIM1 signaling as a driver of aging-associated persistent fibrosis. JCI Insight. 2022 Mar 22; 7(6). PMID: 35167499.
Published on 12/17/2021
Ring NAR, Volpe MC, Stepišnik T, Mamolo MG, Panov P, Kocev D, Vodret S, Fortuna S, Calabretti A, Rehman M, Colliva A, Marchesan P, Camparini L, Marcuzzo T, Bussani R, Scarabellotto S, Confalonieri M, Pham TX, Ligresti G, Caporarello N, Loffredo FS, Zampieri D, Džeroski S, Zacchigna S. Wet-dry-wet drug screen leads to the synthesis of TS1, a novel compound reversing lung fibrosis through inhibition of myofibroblast differentiation. Cell Death Dis. 2021 12 17; 13(1):2. PMID: 34916483.
Published on 5/23/2021
Nicosia RF, Ligresti G, Caporarello N, Akilesh S, Ribatti D. COVID-19 Vasculopathy: Mounting Evidence for an Indirect Mechanism of Endothelial Injury. Am J Pathol. 2021 08; 191(8):1374-1384. PMID: 34033751.
Published on 5/3/2021
Jones DL, Meridew JA, Link PA, Ducharme MT, Lydon KL, Choi KM, Caporarello N, Tan Q, Diaz Espinosa AM, Xiong Y, Lee JH, Ye Z, Yan H, Ordog T, Ligresti G, Varelas X, Tschumperlin DJ. ZNF416 is a pivotal transcriptional regulator of fibroblast mechanoactivation. J Cell Biol. 2021 05 03; 220(5). PMID: 33625469.
Published on 4/1/2021
Tan Q, Link PA, Meridew JA, Pham TX, Caporarello N, Ligresti G, Tschumperlin DJ. Spontaneous Lung Fibrosis Resolution Reveals Novel Antifibrotic Regulators. Am J Respir Cell Mol Biol. 2021 04; 64(4):453-464. PMID: 33493091.
Published on 3/22/2021
Fortier SM, Penke LR, King D, Pham TX, Ligresti G, Peters-Golden M. Myofibroblast dedifferentiation proceeds via distinct transcriptomic and phenotypic transitions. JCI Insight. 2021 03 22; 6(6). PMID: 33561015.
Published on 10/5/2020
Ji S, Traini C, Mischopoulou M, Gibbons SJ, Ligresti G, Faussone-Pellegrini MS, Sha L, Farrugia G, Vannucchi MG, Cipriani G. Muscularis macrophages establish cell-to-cell contacts with telocytes/PDGFRa-positive cells and smooth muscle cells in the human and mouse gastrointestinal tract. Neurogastroenterol Motil. 2021 03; 33(3):e13993. PMID: 33020982.
Published on 9/3/2020
Vivarelli S, Falzone L, Ligresti G, Candido S, Garozzo A, Magro GG, Bonavida B, Libra M. Role of the Transcription Factor Yin Yang 1 and Its Selectively Identified Target Survivin in High-Grade B-Cells Non-Hodgkin Lymphomas: Potential Diagnostic and Therapeutic Targets. Int J Mol Sci. 2020 Sep 03; 21(17). PMID: 32899428.
View full list of 51 publications.