George J. Murphy PhD
Associate Professor, Hematology & Medical Oncology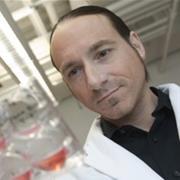 Sections
Hematology & Medical Oncology
Centers
Center of Excellence in Sickle Cell Disease
Center for Regenerative Medicine
Pulmonary Center
Evans Center for Interdisciplinary Biomedical Research
Biography
I have developed an approach to science that utilizes multiple stem cell-based platforms to answer basic biological questions and combat human disease. My current research portfolio is a direct reflection of my evolution as a scientist in which my early studies of hematopoietic development led to the generation of useful tools and reagents as well as methodologies and insights that synergized into a potent platform in the emerging and rapidly expanding field of pluripotent stem cell biology. My group is composed of dynamic and passionate young researchers and together we have impacted the following areas of investigation:

1.) Developmental hematopoiesis
2.) The generation, culture, and directed differentiation of pluripotent stem cells
3.) Pluripotent stem cell-based modeling of hematopoiesis: a Platform for Production of Transfusable Human Blood Cells
4.) Pluripotent Stem Cell Modeling of Human Disease: The 'Clinical Trial in a Test Tube': Sickle Cell Anemia; Amyloidosis
5.) Understanding the molecular and functional basis of exceptional longevity: Dissecting resistance to aging-related disease
Other Positions
Education
Cell & Molecular Biology, PhD, University of Oxford, 2002
Biology, BS, Trinity College, 1993
Publications
Published on 3/31/2023
Karagiannis TT, Dowrey TW, Villacorta-Martin C, Montano M, Reed E, Belkina AC, Andersen SL, Perls TT, Monti S, Murphy GJ, Sebastiani P. Multi-modal profiling of peripheral blood cells across the human lifespan reveals distinct immune cell signatures of aging and longevity. EBioMedicine. 2023 Apr; 90:104514. PMID: 37005201.
Published on 11/3/2022
Heinze D, Park S, McCracken A, Haratianfar M, Lindstrom J, Villacorta-Martin C, Mithal A, Wang F, Yang MW, Murphy G, Mostoslavsky G. Notch activation during early mesoderm induction modulates emergence of the T/NK cell lineage from human iPSCs. Stem Cell Reports. 2022 Dec 13; 17(12):2610-2628. PMID: 36332629.
Published on 7/19/2022
Sae-Lee W, McCafferty CL, Verbeke EJ, Havugimana PC, Papoulas O, McWhite CD, Houser JR, Vanuytsel K, Murphy GJ, Drew K, Emili A, Taylor DW, Marcotte EM. The protein organization of a red blood cell. Cell Rep. 2022 Jul 19; 40(3):111103. PMID: 35858567.
Published on 4/11/2022
Teo WW, Cao X, Wu CS, Tan HK, Zhou Q, Gao C, Vanuytsel K, Kumar SS, Murphy GJ, Yang H, Chai L, Tenen DG. Non-coding RNA LEVER sequestration of PRC2 can mediate long range gene regulation. Commun Biol. 2022 Apr 11; 5(1):343. PMID: 35411071.
Published on 3/7/2022
Vanuytsel K, Yeung AK, Dowrey TW, Murphy GJ, Belkina AC. CPHEN-013: Comprehensive phenotyping of hematopoietic stem and progenitor cells in the human fetal liver. Cytometry A. 2022 Nov; 101(11):903-908. PMID: 35253987.
Published on 3/1/2022
Vanuytsel K, Villacorta-Martin C, Lindstrom-Vautrin J, Wang Z, Garcia-Beltran WF, Vrbanac V, Parsons D, Lam EC, Matte TM, Dowrey TW, Kumar SS, Li M, Wang F, Yeung AK, Mostoslavsky G, Dries R, Campbell JD, Belkina AC, Balazs AB, Murphy GJ. Multi-modal profiling of human fetal liver hematopoietic stem cells reveals the molecular signature of engraftment. Nat Commun. 2022 03 01; 13(1):1103. PMID: 35232959.
Published on 2/4/2022
Sun Y, Habara A, Le CQ, Nguyen N, Chen R, Murphy GJ, Chui DHK, Steinberg MH, Cui S. Pharmacologic induction of PGC-1a stimulates fetal haemoglobin gene expression. Br J Haematol. 2022 Apr; 197(1):97-109. PMID: 35118652.
Published on 1/8/2022
Giadone RM, Ghosh, S, Murphy GJ. Editor(s): Alexander Birbrair, in Advances in Stem Cell Biology, Novel Concepts in iPSC Disease Modeling. Patient-specific induced pluripotent stem cells for understanding and assessing novel therapeutics for multisystem transthyretin amyloid disease. Academic Press, Elsevier. London. 2022; 15:105-122.
Published on 3/28/2021
Blakemore D, Vilaplana-Lopera N, Almaghrabi R, Gonzalez E, Moya M, Ward C, Murphy G, Gambus A, Petermann E, Stewart GS, García P. MYBL2 and ATM suppress replication stress in pluripotent stem cells. EMBO Rep. 2021 05 05; 22(5):e51120. PMID: 33779025.
Published on 12/22/2020
Yeung AK, Villacorta-Martin C, Hon S, Rock JR, Murphy GJ. Lung megakaryocytes display distinct transcriptional and phenotypic properties. Blood Adv. 2020 12 22; 4(24):6204-6217. PMID: 33351116.
View full list of 51 publications.