George J. Murphy PhD
Associate Professor, Hematology & Medical Oncology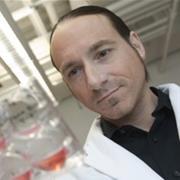 Sections
Hematology & Medical Oncology
Centers
Center of Excellence in Sickle Cell Disease
Center for Regenerative Medicine
Pulmonary Center
Evans Center for Interdisciplinary Biomedical Research
Biography
I have developed an approach to science that utilizes multiple stem cell-based platforms to answer basic biological questions and combat human disease. My current research portfolio is a direct reflection of my evolution as a scientist in which my early studies of hematopoietic development led to the generation of useful tools and reagents as well as methodologies and insights that synergized into a potent platform in the emerging and rapidly expanding field of pluripotent stem cell biology. My group is composed of dynamic and passionate young researchers and together we have impacted the following areas of investigation:

1.) Developmental hematopoiesis
2.) The generation, culture, and directed differentiation of pluripotent stem cells
3.) Pluripotent stem cell-based modeling of hematopoiesis: a Platform for Production of Transfusable Human Blood Cells
4.) Pluripotent Stem Cell Modeling of Human Disease: The 'Clinical Trial in a Test Tube': Sickle Cell Anemia; Amyloidosis
Other Positions
Education
Cell & Molecular Biology, PhD, University of Oxford, 2002
Biology, BS, Trinity College, 1993
Publications
Published on 3/28/2021
Blakemore D, Vilaplana-Lopera N, Almaghrabi R, Gonzalez E, Moya M, Ward C, Murphy G, Gambus A, Petermann E, Stewart GS, García P. MYBL2 and ATM suppress replication stress in pluripotent stem cells. EMBO Rep. 2021 05 05; 22(5):e51120. PMID: 33779025.
Published on 12/22/2020
Yeung AK, Villacorta-Martin C, Hon S, Rock JR, Murphy GJ. Lung megakaryocytes display distinct transcriptional and phenotypic properties. Blood Adv. 2020 12 22; 4(24):6204-6217. PMID: 33351116.
Published on 9/15/2020
Giadone RM, Mithal A, Miller GJ, Matte TM, Yeung AK, Dowrey TW, Werder RB, Miller NS, Andry CD, Vanuytsel K, Murphy GJ. qRT-PCR Platforms for Diagnosing and Reporting SARS-CoV-2 Infection in Human Samples. STAR Protoc. 2020 Sep 18; 1(2):100102. PMID: 32954369.
Published on 7/30/2020
Giadone RM, Liberti DC, Matte TM, Rosarda JD, Torres-Arancivia C, Ghosh S, Diedrich JK, Pankow S, Skvir N, Jean JC, Yates JR, Wilson AA, Connors LH, Kotton DN, Wiseman RL, Murphy GJ. Expression of Amyloidogenic Transthyretin Drives Hepatic Proteostasis Remodeling in an Induced Pluripotent Stem Cell Model of Systemic Amyloid Disease. Stem Cell Reports. 2020 08 11; 15(2):515-528. PMID: 32735824.
Published on 5/19/2020
Vanuytsel K, Mithal A, Giadone RM, Yeung AK, Matte TM, Dowrey TW, Werder RB, Miller GJ, Miller NS, Andry CD, Murphy GJ. Rapid Implementation of a SARS-CoV-2 Diagnostic Quantitative Real-Time PCR Test with Emergency Use Authorization at a Large Academic Safety Net Hospital. Med (N Y). 2020 Dec 18; 1(1):152-157.e3. PMID: 32838351.
Published on 5/6/2020
Kanchan K, Iyer K, Yanek LR, Carcamo-Orive I, Taub MA, Malley C, Baldwin K, Becker LC, Broeckel U, Cheng L, Cowan C, D'Antonio M, Frazer KA, Quertermous T, Mostoslavsky G, Murphy G, Rabinovitch M, Rader DJ, Steinberg MH, Topol E, Yang W, Knowles JW, Jaquish CE, Ruczinski I, Mathias RA. Genomic integrity of human induced pluripotent stem cells across nine studies in the NHLBI NextGen program. Stem Cell Res. 2020 07; 46:101803. PMID: 32442913.
Published on 11/7/2019
Steinberg MH, Kumar S, Murphy GJ, Vanuytsel K. Sickle cell disease in the era of precision medicine: looking to the future. Expert Rev Precis Med Drug Dev. 2019; 4(6):357-367. PMID: 33015364.
Published on 10/31/2019
Steinberg MH, Kumar S, Murphy GJ, Vanuytsel K. Sickle cell disease in the era of precision medicine: looking to the future. Expert Review of Precision Medicine and Drug Development
Personalized medicine in drug development and clinical practice. 2019; (6):357-367.
Published on 4/16/2019
Le CQ, Myers G, Habara A, Jearawiriyapaisarn N, Murphy GJ, Chui DHK, Steinberg MH, Engel JD, Cui S. Inhibition of LSD1 by small molecule inhibitors stimulates fetal hemoglobin synthesis. Blood. 2019 05 30; 133(22):2455-2459. PMID: 30992270.
Published on 1/1/2019
Vanuytsel K, Steinberg MH, Murphy GJ. In: Haruhisa Inoue, Yukio Nakamura (Eds.), Medical Applications of iPS Cells.
https://doi.org/10.1007/978-981-13-3672-0. Recapitulating Hematopoietic Development in a Dish. Springer Nature Singapore Pte Ltd. 2019. 2019; 45-71.
View full list of 43 publications.