Geoffrey R Oxnard MD
Associate Professor, Hematology & Medical Oncology
820 Harrison Ave | (617) 638-7523

goxnard@bu.edu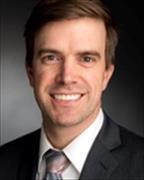 Sections
Hematology & Medical Oncology
Biography
Geoffrey Oxnard is a thoracic oncologist at Dana-Farber Cancer Institute and an Associate Professor of Medicine at Harvard Medical School. The aims of Dr. Oxnard's research are to develop clinical applications for cancer genotyping technologies to advance precision cancer care.

Dr. Oxnard has published extensively on sensitivity and resistance to EGFR kinase inhibitors in lung cancer with a focus on the clinical biology of the EGFR T790M mutation. More recently his research has focused on genomic analysis of plasma cell-free DNA as a diagnostic to assist in treatment planning, response monitoring, and cancer detection.

Dr. Oxnard received his BA in chemistry from Harvard University and his MD from the University of Chicago-Pritzker School of Medicine. He served his residency in internal medicine at Massachusetts General Hospital and completed his fellowship in medical oncology at Memorial Sloan-Kettering Cancer Center, joining the Dana-Farber faculty in 2011.
Websites
Education
Medicine, MD, University of Chicago, 2005
Chemistry, AB, Harvard University, 1999
Publications
Published on 4/13/2023
Huang RSP, Graf RP, Oxnard GR. Not all TMB assays are the same: Clinical validity of robust algorithmic germline filtering. Cancer Cell. 2023 May 08; 41(5):819-820. PMID: 37059103.
Published on 3/30/2023
Rotow J, Patel JD, Hanley MP, Yu H, Awad M, Goldman JW, Nechushtan H, Scheffler M, Kuo CS, Rajappa S, Harada G, Clifford S, Santucci A, Silva L, Tupper R, Oxnard GR, Kherani J, Drilon A. Osimertinib and selpercatinib efficacy, safety, and resistance in a multicenter, prospectively treated cohort of EGFR-mutant and RET fusion-positive lung cancers. Clin Cancer Res. 2023 Mar 30. PMID: 36996322.
Published on 3/17/2023
Quintanilha JCF, Graf RP, Oxnard GR. BRAF V600E and RNF43 Co-mutations Predict Patient Outcomes With Targeted Therapies in Real-World Cases of Colorectal Cancer. Oncologist. 2023 Mar 17; 28(3):e171-e174. PMID: 36779536.
Published on 3/16/2023
Assaf ZJF, Zou W, Fine AD, Socinski MA, Young A, Lipson D, Freidin JF, Kennedy M, Polisecki E, Nishio M, Fabrizio D, Oxnard GR, Cummings C, Rode A, Reck M, Patil NS, Lee M, Shames DS, Schulze K. A longitudinal circulating tumor DNA-based model associated with survival in metastatic non-small-cell lung cancer. Nat Med. 2023 Apr; 29(4):859-868. PMID: 36928816.
Published on 3/14/2023
Rugo HS, Raskina K, Schrock AB, Madison RW, Graf RP, Sokol ES, Sivakumar S, Lee JK, Fisher V, Oxnard GR, Tukachinsky H. Biology and Targetability of the Extended Spectrum of PIK3CA Mutations Detected in Breast Carcinoma. Clin Cancer Res. 2023 Mar 14; 29(6):1056-1067. PMID: 36321996.
Published on 3/1/2023
Mata DA, Harries L, Williams EA, Hiemenz MC, Decker B, Tse JY, Janovitz T, Ferguson DC, Speece IA, Margolis ML, Mathews B, Fedorchak K, Killian JK, Xiao J, Tolba KA, Ramkissoon S, Vergilio JA, Elvin JA, Oxnard GR, Ross JS, Huang RSP. Method of Tissue Acquisition Affects Success of Comprehensive Genomic Profiling in Lung Cancer. Arch Pathol Lab Med. 2023 Mar 01; 147(3):338-347. PMID: 35771716.
Published on 1/23/2023
Parimi V, Tolba K, Danziger N, Kuang Z, Sun D, Lin DI, Hiemenz MC, Schrock AB, Ross JS, Oxnard GR, Huang RSP. Genomic landscape of 891 RET fusions detected across diverse solid tumor types. NPJ Precis Oncol. 2023 Jan 23; 7(1):10. PMID: 36690680.
Published on 1/4/2023
Chi KN, Barnicle A, Sibilla C, Lai Z, Corcoran C, Barrett JC, Adelman CA, Qiu P, Easter A, Dearden S, Oxnard GR, Agarwal N, Azad A, de Bono J, Mateo J, Olmos D, Thiery-Vuillemin A, Harrington EA. Detection of BRCA1, BRCA2, and ATM Alterations in Matched Tumor Tissue and Circulating Tumor DNA in Patients with Prostate Cancer Screened in PROfound. Clin Cancer Res. 2023 Jan 04; 29(1):81-91. PMID: 36043882.
Published on 1/3/2023
Quintanilha JCF, Graf RP, Fisher VA, Oxnard GR, Ellis H, Panarelli N, Lin DI, Li G, Huang RSP, Ross JS, Myer PA, Klempner SJ. Comparative Effectiveness of Immune Checkpoint Inhibitors vs Chemotherapy in Patients With Metastatic Colorectal Cancer With Measures of Microsatellite Instability, Mismatch Repair, or Tumor Mutational Burden. JAMA Netw Open. 2023 Jan 03; 6(1):e2252244. PMID: 36689222.
Published on 1/1/2023
Huang RSP, Carbone DP, Li G, Schrock A, Graf RP, Zhang L, Murugesan K, Ross JS, Tolba K, Sands J, Oxnard GR, Spigel D. Durable responders in advanced NSCLC with elevated TMB and treated with 1L immune checkpoint inhibitor: a real-world outcomes analysis. J Immunother Cancer. 2023 Jan; 11(1). PMID: 36650021.
View full list of 182 publications.