Geoffrey R Oxnard
Clinical Instructor, Hematology & Medical Oncology
820 Harrison Ave | (617) 638-7523

goxnard@bu.edu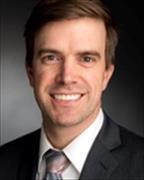 Sections
Hematology & Medical Oncology
Biography
Geoffrey Oxnard is a thoracic oncologist at Dana-Farber Cancer Institute and an Associate Professor of Medicine at Harvard Medical School. The aims of Dr. Oxnard's research are to develop clinical applications for cancer genotyping technologies to advance precision cancer care.

Dr. Oxnard has published extensively on sensitivity and resistance to EGFR kinase inhibitors in lung cancer with a focus on the clinical biology of the EGFR T790M mutation. More recently his research has focused on genomic analysis of plasma cell-free DNA as a diagnostic to assist in treatment planning, response monitoring, and cancer detection.

Dr. Oxnard received his BA in chemistry from Harvard University and his MD from the University of Chicago-Pritzker School of Medicine. He served his residency in internal medicine at Massachusetts General Hospital and completed his fellowship in medical oncology at Memorial Sloan-Kettering Cancer Center, joining the Dana-Farber faculty in 2011.
Websites
Publications
Published on 6/18/2021
Israel MA, Danziger N, McGregor KA, Murugesan K, Gjoerup O, Sokol ES, Tukachinsky H, Kurzrock R, Kato S, Sicklick JK, Nimeiri HS, Oxnard GR, Ross JS. Comparative Genomic Analysis of Intrahepatic Cholangiocarcinoma: Biopsy Type, Ancestry, and Testing Patterns. Oncologist. 2021 09; 26(9):787-796. PMID: 34080753.
Published on 6/4/2021
Chen X, Dong Z, Hubbell E, Kurtzman KN, Oxnard GR, Venn O, Melton C, Clarke CA, Shaknovich R, Ma T, Meixiong G, Seiden MV, Klein EA, Fung ET, Liu MC. Prognostic Significance of Blood-Based Multi-cancer Detection in Plasma Cell-Free DNA. Clin Cancer Res. 2021 Aug 01; 27(15):4221-4229. PMID: 34088722.
Published on 6/4/2021
Subbiah V, Gainor JF, Oxnard GR, Tan DSW, Owen DH, Cho BC, Loong HH, McCoach CE, Weiss J, Kim YJ, Bazhenova L, Park K, Daga H, Besse B, Gautschi O, Rolfo C, Zhu EY, Kherani JF, Huang X, Kang S, Drilon A. Intracranial Efficacy of Selpercatinib in RET Fusion-Positive Non-Small Cell Lung Cancers on the LIBRETTO-001 Trial. Clin Cancer Res. 2021 Aug 01; 27(15):4160-4167. PMID: 34088726.
Published on 5/3/2021
Yoh K, Hirashima T, Saka H, Kurata T, Ohe Y, Hida T, Mellemgaard A, Verheijen RB, Ou X, Ahmed GF, Hayama M, Sugibayashi K, Oxnard GR. Savolitinib ± Osimertinib in Japanese Patients with Advanced Solid Malignancies or EGFRm NSCLC: Ph1b TATTON Part C. Target Oncol. 2021 05; 16(3):339-355. PMID: 33939068.
Published on 4/21/2021
Sands JM, Mandrekar SJ, Kozono D, Oxnard GR, Hillman SL, Wigle DA, Govindan R, Carlisle J, Gray J, Salama JK, Raez L, Ganti A, Foster N, Malik S, Bradley J, Kelly K, Ramalingam SS, Stinchcombe TE. Integration of immunotherapy into adjuvant therapy for resected non-small-cell lung cancer: ALCHEMIST chemo-IO (ACCIO). Immunotherapy. 2021 06; 13(9):727-734. PMID: 33878954.
Published on 2/8/2021
Tukachinsky H, Madison RW, Chung JH, Gjoerup OV, Severson EA, Dennis L, Fendler BJ, Morley S, Zhong L, Graf RP, Ross JS, Alexander BM, Abida W, Chowdhury S, Ryan CJ, Fizazi K, Golsorkhi T, Watkins SP, Simmons A, Loehr A, Venstrom JM, Oxnard GR. Genomic Analysis of Circulating Tumor DNA in 3,334 Patients with Advanced Prostate Cancer Identifies Targetable BRCA Alterations and AR Resistance Mechanisms. Clin Cancer Res. 2021 Jun 01; 27(11):3094-3105. PMID: 33558422.
Published on 12/29/2020
Bertino EM, Gentzler RD, Clifford S, Kolesar J, Muzikansky A, Haura EB, Piotrowska Z, Camidge DR, Stinchcombe TE, Hann C, Malhotra J, Villaruz LC, Paweletz CP, Lau CL, Sholl L, Takebe N, Moscow JA, Shapiro GI, Jänne PA, Oxnard GR. Phase IB Study of Osimertinib in Combination with Navitoclax in EGFR-mutant NSCLC Following Resistance to Initial EGFR Therapy (ETCTN 9903). Clin Cancer Res. 2021 Mar 15; 27(6):1604-1611. PMID: 33376097.
Published on 12/2/2020
Carrot-Zhang J, Soca-Chafre G, Patterson N, Thorner AR, Nag A, Watson J, Genovese G, Rodriguez J, Gelbard MK, Corrales-Rodriguez L, Mitsuishi Y, Ha G, Campbell JD, Oxnard GR, Arrieta O, Cardona AF, Gusev A, Meyerson M. Genetic Ancestry Contributes to Somatic Mutations in Lung Cancers from Admixed Latin American Populations. Cancer Discov. 2021 03; 11(3):591-598. PMID: 33268447.
Published on 11/25/2020
Ogino A, Choi J, Lin M, Wilkens MK, Calles A, Xu M, Adeni AE, Chambers ES, Capelletti M, Butaney M, Gray NS, Gokhale PC, Palakurthi S, Kirschmeier P, Oxnard GR, Sholl LM, Jänne PA. Genomic and pathological heterogeneity in clinically diagnosed small cell lung cancer in never/light smokers identifies therapeutically targetable alterations. Mol Oncol. 2021 01; 15(1):27-42. PMID: 32191822.
Published on 11/9/2020
Cheng ML, Pectasides E, Hanna GJ, Parsons HA, Choudhury AD, Oxnard GR. Circulating tumor DNA in advanced solid tumors: Clinical relevance and future directions. CA Cancer J Clin. 2021 03; 71(2):176-190. PMID: 33165928.
View full list of 131 publications.