Gemmae Maya Fix PhD
Research Assistant Professor, General Internal Medicine
Research Assistant Professor, Health Law, Policy & Management
801 Massachusetts Ave | (617) 414-7399

gmfix@bu.edu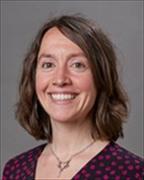 Sections
General Internal Medicine
Biography
Dr. Gemmae Fix is an Applied Medical Anthropologist with postdoctoral training in Health Services Research. She has expertise in qualitative, ethnographic and participatory research methods. In particular, her research focuses on understanding patients' daily life experiences. Dr. Fix has led studies examining patient-centered HIV care, patients' experiences of care and the use of co-design methods.
Websites
Education
Anthropology, PhD, State University of New York at Buffalo, 2008
Anthropology, MA, State University of New York at Buffalo, 2004
Social Anthropology, BA, University of Tennessee at Chattanooga, 1999
Publications
Published on 8/26/2021
Elwy AR, Maguire EM, McInnes DK, Fix GM. Creating Connections during COVID-19. Health Commun. 2021 Aug 26; 1-8. PMID: 34445899.
Published on 8/1/2021
Bokhour BG, Bolton RE, Asch SM, Dvorin K, Fix GM, Gifford AL, Hyde JK, McInnes DK, Parker VA, Richardson K, Skolnik AA, Vaughan-Sarrazin MS, Wu J, Ohl ME. How Should We Organize Care for Patients With Human Immunodeficiency Virus and Comorbidities? A Multisite Qualitative Study of Human Immunodeficiency Virus Care in the United States Department of Veterans Affairs. Med Care. 2021 Aug 01; 59(8):727-735. PMID: 33900271.
Published on 6/1/2021
Fix GM, Linsky AM. Leveraging patient-centered approaches to discuss firearm storage safety. J Gen Intern Med. 2021 06; 36(6):1487-1489. PMID: 33791936.
Published on 2/11/2021
Fix GM, Dryden EM, Boudreau J, Kressin NR, Gifford AL, Bokhour BG. The temporal nature of social context: Insights from the daily lives of patients with HIV. PLoS One. 2021; 16(2):e0246534. PMID: 33571283.
Published on 8/3/2020
Dryden EM, Hyde JK, Wormwood JB, Wu J, Calloway R, Cutrona SL, Elwyn G, Fix GM, Orner MB, Shimada SL, Bokhour BG. Assessing Patients' Perceptions of Clinician Communication: Acceptability of Brief Point-of-Care Surveys in Primary Care. J Gen Intern Med. 2020 10; 35(10):2990-2999. PMID: 32748346.
Published on 7/5/2020
Wolfe HL, Fix GM, Bolton RE, Ruben MA, Bokhour BG. Development of observational rating scales for evaluating patient-centered communication within a whole health approach to care. Explore (NY). 2020 Jul 05. PMID: 32703684.
Published on 5/7/2020
Wiener RS, Clark JA, Koppelman E, Bolton R, Fix GM, Slatore CG, Kathuria H. Patient vs Clinician Perspectives on Communication About Results of Lung Cancer Screening: A Qualitative Study. Chest. 2020 09; 158(3):1240-1249. PMID: 32387521.
Published on 1/1/2020
Sedona L. Koenders, Linda L. Barnes, Lance D. Laird, Bayla Ostrach, Gemmae M. Fix. Applied Training in a Medical Anthropology Master's Program. Practicing Anthropology. 2020; 1(42):43-47.
Published on 1/1/2020
McElroy A, Cadzow R, Kahn LS, Fix GM. INTRODUCTION TO DIVERGENT PATHWAYS IN APPLIED ANTHROPOLOGY CAREERS. Pract Anthropol. 2020 Jan 01; 42(1):2-10. PMID: 33678951.
Published on 1/1/2020
Fix GM, McElroy A. DIVERGENT PATHS TO CAREER FULFILLMENT IN APPLIED ANTHROPOLOGY. Pract Anthropol. 2020 Jan 01; 42(1):56-64. PMID: 33678952.
View full list of 45 publications.