Gemmae Maya Fix PhD
Voluntary Research Assistant Professor, General Internal Medicine
Voluntary Research Assistant Professor, Health Law, Policy & Management
801 Massachusetts Ave | (617) 414-7399

gmfix@bu.edu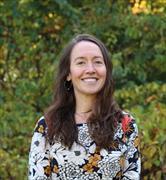 Sections
General Internal Medicine
Biography
Gemmae M. Fix, PhD is an Applied Medical Anthropologist with postdoctoral training in Health Services Research. She is also an Investigator at the Center for Healthcare Organization and Implementation Research (CHOIR), a VA Health Services Research and Development Center of Innovation, based at the Boston and Bedford VA Medical Centers.

Dr. Fix's research uses ethnographic, qualitative methods to advance the delivery of patient-centered care, particularly for marginalized or stigmatized populations such as people living with HIV or patients who are at risk for lung cancer. She has led AHRQ, NIH and VA funded studies examining patients' experiences of care, patient-centered HIV care, and the use of co-design methods. Dr. Fix's broader research portfolio examines patients' experiences of care, with recent work on the use of participatory, co-design methods to engage patients in the research process.

Dr. Fix has a strong interest in the professional development of social scientists working in clinical settings. She has written extensively about the careers of anthropologists, including a guest edited volume of Practicing Anthropology, which profiled the work of anthropologists working in a variety of clinical settings. Additionally, she has developed and taught qualitative methods courses for health professionals, and is an Associate Editor for Journal for General Internal Medicine where she adjudicates manuscripts, with a focus on studies that use qualitative methods. Dr. Fix is a Fellow of the Academy of Communication in Healthcare as well as the Society for Applied Anthropology. She was elected to the Board of the Society for Applied Anthropology, and currently serves as Secretary. In this role, she advocates for the use of social science approaches to address healthcare research questions and the professional development of applied anthropologists.
Websites
Education
Anthropology, PhD, State University of New York at Buffalo, 2008
Anthropology, MA, State University of New York at Buffalo, 2004
Social Anthropology, BA, University of Tennessee at Chattanooga, 1999
Publications
Published on 4/21/2023
Conti J, Fix GM, Javier SJ, Cheng H, Perez T, Dunlap S, McInnes DK, Midboe AM. Patient and provider perspectives of personal health record use: a multisite qualitative study in HIV care settings. Transl Behav Med. 2023 Apr 21. PMID: 37084300.
Published on 4/1/2023
Wolfe HL, Drainoni ML, Klasko-Foster L, Fix GM, Siegel J, Mimiaga MJ, Reisner SL, Hughto JMW. Structural Equation Modeling of Stigma and HIV Prevention Clinical Services Among Transgender and Gender Diverse Adults: The Mediating Role of Substance Use and HIV Sexual Risk. J Acquir Immune Defic Syndr. 2023 Apr 01; 92(4):300-309. PMID: 36515898.
Published on 3/9/2023
Spitzer EG, Kaitz J, Fix GM, Harvey KLL, Stadnick NA, Sullivan JL, Williamson AK, Miller CJ. Developing Relational Coordination: A Qualitative Study of Outpatient Mental Health Teams. Adm Policy Ment Health. 2023 Mar 09; 1-12. PMID: 36892721.
Published on 1/16/2023
Reardon CM, Damschroder L, Opra Widerquist MA, Arasim M, Jackson GL, White B, Cutrona SL, Fix GM, Gifford AL, DeLaughter K, King HA, Henderson B, Vega R, Nevedal AL. Sustainment of diverse evidence-informed practices disseminated in the Veterans Health Administration (VHA): initial development and piloting of a pragmatic survey tool. Implement Sci Commun. 2023 Jan 16; 4(1):6. PMID: 36647162.
Published on 12/1/2022
Fix GM, Kim B, Ruben M, McCullough MB. Direct Observation Methods: a Practical Guide for Health Researchers. PEC Innov. 2022 Dec; 1. PMID: 36406296.
Published on 12/1/2022
Khanna A, Fix GM, Anderson E, Bolton RE, Bokhour BG, Foster M, Smith JG, Vimalananda VG. Towards a framework for patient-centred care coordination: a scoping review protocol. BMJ Open. 2022 Dec 01; 12(12):e066808. PMID: 36456025.
Published on 9/23/2022
Gurewich D, Kressin N, Bokhour BG, Linsky AM, Dichter ME, Hunt KJ, Fix GM, Niles BL. Randomised controlled trial evaluating the effects of screening and referral for social determinants of health on Veterans' outcomes: protocol. BMJ Open. 2022 Sep 23; 12(9):e058972. PMID: 36153033.
Published on 8/12/2022
McInnes DK, Dunlap S, Fix GM, Foster MV, Conti J, Roncarati JS, Hyde JK. Longitudinal high-frequency ethnographic interviewing to simulate and prepare for intensive smartphone data collection among veterans with homeless experience. Front Digit Health. 2022; 4:897288. PMID: 36033637.
Published on 6/2/2022
LoBrutto LR, Fix G, Wiener RS, Linsky AM. Leveraging the timing and frequency of patient decision aids in longitudinal shared decision-making: A narrative review and applied model. Health Expect. 2022 Aug; 25(4):1246-1253. PMID: 35652372.
Published on 3/15/2022
Wiener RS, Barker AM, Carter-Harris L, Caverly TJ, Crocker DA, Denietolis A, Doherty C, Fagerlin A, Gallagher-Seaman M, Gould MK, Han PKJ, Herbst AN, Ito Fukunaga M, McCullough MB, Miano DA, Quaife SL, Slatore CG, Fix GM. Stakeholder Research Priorities to Promote Implementation of Shared Decision-Making for Lung Cancer Screening: An American Thoracic Society and Veterans Affairs Health Services Research and Development Statement. Am J Respir Crit Care Med. 2022 03 15; 205(6):619-630. PMID: 35289730.
View full list of 60 publications.