Gareth J Morgan PhD
Research Assistant Professor, Hematology & Medical Oncology
Member, Genome Science Institute
72 E. Concord Street | (617) 358-4750

gjmorgan@bu.edu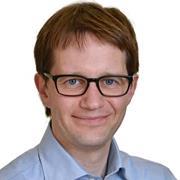 Sections
Hematology & Medical Oncology
Centers
BU-BMC Cancer Center
Amyloidosis Center
Biography
Gareth Morgan, PhD is a Research Assistant Professor at the Boston University School of Medicine. His research focuses on the molecular mechanisms of AL amyloidosis with the aim of developing new treatments for this disease.
Other Positions
Websites
Education
Biochemistry, PhD, University of Sheffield, 2006
Biochemistry, BS, Imperial College London, 2001
Publications
Published on 6/11/2021
Morgan GJ. Barriers to Small Molecule Drug Discovery for Systemic Amyloidosis. Molecules. 2021 Jun 11; 26(12). PMID: 34208058.
Published on 5/3/2021
Yan NL, Santos-Martins D, Nair R, Chu A, Wilson IA, Johnson KA, Forli S, Morgan GJ, Petrassi HM, Kelly JW. Discovery of Potent Coumarin-Based Kinetic Stabilizers of Amyloidogenic Immunoglobulin Light Chains Using Structure-Based Design. J Med Chem. 2021 05 13; 64(9):6273-6299. PMID: 33939422.
Published on 9/12/2020
Morgan GJ, Wall JS. The Process of Amyloid Formation due to Monoclonal Immunoglobulins. Hematol Oncol Clin North Am. 2020 12; 34(6):1041-1054. PMID: 33099422.
Published on 6/16/2020
Yan NL, Santos-Martins D, Rennella E, Sanchez BB, Chen JS, Kay LE, Wilson IA, Morgan GJ, Forli S, Kelly JW. Structural basis for the stabilization of amyloidogenic immunoglobulin light chains by hydantoins. Bioorg Med Chem Lett. 2020 08 15; 30(16):127356. PMID: 32631553.
Published on 8/14/2019
Rennella E, Morgan GJ, Yan N, Kelly JW, Kay LE. The Role of Protein Thermodynamics and Primary Structure in Fibrillogenesis of Variable Domains from Immunoglobulin Light Chains. J Am Chem Soc. 2019 08 28; 141(34):13562-13571. PMID: 31364359.
Published on 4/10/2019
Morgan GJ, Yan NL, Mortenson DE, Rennella E, Blundon JM, Gwin RM, Lin CY, Stanfield RL, Brown SJ, Rosen H, Spicer TP, Fernandez-Vega V, Merlini G, Kay LE, Wilson IA, Kelly JW. Stabilization of amyloidogenic immunoglobulin light chains by small molecules. Proc Natl Acad Sci U S A. 2019 04 23; 116(17):8360-8369. PMID: 30971495.
Published on 12/31/2018
Rennella E, Morgan GJ, Kelly JW, Kay LE. Role of domain interactions in the aggregation of full-length immunoglobulin light chains. Proc Natl Acad Sci U S A. 2019 01 15; 116(3):854-863. PMID: 30598439.
Published on 3/1/2018
Buxbaum JN, Morgan GJ. Summary: FASEB Science Research Conference on Protein Aggregation in Health and Disease. FASEB J. 2018 03; 32(3):1125-1129. PMID: 29521540.
Published on 12/4/2017
Morgan GJ, Usher GA, Kelly JW. Incomplete Refolding of Antibody Light Chains to Non-Native, Protease-Sensitive Conformations Leads to Aggregation: A Mechanism of Amyloidogenesis in Patients? Biochemistry. 2017 Dec 19; 56(50):6597-6614. PMID: 29200282.
Published on 11/28/2017
Morgan GJ, Burkhardt DH, Kelly JW, Powers ET. Translation efficiency is maintained at elevated temperature in Escherichia coli. J Biol Chem. 2018 01 19; 293(3):777-793. PMID: 29183994.
View full list of 21 publications.