Fuzhong Qin MD, PhD
Research Professor, Cardiovascular Medicine
650 Albany St | (617) 638-8051

fqin@bu.edu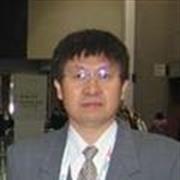 Sections
Cardiovascular Medicine
Centers
Whitaker Cardiovascular Institute
Biography
Dr. Qin is a Professor of Cardiovascular Medicine at the Boston University School of Medicine. He is the Director of the Physiological Core Laboratory in the Myocardial Biology Unit / Cardiovascular Medicine Section. He is also the Director of the Echocardiography Core in the Whitaker Cardiovascular Institute. Dr. Qin's research has focused on the cellular and molecular mechanisms of myocardial remodeling and pathophysiology of heart failure, and in particular, the role of reactive oxygen species. They are investigating the effects of catalase overexpression or pharmacological intervention on left ventricular remodeling and dysfunction in transgenic mouse models of heart failure induced by G(alpha)q overexpression as well as mouse models of human heart failure induced by chronic pressure overload or myocardial infarction and diet-induced metabolic heart disease. Dr. Qin has expertise (scientific) in a) oxidative stress, myocyte apoptosis, and apoptosis-related signal transduction pathways, b) oxidative stress, oxidative protein modifications of SERCA2, intracellular calcium transients and myocyte contractile function, c) oxidative stress, myocyte hypertrophy and myocardial diastolic dysfunction. He also has expertise (technical) in the animal models (mice, rats, rabbits and dogs) of myocardial ischemia / reperfusion, coronary artery ligation-induced myocardial infarction and failure, and ascending aortic constriction-induced myocardial hypertrophy and failure, conventional echocardiography, mitral inflow and tissue Doppler echocardiography, in vivo hemodynamics, ex vivo Langendorff isolated heart perfusion, measurements of intracellular calcium concentration and contractile function in isolated myocytes, myocyte culture, histological measurements and biochemical measurements.
Websites
Education
MD, Datong Medical College, 1987
PhD, Shanxi Medical University, 1997
Publications
Published on 6/25/2021
Croteau D, Luptak I, Chambers JM, Hobai I, Panagia M, Pimentel DR, Siwik DA, Qin F, Colucci WS. Effects of Sodium-Glucose Linked Transporter 2 Inhibition With Ertugliflozin on Mitochondrial Function, Energetics, and Metabolic Gene Expression in the Presence and Absence of Diabetes Mellitus in Mice. J Am Heart Assoc. 2021 07 06; 10(13):e019995. PMID: 34169737.
Published on 10/20/2020
Goodman JB, Qin F, Morgan RJ, Chambers JM, Croteau D, Siwik DA, Hobai I, Panagia M, Luptak I, Bachschmid M, Tong X, Pimentel DR, Cohen RA, Colucci WS. Redox-Resistant SERCA [Sarco(endo)plasmic Reticulum Calcium ATPase] Attenuates Oxidant-Stimulated Mitochondrial Calcium and Apoptosis in Cardiac Myocytes and Pressure Overload-Induced Myocardial Failure in Mice. Circulation. 2020 Dec 22; 142(25):2459-2469. PMID: 33076678.
Published on 9/9/2020
Croteau D, Qin F, Chambers JM, Kallick E, Luptak I, Panagia M, Pimentel DR, Siwik DA, Colucci WS. Differential Effects of Sacubitril/Valsartan on Diastolic Function in Mice With Obesity-Related Metabolic Heart Disease. JACC Basic Transl Sci. 2020 Sep; 5(9):916-927. PMID: 33015414.
Published on 7/1/2019
Luptak I, Croteau D, Valentine C, Qin F, Siwik DA, Remick DG, Colucci WS, Hobai IA. Myocardial Redox Hormesis Protects the Heart of Female Mice in Sepsis. Shock. 2019 07; 52(1):52-60. PMID: 30102640.
Published on 6/25/2019
Luptak I, Qin F, Sverdlov AL, Pimentel DR, Panagia M, Croteau D, Siwik DA, Bachschmid MM, He H, Balschi JA, Colucci WS. Energetic Dysfunction Is Mediated by Mitochondrial Reactive Oxygen Species and Precedes Structural Remodeling in Metabolic Heart Disease. Antioxid Redox Signal. 2019 09 01; 31(7):539-549. PMID: 31088291.
Published on 2/1/2018
Luptak I, Sverdlov AL, Panagia M, Qin F, Pimentel DR, Croteau D, Siwik DA, Ingwall JS, Bachschmid MM, Balschi JA, Colucci WS. Decreased ATP production and myocardial contractile reserve in metabolic heart disease. J Mol Cell Cardiol. 2018 03; 116:106-114. PMID: 29409987.
Published on 7/24/2017
Ho JE, Rahban Y, Sandhu H, Hiremath PG, Ayalon N, Qin F, Perez AJ, Downing J, Gopal DM, Cheng S, Colucci WS. Preclinical Alterations in Myocardial Microstructure in People with Metabolic Syndrome. Obesity (Silver Spring). 2017 Sep; 25(9):1516-1522. PMID: 28737258.
Published on 10/20/2016
Xu XJ, Babo E, Qin F, Croteau D, Colucci WS. Short-term caloric restriction in db/db mice improves myocardial function and increases high molecular weight (HMW) adiponectin. IJC Metab Endocr. 2016 Dec; 13:28-34. PMID: 27942464.
Published on 1/11/2016
Sverdlov AL, Elezaby A, Qin F, Behring JB, Luptak I, Calamaras TD, Siwik DA, Miller EJ, Liesa M, Shirihai OS, Pimentel DR, Cohen RA, Bachschmid MM, Colucci WS. Mitochondrial Reactive Oxygen Species Mediate Cardiac Structural, Functional, and Mitochondrial Consequences of Diet-Induced Metabolic Heart Disease. J Am Heart Assoc. 2016 Jan 11; 5(1). PMID: 26755553.
Published on 12/31/2015
Miller EJ, Calamaras T, Elezaby A, Sverdlov A, Qin F, Luptak I, Wang K, Sun X, Vijay A, Croteau D, Bachschmid M, Cohen RA, Walsh K, Colucci WS. Partial Liver Kinase B1 (LKB1) Deficiency Promotes Diastolic Dysfunction, De Novo Systolic Dysfunction, Apoptosis, and Mitochondrial Dysfunction With Dietary Metabolic Challenge. J Am Heart Assoc. 2015 Dec 31; 5(1). PMID: 26722122.
View full list of 31 publications.