Fabio Petrocca MD
Assistant Professor, Hematology & Medical Oncology
820 Harrison Ave | (617) 638-7011

fpetroc1@bu.edu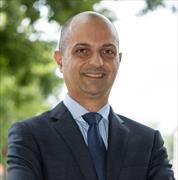 Sections
Hematology & Medical Oncology
Centers
BU-BMC Cancer Center
Websites
Education
MD, University of Rome, 2004
Publications
Published on 2/25/2021
Munshi NC, Anderson LD, Shah N, Madduri D, Berdeja J, Lonial S, Raje N, Lin Y, Siegel D, Oriol A, Moreau P, Yakoub-Agha I, Delforge M, Cavo M, Einsele H, Goldschmidt H, Weisel K, Rambaldi A, Reece D, Petrocca F, Massaro M, Connarn JN, Kaiser S, Patel P, Huang L, Campbell TB, Hege K, San-Miguel J. Idecabtagene Vicleucel in Relapsed and Refractory Multiple Myeloma. N Engl J Med. 2021 02 25; 384(8):705-716. PMID: 33626253.
Published on 2/19/2021
Madduri D, Parekh S, Campbell TB, Neumann F, Petrocca F, Jagannath S. Anti-BCMA CAR T administration in a relapsed and refractory multiple myeloma patient after COVID-19 infection: a case report. J Med Case Rep. 2021 Feb 19; 15(1):90. PMID: 33608053.
Published on 2/8/2021
Samur MK, Fulciniti M, Aktas Samur A, Bazarbachi AH, Tai YT, Prabhala R, Alonso A, Sperling AS, Campbell T, Petrocca F, Hege K, Kaiser S, Loiseau HA, Anderson KC, Munshi NC. Biallelic loss of BCMA as a resistance mechanism to CAR T cell therapy in a patient with multiple myeloma. Nat Commun. 2021 02 08; 12(1):868. PMID: 33558511.
Published on 5/2/2019
Raje N, Berdeja J, Lin Y, Siegel D, Jagannath S, Madduri D, Liedtke M, Rosenblatt J, Maus MV, Turka A, Lam LP, Morgan RA, Friedman K, Massaro M, Wang J, Russotti G, Yang Z, Campbell T, Hege K, Petrocca F, Quigley MT, Munshi N, Kochenderfer JN. Anti-BCMA CAR T-Cell Therapy bb2121 in Relapsed or Refractory Multiple Myeloma. N Engl J Med. 2019 05 02; 380(18):1726-1737. PMID: 31042825.
Published on 9/6/2017
Chan S, Sridhar P, Kirchner R, Lock YJ, Herbert Z, Buonamici S, Smith P, Lieberman J, Petrocca F. Basal-A Triple-Negative Breast Cancer Cells Selectively Rely on RNA Splicing for Survival. Mol Cancer Ther. 2017 Dec; 16(12):2849-2861. PMID: 28878028.
Published on 7/18/2017
Sridhar P, Petrocca F. Regional Delivery of Chimeric Antigen Receptor (CAR) T-Cells for Cancer Therapy. Cancers (Basel). 2017 Jul 18; 9(7). PMID: 28718815.
Published on 10/3/2016
Witt AE, Lee CW, Lee TI, Azzam DJ, Wang B, Caslini C, Petrocca F, Grosso J, Jones M, Cohick EB, Gropper AB, Wahlestedt C, Richardson AL, Shiekhattar R, Young RA, Ince TA. Identification of a cancer stem cell-specific function for the histone deacetylases, HDAC1 and HDAC7, in breast and ovarian cancer. Oncogene. 2017 Mar 23; 36(12):1707-1720. PMID: 27694895.
Published on 7/11/2016
De Martino I, Visone R, Fedele M, Petrocca F, Palmieri D, Hoyos JM, Forzati F, Croce CM, Fusco A. Regulation of microRNA expression by HMGA1 proteins. Oncogene. 2016 11 03; 35(44):5817-5818. PMID: 27399337.
Published on 6/27/2016
Visone R, Pallante P, Vecchione A, Cirombella R, Ferracin M, Ferraro A, Volinia S, Coluzzi S, Leone V, Borbone E, Liu CG, Petrocca F, Troncone G, Calin GA, Scarpa A, Colato C, Tallini G, Santoro M, Croce CM, Fusco A. Specific microRNAs are downregulated in human thyroid anaplastic carcinomas. Oncogene. 2016 09 29; 35(39):5214. PMID: 27345412.
Published on 8/11/2015
Gilboa-Geffen A, Hamar P, Le MT, Wheeler LA, Trifonova R, Petrocca F, Wittrup A, Lieberman J. Gene Knockdown by EpCAM Aptamer-siRNA Chimeras Suppresses Epithelial Breast Cancers and Their Tumor-Initiating Cells. Mol Cancer Ther. 2015 Oct; 14(10):2279-91. PMID: 26264278.
View full list of 29 publications.