Eugene Boris Valsky MD
Voluntary Instructor, Cardiovascular Medicine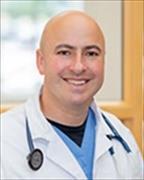 Sections
Cardiovascular Medicine
Biography
Eugene B Valsky, MD is a cardiologist and instructor of Cardiovascular Medicine at Chobanian and Avedisian School of Medicine. Dr. Valsky attended medical school at New York Medical College.
Education
MD, New York Medical College, 2004
Biology, BA, University of Vermont, 1999
Publications
Published on 2/9/2009
Biolo A, Greferath R, Siwik DA, Qin F, Valsky E, Fylaktakidou KC, Pothukanuri S, Duarte CD, Schwarz RP, Lehn JM, Nicolau C, Colucci WS. Enhanced exercise capacity in mice with severe heart failure treated with an allosteric effector of hemoglobin, myo-inositol trispyrophosphate. Proc Natl Acad Sci U S A. 2009 Feb 10; 106(6):1926-9. PMID: 19204295.
View full list of 1 publications.