Eric H. Awtry MD
Associate Professor, Cardiovascular Medicine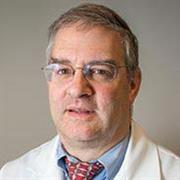 Sections
Cardiovascular Medicine
Biography
Expertise includes: General Clinical Cardiology; Cardiac catheterization; and hemodynamics.
Education
MD, University of Massachusetts Medical School, 1991
Psychology, BS, Brandeis University, 1987
Publications
Published on 2/7/2023
Rozansky H, Awtry E, Weinstein ZM, Peterkin AF. Grayken lessons: the role of an interdisciplinary endocarditis working group in evaluating and optimizing care for a woman with opioid use disorder requiring a second tricuspid valve replacement. Addict Sci Clin Pract. 2023 Feb 07; 18(1):9. PMID: 36750906.
Published on 5/18/2022
Datar Y, Yin K, Wang Y, Lawrence KW, Awtry EH, Cervantes-Arslanian AM, Kimmel SD, Fagan MA, Weinstein ZM, Karlson KJ, McAneny DB, Edwards NM, Dobrilovic N. Surgical outcomes of pulmonary valve infective endocarditis: A US population-based analysis. Int J Cardiol. 2022 Aug 15; 361:50-54. PMID: 35597492.
Published on 10/1/2021
Nadjarian A, LeClair J, Mahoney TF, Awtry EH, Bhatia JS, Caruso LB, Clay A, Greer D, Hingorani KS, Horta LFB, Ibrahim M, Ieong MH, James T, Kulke MH, Lim R, Lowe RC, Moses JM, Murphy J, Nozari A, Patel AD, Silver B, Theodore AC, Wang RS, Weinstein E, Wilson SA, Cervantes-Arslanian AM. Validation of a Crisis Standards of Care Model for Prioritization of Limited Resources During the Coronavirus Disease 2019 Crisis in an Urban, Safety-Net, Academic Medical Center. Crit Care Med. 2021 10 01; 49(10):1739-1748. PMID: 34115635.
Published on 7/27/2020
Kimmel SD, Walley AY, Linas BP, Kalesan B, Awtry E, Dobrilovic N, White L, LaRochelle M. Effect of Publicly Reported Aortic Valve Surgery Outcomes on Valve Surgery in Injection Drug- and Non-Injection Drug-Associated Endocarditis. Clin Infect Dis. 2020 07 27; 71(3):480-487. PMID: 31598642.
Published on 9/18/2019
Carneiro TS, Awtry E, Dobrilovic N, Fagan MA, Kimmel S, Weinstein ZM, Cervantes-Arslanian AM. Neurological Complications of Endocarditis: A Multidisciplinary Review with Focus on Surgical Decision Making. Semin Neurol. 2019 08; 39(4):495-506. PMID: 31533190.
Published on 12/7/2018
Karnik AA, Awtry EH. Management of Inflammatory Cardiac Masses. Cardiol Res. 2018 Dec; 9(6):400-406. PMID: 30627294.
Published on 7/19/2018
Imran TF, Awtry EH. Severe Mitral Stenosis. N Engl J Med. 2018 Jul 19; 379(3):e6. PMID: 30021094.
Published on 2/19/2016
Williams ES, Halperin JL, Arrighi JA, Awtry EH, Bates ER, Costa S, Freeman R, McPherson JA, Mendes LA, Ryan T, Sivaram CA, Weitz HH. 2016 ACC Lifelong Learning Competencies for General Cardiologists: A Report of the ACC Competency Management Committee. J Am Coll Cardiol. 2016 06 07; 67(22):2656-95. PMID: 26902874.
Published on 9/18/2015
Zipes DP, Calkins H, Daubert JP, Ellenbogen KA, Field ME, Fisher JD, Fogel RI, Frankel DS, Gupta A, Indik JH, Kusumoto FM, Lindsay BD, Marine JE, Mehta LS, Mendes LA, Miller JM, Munger TM, Sauer WH, Shen WK, Stevenson WG, Su WW, Tracy CM, Tsiperfal A, Williams ES, Halperin JL, Arrighi JA, Awtry EH, Bates ER, Brush JE, Costa S, Daniels L, Desai A, Drachman DE, Fernandes S, Freeman R, Ijioma N, Khan SS, Kuvin JT, Marine JE, McPherson JA, Mendes LA, Sivaram CA, Spicer RL, Wang A, Weitz HH. 2015 ACC/AHA/HRS Advanced Training Statement on Clinical Cardiac Electrophysiology (A Revision of the ACC/AHA 2006 Update of the Clinical Competence Statement on Invasive Electrophysiology Studies, Catheter Ablation, and Cardioversion). Circ Arrhythm Electrophysiol. 2015 Dec; 8(6):1522-51. PMID: 26386016.
Published on 3/13/2015
Calkins H, Awtry EH, Bunch TJ, Kaul S, Miller JM, Tedrow UB. COCATS 4 Task Force 11: Training in Arrhythmia Diagnosis and Management, Cardiac Pacing, and Electrophysiology. J Am Coll Cardiol. 2015 May 5; 65(17):1854-65. PMID: 25777638.
View full list of 16 publications.