Elliott Hagedorn PhD
Assistant Professor, Hematology & Medical Oncology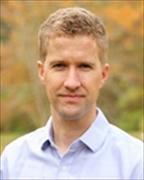 Sections
Hematology & Medical Oncology
Biography
Dr. Elliott J. Hagedorn is a cell and developmental biologist with expertise in hematopoiesis, stem cell biology and vascular heterogeneity. Research in the Hagedorn Lab utilizes a combination of genetics, genomics and advanced live cell imaging in zebrafish to understand how blood and cancer cells migrate into and out of distinct tissues and organs. The goal of this work is to elucidate novel molecular mechanisms that can be therapeutically targeted to regulate cell migration in a tissue-specific fashion - to inhibit it in certain contexts (e.g., inflammatory diseases and cancer metastasis) and promote it in others (e.g., stem cell transplantation and cell-based therapies). Dr. Hagedorn received his PhD from Duke University for his work on basement membrane transmigration in the laboratory of Dr. David Sherwood. He completed postdoctoral training with Dr. Leonard Zon at Boston Children's Hospital/Harvard Medical School. Dr. Hagedorn has taught in courses at Purdue, Duke, Harvard and in the Embryology Course at the MBL in Woods Hole, MA; his research has been funded by grants from the National Institutes of Health, Howard Hughes Medical Institute and the Helen Hay Whitney Foundation.
Websites
Education
Genetics & Genomics, PhD, Duke University, 2012
BS, Purdue University, 2006
Publications
Published on 5/18/2023
Binder V, Li W, Faisal M, Oyman K, Calkins DL, Shaffer J, Teets EM, Sher S, Magnotte A, Belardo A, Deruelle W, Gregory TC, Orwick S, Hagedorn EJ, Perlin JR, Avagyan S, Lichtig A, Barrett F, Ammerman M, Yang S, Zhou Y, Carson WE, Shive HR, Blachly JS, Lapalombella R, Zon LI, Blaser BW. Microenvironmental control of hematopoietic stem cell fate via CXCL8 and protein kinase C. Cell Rep. 2023 May 18; 42(5):112528. PMID: 37209097.
Published on 4/25/2023
Hagedorn EJ, Perlin JR, Freeman RJ, Wattrus SJ, Han T, Mao C, Kim JW, Fernández-Maestre I, Daily ML, D'Amato C, Fairchild MJ, Riquelme R, Li B, Ragoonanan DAVE, Enkhbayar K, Henault EL, Wang HG, Redfield SE, Collins SH, Lichtig A, Yang S, Zhou Y, Kunar B, Gomez-Salinero JM, Dinh TT, Pan J, Holler K, Feldman HA, Butcher EC, van Oudenaarden A, Rafii S, Junker JP, Zon LI. Transcription factor induction of vascular blood stem cell niches in vivo. Dev Cell. 2023 Apr 25. PMID: 37119815.
Published on 9/22/2022
Wattrus SJ, Smith ML, Rodrigues CP, Hagedorn EJ, Kim JW, Budnik B, Zon LI. Quality assurance of hematopoietic stem cells by macrophages determines stem cell clonality. Science. 2022 Sep 23; 377(6613):1413-1419. PMID: 36137040.
Published on 5/14/2021
Rossmann MP, Hoi K, Chan V, Abraham BJ, Yang S, Mullahoo J, Papanastasiou M, Wang Y, Elia I, Perlin JR, Hagedorn EJ, Hetzel S, Weigert R, Vyas S, Nag PP, Sullivan LB, Warren CR, Dorjsuren B, Greig EC, Adatto I, Cowan CA, Schreiber SL, Young RA, Meissner A, Haigis MC, Hekimi S, Carr SA, Zon LI. Cell-specific transcriptional control of mitochondrial metabolism by TIF1? drives erythropoiesis. Science. 2021 05 14; 372(6543):716-721. PMID: 33986176.
Published on 9/10/2019
Morad G, Carman CV, Hagedorn EJ, Perlin JR, Zon LI, Mustafaoglu N, Park TE, Ingber DE, Daisy CC, Moses MA. Tumor-Derived Extracellular Vesicles Breach the Intact Blood-Brain Barrier via Transcytosis. ACS Nano. 2019 12 24; 13(12):13853-13865. PMID: 31479239.
Published on 11/5/2018
Parada-Kusz M, Penaranda C, Hagedorn EJ, Clatworthy A, Nair AV, Henninger JE, Ernst C, Li B, Riquelme R, Jijon H, Villablanca EJ, Zon LI, Hung D, Allende ML. Generation of mouse-zebrafish hematopoietic tissue chimeric embryos for hematopoiesis and host-pathogen interaction studies. Dis Model Mech. 2018 11 05; 11(11). PMID: 30266803.
Published on 6/13/2018
Kapp FG, Perlin JR, Hagedorn EJ, Gansner JM, Schwarz DE, O'Connell LA, Johnson NS, Amemiya C, Fisher DE, Wölfle U, Trompouki E, Niemeyer CM, Driever W, Zon LI. Protection from UV light is an evolutionarily conserved feature of the haematopoietic niche. Nature. 2018 06; 558(7710):445-448. PMID: 29899448.
Published on 9/7/2017
Kelley LC, Wang Z, Hagedorn EJ, Wang L, Shen W, Lei S, Johnson SA, Sherwood DR. Live-cell confocal microscopy and quantitative 4D image analysis of anchor-cell invasion through the basement membrane in Caenorhabditis elegans. Nat Protoc. 2017 Oct; 12(10):2081-2096. PMID: 28880279.
Published on 4/13/2017
Theodore LN, Hagedorn EJ, Cortes M, Natsuhara K, Liu SY, Perlin JR, Yang S, Daily ML, Zon LI, North TE. Distinct Roles for Matrix Metalloproteinases 2 and 9 in Embryonic Hematopoietic Stem Cell Emergence, Migration, and Niche Colonization. Stem Cell Reports. 2017 05 09; 8(5):1226-1241. PMID: 28416284.
Published on 3/28/2017
Blaser BW, Moore JL, Hagedorn EJ, Li B, Riquelme R, Lichtig A, Yang S, Zhou Y, Tamplin OJ, Binder V, Zon LI. CXCR1 remodels the vascular niche to promote hematopoietic stem and progenitor cell engraftment. J Exp Med. 2017 04 03; 214(4):1011-1027. PMID: 28351983.
View full list of 32 publications.