Elizabeth N. Pearce MD, MSc
Professor, Endocrinology, Diabetes, Nutrition & Weight Management
Graduate Faculty (Primary Mentor of Grad Students)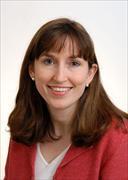 Sections
Endocrinology, Diabetes, Nutrition & Weight Management
Centers
Evans Center for Interdisciplinary Biomedical Research
Biography
Dr. Pearce is a renowned clinical investigator, endocrinologist and epidemiologist who has made significant contributions in iodine nutrition, thyroid disease in pregnancy, environmental thyroid disrupters and the association of thyroid function with cardiovascular risk. Her internationally cited publications have changed recommendations in the US for iodine supplementation and iodine use in pregnancy. A past President of the American Thyroid Association (ATA), Dr. Pearce is the recipient of the prestigious Van Meter Award and she recently co-chaired the ATA's Thyroid in Pregnancy Guidelines Task Force. She has been part of the leadership of the Iodine Global Network, a nongovernmental agency devoted to the elimination of iodine deficiency disorders, since 2007.
Education
MD, Harvard Medical School, 1997
MS, Boston University School of Public Health, 2004
BA, Harvard College, 1990
Publications
Published on 9/13/2021
Amouzegar A, Pearce EN, Mehran L, Lazarus J, Takyar M, Azizi F. TPO antibody in euthyroid pregnant women and cognitive ability in the offspring: a focused review. J Endocrinol Invest. 2021 Sep 13. PMID: 34515961.
Published on 5/11/2021
Nazeri P, Tahmasebinejad Z, Pearce EN, Zarezadeh Z, Tajeddini T, Mirmiran P, Azizi F. Does maternal iodine supplementation during the lactation have a positive impact on neurodevelopment of children? Three-year follow up of a randomized controlled trial. Eur J Nutr. 2021 Oct; 60(7):4083-4091. PMID: 33974129.
Published on 4/27/2021
Siskind SM, Lee SY, Pearce EN. Investigating hypothyroidism. BMJ. 2021 04 27; 373:n993. PMID: 33906834.
Published on 3/8/2021
Sekhon I, Pearce EN, He X, Lee SY. Iodine Content in Meal Replacements in the United States. Endocr Pract. 2021 Jul; 27(7):668-672. PMID: 33705969.
Published on 3/8/2021
Lee SY, Pearce EN. Testing, Monitoring, and Treatment of Thyroid Dysfunction in Pregnancy. J Clin Endocrinol Metab. 2021 03 08; 106(3):883-892. PMID: 33349844.
Published on 12/15/2020
Guo W, Dong S, Jin Y, Pan Z, Pearce EN, Wu W, Zhang Y, Chen W, Zhang W. Evaluation of variation of saliva iodine and recommendations for sample size and sampling time: Implications for assessing iodine nutritional status. Clin Nutr. 2021 05; 40(5):3559-3566. PMID: 33388206.
Published on 12/13/2020
Rodriguez-Diaz E, Rivera-Ortiz JI, Lee SY, Gonzalez-Rodriguez LA, He X, Pearce EN. Iodine Status in Pregnant Women of Puerto Rico. Endocr Pract. 2021 Mar; 27(3):241-244. PMID: 33618848.
Published on 11/20/2020
Kerver JM, Pearce EN, Elliott MR, Paneth N. Clearing up the misinterpretation on iodine intake in pregnancy. Am J Obstet Gynecol. 2021 04; 224(4):418-419. PMID: 33221295.
Published on 11/17/2020
Pearce EN. An endocrinologist's journey in iodine nutrition. Eur J Clin Nutr. 2020 Nov 17. PMID: 33199852.
Published on 10/7/2020
Sawka AM, Alexander EK, Bianco AC, Chou R, Haugen BR, Kopp PA, Pearce EN, Ross DS, Smallridge RC, Jonklaas J. Challenges in Developing Recommendations Based on Low-Quality Evidence in Thyroid Guidelines. Thyroid. 2021 01; 31(1):3-7. PMID: 32900277.
View full list of 203 publications.