Ehab Billatos MD
Assistant Professor, Pulmonary, Allergy, Sleep & Critical Care Medicine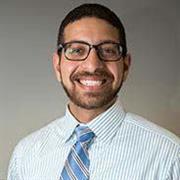 Sections
Pulmonary, Allergy, Sleep & Critical Care Medicine
Biography
Dr. Billatos is the Principal Investigator for the DECAMP consortium (Detection of Early Cancer Among Military Personnel) which aims to improve the early diagnosis of lung cancer via biomarker validation and development from minimally invasive specimens. This is a multi-center trial sponsored by the Department of Defense, the National Cancer Institute, Johnson and Johnson, and Novartis pharmaceuticals.

Dr. Billatos also serves in several clinical roles including the Director of Inpatient Pulmonary Clinical Services, the Director of the Pleural Disease Service, and the Assistant Director of Bronchoscopy at Boston University Medical Center.
Websites
Education
Medicine, MD, University of Texas at Austin, 2010
Microbiology, BS, University of Texas at Austin, 2006
Publications
Published on 12/1/2021
Kammer MN, Lakhani DA, Balar AB, Antic SL, Kussrow AK, Webster RL, Mahapatra S, Barad U, Shah C, Atwater T, Diergaarde B, Qian J, Kaizer A, New M, Hirsch E, Feser WJ, Strong J, Rioth M, Miller YE, Balagurunathan Y, Rowe DJ, Helmey S, Chen SC, Bauza J, Deppen SA, Sandler K, Maldonado F, Spira A, Billatos E, Schabath MB, Gillies RJ, Wilson DO, Walker RC, Landman B, Chen H, Grogan EL, Barón AE, Bornhop DJ, Massion PP. Integrated Biomarkers for the Management of Indeterminate Pulmonary Nodules. Am J Respir Crit Care Med. 2021 12 01; 204(11):1306-1316. PMID: 34464235.
Published on 10/28/2021
Xu K, Shi X, Husted C, Hong R, Wang Y, Ning B, Sullivan T, Rieger-Christ K, Duan F, Marques H, Gower A, Xiao X, Liu H, Liu G, Duclos G, Platt M, Spira A, Mazzilli S, Billatos E, Lenburg M, Campbell J, Beane J. Smoking Modulates Different Secretory Subpopulations Expressing SARS-CoV-2 Entry Genes in the Nasal and Bronchial Airways. Res Sq. 2021 Oct 28. PMID: 34729557.
Published on 8/6/2021
McCandless M, Perry A, DiFilippo N, Carroll A, Billatos E, Russo S. A Soft Robot for Peripheral Lung Cancer Diagnosis and Therapy. Soft Robot. 2022 Aug; 9(4):754-766. PMID: 34357810.
Published on 7/28/2021
Lui JK, Billatos E, Schembri F. Evaluation and management of pleural sepsis. Respir Med. 2021 10; 187:106553. PMID: 34340174.
Published on 7/1/2021
Kinsey CM, Billatos E, Mori V, Tonelli B, Cole BF, Duan F, Marques H, de la Bruere I, Onieva J, San José Estépar R, Cleveland A, Idelkope D, Stevenson C, Bates JHT, Aberle D, Spira A, Washko G, San José Estépar R. A simple assessment of lung nodule location for reduction in unnecessary invasive procedures. J Thorac Dis. 2021 Jul; 13(7):4207-4216. PMID: 34422349.
Published on 2/24/2021
Johnson SW, Billatos E. Polymicrobial empyema; a novel case of Actinomyces turicensis. Respir Med Case Rep. 2021; 32:101365. PMID: 33728262.
Published on 10/22/2020
Choi Y, Qu J, Wu S, Hao Y, Zhang J, Ning J, Yang X, Lofaro L, Pankratz DG, Babiarz J, Walsh PS, Billatos E, Lenburg ME, Kennedy GC, McAuliffe J, Huang J. Improving lung cancer risk stratification leveraging whole transcriptome RNA sequencing and machine learning across multiple cohorts. BMC Med Genomics. 2020 10 22; 13(Suppl 10):151. PMID: 33087128.
Published on 10/16/2020
Belok S, Herbst N, Billatos E. A chocolate effusion - An unusual cause of elevated adenosine deaminase in the pleural fluid. Respir Med Case Rep. 2020; 31:101260. PMID: 33117649.
Published on 9/16/2020
Billatos E, Ash SY, Duan F, Xu K, Romanoff J, Marques H, Moses E, Han MK, Regan EA, Bowler RP, Mason SE, Doyle TJ, San José Estépar R, Rosas IO, Ross JC, Xiao X, Liu H, Liu G, Sukumar G, Wilkerson M, Dalgard C, Stevenson C, Whitney D, Aberle D, Spira A, San José Estépar R, Lenburg ME, Washko GR. Distinguishing Smoking-Related Lung Disease Phenotypes Via Imaging and Molecular Features. Chest. 2021 02; 159(2):549-563. PMID: 32946850.
Published on 3/7/2019
Billatos E, Duan F, Moses E, Marques H, Mahon I, Dymond L, Apgar C, Aberle D, Washko G, Spira A. Detection of early lung cancer among military personnel (DECAMP) consortium: study protocols. BMC Pulm Med. 2019 Mar 07; 19(1):59. PMID: 30845938.
View full list of 15 publications.