Edwin Van Den Heuvel PhD
Adjunct Professor, Preventive Medicine & Epidemiology
Professor, Biostatistics
72 E. Concord Street | (617) 358-2734

evandenh@bu.edu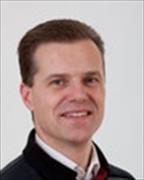 Sections
Preventive Medicine & Epidemiology
Centers
Framingham Heart Study
Biography
Dr. Edwin van den Heuvel studied mathematics at the University of Amsterdam, where he also obtained his PhD in mathematical statistics. He has been working as a consultant on quality control and quality improvement, he has been a director of a statistical unit in a pharmaceutical company for more than eight years, and he has been a professor of medical statistics at the University of Groningen. He considers himself as an all-round research statistician with a broad range of expertise and he specializes in the analysis of complex structured data sets.
Education
Statistics, PhD, University of Amsterdam, 1996
Mathematics, MSc, University of Amsterdam, 1991
Publications
Published on 9/24/2021
van Oostrum NHM, de Vet CM, Clur SB, van der Woude DAA, van den Heuvel ER, Oei SG, van Laar JOEH. Fetal myocardial deformation measured with 2D-STE: longitudinal prospective cohort study in 124 healthy fetuses. Ultrasound Obstet Gynecol. 2021 Sep 24. PMID: 34558747.
Published on 7/19/2021
Griffith LE, Raina P, Kanters D, Hogan D, Patterson C, Papaioannou A, Richardson J, Gilsing A, Thompson M, van den Heuvel E. Frailty differences across population characteristics associated with health inequality: a cross-sectional analysis of baseline data from the Canadian Longitudinal Study on Aging (CLSA). BMJ Open. 2021 07 19; 11(7):e047945. PMID: 34281924.
Published on 6/4/2021
Almalik O, Zhan Z, van den Heuvel ER. Tests for publication bias are unreliable in case of heteroscedasticity. Contemp Clin Trials Commun. 2021 Jun; 22:100781. PMID: 34179565.
Published on 4/13/2021
Brini A, Avagyan V, de Vos RCH, Vossen JH, van den Heuvel ER, Engel J. Improved One-Class Modeling of High-Dimensional Metabolomics Data via Eigenvalue-Shrinkage. Metabolites. 2021 Apr 13; 11(4). PMID: 33924479.
Published on 3/2/2021
Frenken MWE, Thijssen KMJ, Vlemminx MWC, van den Heuvel ER, Westerhuis MEMH, Oei SG. Clinical evaluation of electrohysterography as method of monitoring uterine contractions during labor: A propensity score matched study. Eur J Obstet Gynecol Reprod Biol. 2021 Apr; 259:178-184. PMID: 33684672.
Published on 2/26/2021
Post RAJ, Regis M, Zhan Z, van den Heuvel ER. How did governmental interventions affect the spread of COVID-19 in European countries? BMC Public Health. 2021 02 26; 21(1):411. PMID: 33637062.
Published on 12/11/2020
Moors S, Joshi R, Bullens LM, van Oostrum NHM, Regis M, van den Heuvel ER, Oei SG, van Laar JOEH, van der Hout-van der Jagt MB. A randomized controlled trial studying the effect of maternal hyperoxygenation on fetal heart rate in suspected fetal distress. Physiol Meas. 2020 12 11; 41(11):115002. PMID: 33049730.
Published on 9/28/2020
Khinda J, Janjua NZ, Cheng S, van den Heuvel ER, Bhatti P, Darvishian M. Association between markers of immune response at hospital admission and COVID-19 disease severity and mortality: A meta-analysis and meta-regression. J Med Virol. 2021 02; 93(2):1078-1098. PMID: 32776551.
Published on 7/5/2020
de Leeuw FA, van de Rest O, Doorduijn AS, Fieldhouse JLP, de van der Schueren MAE, Visser M, van den Heuvel EGHM, Scheltens P, Teunissen CE, Kester MI, van der Flier WM. Associations Between Nutrient Intake and Corresponding Nutritional Biomarker Levels in Blood in a Memory Clinic Cohort: The NUDAD Project. J Am Med Dir Assoc. 2020 10; 21(10):1436-1438. PMID: 32641272.
Published on 6/26/2020
Schwedhelm E, Song RJ, Vasan RS, van den Heuvel ER, Hannemann J, Xanthakis V, Böger R. Association of Lower Plasma Homoarginine Concentrations with Greater Risk of All-Cause Mortality in the Community: The Framingham Offspring Study. J Clin Med. 2020 Jun 26; 9(6). PMID: 32604958.
View full list of 187 publications.