Devin W. Steenkamp MBChB
Assistant Professor, Endocrinology, Diabetes, Nutrition & Weight Management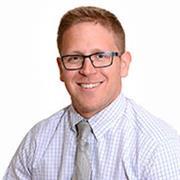 Sections
Endocrinology, Diabetes, Nutrition & Weight Management
Centers
Evans Center for Interdisciplinary Biomedical Research
Biography
Devin Steenkamp is an academic diabetologist with a focus on type 1 diabetes and atypical diabetes phenotypes such as monogenic diabetes. He is the Director of the Clinical Diabetes Program at Boston Medical Center and Boston University School of Medicine and his clinical practice is focused on the use of diabetes technologies in care. In addition, he is the principal investigator on a variety of clinical trials related to diabetes pharmacotherapy and the application of novel diabetes technologies.
Education
Medicine-Internal, MBChB, University of Pretoria, 2004
Publications
Published on 9/27/2021
Ju Z, Piarulli A, Bielick L, Marschall S, Broiullard E, Steenkamp D. Advanced Diabetes Technology Remains Underutilized in Underserved Populations: early hybrid closed loop system experience at an academic safety net hospital. Diabetes Technol Ther. 2021 Sep 27. PMID: 34569850.
Published on 3/30/2021
Fantasia KL, Stockman MC, Ju Z, Ortega P, Crable EL, Drainoni ML, Walkey AJ, Bergstrom M, O'Brien K, Steenkamp D. Professional continuous glucose monitoring and endocrinology eConsult for adults with type 2 diabetes in primary care: Results of a clinical pilot program. J Clin Transl Endocrinol. 2021 Mar; 24:100254. PMID: 33898271.
Published on 3/5/2021
Steenkamp D, Eby EL, Gulati N, Liao B. Adherence and Persistence to Insulin Therapy in People with Diabetes: Impact of Connected Insulin Pen Delivery Ecosystem. J Diabetes Sci Technol. 2021 Mar 05; 1932296821997923. PMID: 33666097.
Published on 1/23/2021
O'Malley G, Ebekozien O, Desimone M, Pinnaro CT, Roberts A, Polsky S, Noor N, Aleppo G, Basina M, Tansey M, Steenkamp D, Vendrame F, Lorincz I, Mathias P, Agarwal S, Golden L, Hirsch IB, Levy CJ. COVID-19 Hospitalization in Adults with Type 1 Diabetes: Results from the T1D Exchange Multicenter Surveillance Study. J Clin Endocrinol Metab. 2021 01 23; 106(2):e936-e942. PMID: 33165563.
Published on 1/11/2021
Wirunsawanya K, Chittimoju S, Fantasia KL, Modzelewski KL, Steenkamp D, Alexanian SM. Insulin Requirements in Patients With Type 2 Diabetes Undergoing Bariatric Surgery in the Inpatient Setting and Upon Discharge: A Single-Center Retrospective Analysis of Insulin Management Strategies. Endocr Pract. 2021 Jun; 27(6):538-544. PMID: 34016530.
Published on 12/3/2020
Vodopivec DM, Thomas DD, Palermo NE, Steenkamp DW, Lee SL. Looking for the Outsider. N Engl J Med. 2020 12 03; 383(23):2275-2281. PMID: 33264549.
Published on 6/16/2020
Pinardo H, Rubin SJ, Hashemi S, DePietro J, Pearce EN, Ananthakrishnan S, Alexanian SM, Steenkamp DW, Noordzij JP. The use of vitamin D in preventing post-thyroidectomy hypocalcemia: An endocrinologist survey study. Clin Endocrinol (Oxf). 2020 11; 93(5):598-604. PMID: 32469425.
Published on 12/1/2019
Modzelewski KL, Fantasia KL, Steenkamp DW. Reconsidering Meaningful Outcomes in Diabetes mHealth Research. US Endocrinology. 2019; 2(15):74-76.
Published on 10/3/2019
Fantasia KL, Steenkamp DW. Optimal Glycemic Control in a Patient With HNF1A MODY With GLP-1 RA Monotherapy: Implications for Future Therapy. J Endocr Soc. 2019 Dec 01; 3(12):2286-2289. PMID: 31737858.
Published on 6/1/2019
Steenkamp D. CONTINUOUS GLUCOSE MONITORING AS A HYPOGLYCEMIA MITIGATION TOOL IN INDIVIDUALS WITH TYPE 1 DIABETES WITH IMPAIRED HYPOGLYCEMIC AWARENESS. Endocr Pract. 2019 Jun; 25(6):619-621. PMID: 31242124.
View full list of 40 publications.