Devin W. Steenkamp MBChB
Assistant Professor, Endocrinology, Diabetes, Nutrition & Weight Management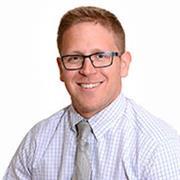 Sections
Endocrinology, Diabetes, Nutrition & Weight Management
Centers
Evans Center for Interdisciplinary Biomedical Research
Biography
Devin Steenkamp is an endocrinologist with a particular interest in type 1 diabetes and atypical diabetes phenotypes such as monogenic diabetes. He is the Director of the Clinical Diabetes Program in the Section of Endocrinology, Diabetes and Nutrition at Boston Medical Center/Chobanian and Avedisian School of Medicine and his clinical practice and research interests are focused on the application of diabetes technologies in care
Education
Medicine-Internal, MBChB, University of Pretoria, 2004
Publications
Published on 3/6/2023
Steenkamp DW, Cheney MC, Ju Z, Rodbard D, Wolpert HA. Proof-of-concept Application of Continuous Glucose Monitoring Data Analytics to Identify Diabetes Glucotypes. J Endocr Soc. 2023 Mar 06; 7(5):bvad038. PMID: 37035501.
Published on 12/19/2022
Williams ME, Steenkamp D, Wolpert H. Making sense of glucose sensors in end-stage kidney disease: A review. Front Clin Diabetes Healthc. 2022; 3:1025328. PMID: 36992784.
Published on 10/21/2022
Steenkamp DW, Piarulli A, Middelbeek RJW, Wolpert HA. Severe hypoglycaemia while using a hybrid closed-loop insulin pump system: A reminder of the continued importance of patient education for pre-emptive hypoglycaemia mitigation. Diabet Med. 2023 Mar; 40(3):e14975. PMID: 36251520.
Published on 10/19/2022
Marks BE, Mungmode A, Neyman A, Levin L, Rioles N, Eng D, Lee JM, Basina M, Hawah-Jones N, Mann E, O'Malley G, Wilkes M, Steenkamp D, Aleppo G, Accacha S, Ebekozien O. Baseline Quality Improvement Capacity of 33 Endocrinology Centers Participating in the T1D Exchange Quality Improvement Collaborative. Clin Diabetes. 2022; 41(1):35-44. PMID: 36714248.
Published on 8/15/2022
Ebekozien O, Mungmode A, Buckingham D, Greenfield M, Talib R, Steenkamp D, Haw JS, Odugbesan O, Harris M, Mathias P, Dickinson JK, Agarwal S. Achieving Equity in Diabetes Research: Borrowing From the Field of Quality Improvement Using a Practical Framework and Improvement Tools. Diabetes Spectr. 2022; 35(3):304-312. PMID: 36072814.
Published on 2/16/2022
Modzelewski KL, Murati J, Charoenngam N, Rehm C, Steenkamp DW. Delays in Continuous Glucose Monitoring Device Initiation: A Single Center Experience and a Call to Change. Diabetes Technol Ther. 2022 Jun; 24(6):390-395. PMID: 35099277.
Published on 2/9/2022
Fantasia KL, Demers LB, Steenkamp DW, Modzelewski KL. An Opportunity for Improvement: Evaluation of Diabetes Technology Education Among Adult Endocrinology Training Programs. J Diabetes Sci Technol. 2022 Feb 09; 19322968221077132. PMID: 35135342.
Published on 10/22/2021
Ju Z, Piarulli A, Bielick L, Marschall S, Brouillard E, Steenkamp D. Advanced Diabetes Technology Remains Underutilized in Underserved Populations: Early Hybrid Closed-Loop System Experience at an Academic Safety Net Hospital. Diabetes Technol Ther. 2022 02; 24(2):143-147. PMID: 34569850.
Published on 3/30/2021
Fantasia KL, Stockman MC, Ju Z, Ortega P, Crable EL, Drainoni ML, Walkey AJ, Bergstrom M, O'Brien K, Steenkamp D. Professional continuous glucose monitoring and endocrinology eConsult for adults with type 2 diabetes in primary care: Results of a clinical pilot program. J Clin Transl Endocrinol. 2021 Mar; 24:100254. PMID: 33898271.
Published on 3/5/2021
Steenkamp D, Eby EL, Gulati N, Liao B. Adherence and Persistence to Insulin Therapy in People with Diabetes: Impact of Connected Insulin Pen Delivery Ecosystem. J Diabetes Sci Technol. 2022 Jul; 16(4):995-1002. PMID: 33666097.
View full list of 47 publications.