Denise De Las Nueces MD, MPH
Assistant Professor, General Internal Medicine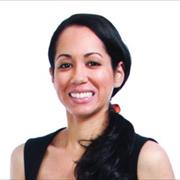 Sections
General Internal Medicine
Biography
Denise De Las Nueces, MD, MPH is an Assistant Professor of Medicine in General Internal Medicine at the Boston University of Medicine and medical director of Boston Health Care for the Homeless Program's Barbara McInnis House. In 2014, she was profiled in Boston Business Journal for her work with underrepresented communities like her mentoring minority and low-income students through programmings such as Poussaint Primary Care Scholars, a pre-matriculation program at Harvard Medical School. She loves working one-on-one with patients and believes that making a difference in someone's life is the most rewarding part of being a physician.
Education
Medicine-Internal, MD, Harvard Medical School, 2008
Health Policy Management, MPH, Harvard School of Public Health, 2012
Biology, BA, Columbia University, 2003
Publications
Published on 6/24/2020
Gaeta JM, De Las Nueces D, Munson DG, Barocas JA, Walsh KE. Case 21-2020: A 66-Year-Old Homeless Man with Covid-19. N Engl J Med. 2020 Jul 09; 383(2):170-178. PMID: 32579806.
Published on 6/9/2020
Baggett TP, Racine MW, Lewis E, De Las Nueces D, O'Connell JJ, Bock B, Gaeta JM. Addressing COVID-19 Among People Experiencing Homelessness: Description, Adaptation, and Early Findings of a Multiagency Response in Boston. Public Health Rep. 2020 Jul/Aug; 135(4):435-441. PMID: 32516035.
Published on 11/16/2018
Angoff GH, O'Connell JJ, Gaeta JM, De Las Nueces D, Lawrence M, Nembang S, Baggett TP. Electronic medical record implementation for a healthcare system caring for homeless people. JAMIA Open. 2019 Apr; 2(1):89-98. PMID: 31984348.
Published on 2/21/2012
De las Nueces D, Hacker K, DiGirolamo A, Hicks LS. A systematic review of community-based participatory research to enhance clinical trials in racial and ethnic minority groups. Health Serv Res. 2012 Jun; 47(3 Pt 2):1363-86. PMID: 22353031.
Published on 3/1/2006
Auerbach MR, Brown KR, Kaplan A, de Las Nueces D, Singh IR. A small loop in the capsid protein of Moloney murine leukemia virus controls assembly of spherical cores. J Virol. 2006 Mar; 80(6):2884-93. PMID: 16501097.
View full list of 5 publications.