Deepa Mangalat Gopal MD, MS
Assistant Professor, Cardiovascular Medicine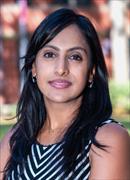 Sections
Cardiovascular Medicine
Centers
Whitaker Cardiovascular Institute
Amyloidosis Center
Biography
Deepa Gopal, MD, is an Assistant Professor of Cardiovascular Medicine at the Boston University School of Medicine and a Staff Cardiologist at the Boston Medical Center. Before being appointed as an Instructor, Dr. Gopal completed a five year fellowship at Boston University, during which she received a teaching award. Currently, she is on the Cardiology Fellowship Selection Committee at the university. Outside the university she is a member of four societies including the American College of Cardiology and the Heart Failure Society of America.
Education
Medicine-Internal, MD, University of Missouri, 2004
Clinical Evaluation/Research, MS, Emory University, 2009
Liberal Arts, BA, University of Missouri, 2004
Publications
Published on 7/5/2022
Gustine JN, Staron A, Szalat RE, Mendelson LM, Joshi T, Ruberg FL, Siddiqi O, Gopal DM, Edwards CV, Havasi A, Kaku M, Lau KHV, Berk JL, Sloan JM, Sanchorawala V. Predictors of hematologic response and survival with stem cell transplantation in AL amyloidosis: A 25-year longitudinal study. Am J Hematol. 2022 Sep; 97(9):1189-1199. PMID: 35731907.
Published on 4/5/2022
Lui JK, Sangani RA, Chen CA, Bujor AM, Trojanowski MA, Gopal DM, LaValley MP, Soylemez Wiener R, Klings ES. Prognostic Value of Cardiac Axis Deviation in Systemic Sclerosis-Related Pulmonary Hypertension. Arthritis Care Res (Hoboken). 2022 Jul; 74(7):1219-1226. PMID: 34085410.
Published on 1/27/2022
Siddiqi OK, Mints YY, Berk JL, Connors L, Doros G, Gopal DM, Kataria S, Lohrmann G, Pipilas AR, Ruberg FL. Diflunisal treatment is associated with improved survival for patients with early stage wild-type transthyretin (ATTR) amyloid cardiomyopathy: the Boston University Amyloidosis Center experience. Amyloid. 2022 Jun; 29(2):71-78. PMID: 35083944.
Published on 10/22/2021
Moreira JD, Gopal DM, Kotton DN, Fetterman JL. Gaining Insight into Mitochondrial Genetic Variation and Downstream Pathophysiology: What Can i(PSCs) Do? Genes (Basel). 2021 10 22; 12(11). PMID: 34828274.
Published on 12/15/2020
Lohrmann G, Patel MA, Brauneis D, Sanchorawala V, Sarosiek S, Vellanki N, Siddiqi OK, Ruberg FL, Gopal DM. Left Atrial Mechanics Associates With Paroxysmal Atrial Fibrillation in Light-Chain Amyloidosis Following Stem Cell Transplantation. JACC CardioOncol. 2020 Dec; 2(5):721-731. PMID: 33511355.
Published on 9/6/2020
Wheelock AE, Sandhu SK, Loskill AJ, Marcus RR, Gopal DM, Hamer DH, Hochberg NS. Testing for Chagas disease in an at-risk population. J Card Fail. 2021 01; 27(1):109-111. PMID: 32905847.
Published on 12/2/2019
Lohrmann G, Pipilas A, Mussinelli R, Gopal DM, Berk JL, Connors LH, Vellanki N, Hellawell J, Siddiqi OK, Fox J, Maurer MS, Ruberg FL. Stabilization of Cardiac Function With Diflunisal in Transthyretin (ATTR) Cardiac Amyloidosis. J Card Fail. 2020 Sep; 26(9):753-759. PMID: 31805416.
Published on 10/1/2019
Gopal DM, Ruberg FL, Siddiqi OK. Impact of Genetic Testing in Transthyretin (ATTR) Cardiac Amyloidosis. Curr Heart Fail Rep. 2019 10; 16(5):180-188. PMID: 31520266.
Published on 7/18/2019
Punnoose LR, Gopal DM, Stevenson LW. Time to update our profiles. Eur J Heart Fail. 2019 11; 21(11):1366-1369. PMID: 31321859.
Published on 4/2/2019
Gopal DM, Ayalon N, Wang YC, Siwik D, Sverdlov A, Donohue C, Perez A, Downing J, Apovian C, Silva V, Panagia M, Kolachalama V, Ho JE, Liang CS, Gokce N, Colucci WS. Galectin-3 Is Associated With Stage B Metabolic Heart Disease and Pulmonary Hypertension in Young Obese Patients. J Am Heart Assoc. 2019 04 02; 8(7):e011100. PMID: 30929550.
View full list of 31 publications.