David P. Nunes MD, FRCPI
Associate Professor, Gastroenterology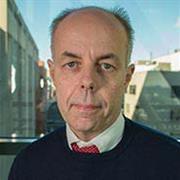 Centers
Evans Center for Interdisciplinary Biomedical Research
Biography
Expertise includes: Clinical liver disease - interest in viral hepatitis; Evaluation and management of liver lesions.
Education
MBBCh, Trinity College, 1984
Publications
Published on 5/13/2022
O'Donnell A, Pham N, Battisti L, Epstein R, Nunes D, Sawinski D, Lodi S. Estimating the causal effect of treatment with direct-acting antivirals on kidney function among individuals with hepatitis C virus infection. PLoS One. 2022; 17(5):e0268478. PMID: 35560032.
Published on 7/21/2021
Gromisch CM, Machado MA, Satyam V, Nunes D. Autoimmune Gastrointestinal Dysmotility in a Patient With HIV Treated With Methylprednisolone and Pyridostigmine. ACG Case Rep J. 2021 Jul; 8(7):e00636. PMID: 34307714.
Published on 5/28/2021
Bhat S, Nunes D. Pharmacist-Managed Helicobacter pylori Treatment Service Within a Gastroenterology Clinic: Workflow and Real-World Experiences. Ann Pharmacother. 2022 02; 56(2):162-169. PMID: 34049441.
Published on 4/21/2021
Fuster D, Nunes D, Cheng DM, Saitz R, Samet JH. Alcohol Consumption and Hepatitis C Virus (HCV) RNA Levels in HIV/HCV Coinfected Patients. Viruses. 2021 04 21; 13(5). PMID: 33919027.
Published on 3/10/2021
De La Cruz M, Nunes DP, Bhardwaj V, Subramanyan D, Zaworski C, Roy P, Roy HK. Colonic Epithelial Angiotensin-Converting Enzyme 2 (ACE2) Expression in Blacks and Whites: Potential Implications for Pathogenesis Covid-19 Racial Disparities. J Racial Ethn Health Disparities. 2022 04; 9(2):691-697. PMID: 33694125.
Published on 12/30/2020
Mohanty A, Eshein A, Kamineni P, Avissar U, Bliss CM, Long MT, Lowe RC, Moore TC, Nunes DP, Backman V, Roy HK. Quantification of gastric mucosal microcirculation as a surrogate marker of portal hypertension by spatially resolved subdiffuse reflectance spectroscopy in diagnosis of cirrhosis: a proof-of-concept study. Gastrointest Endosc. 2021 07; 94(1):60-67.e1. PMID: 33385462.
Published on 9/1/2019
Gilad A, Fricker ZP, Hsieh A, Thomas DD, Zahorian T, Nunes DP. Sustained Improvement in Type 2 Diabetes Mellitus is Common After Treatment of Hepatitis C Virus With Direct-acting Antiviral Therapy. J Clin Gastroenterol. 2019 09; 53(8):616-620. PMID: 30614943.
Published on 4/3/2019
Pratt PK, Nunes D, Long MT, Farraye FA. Improved Antibody Response to Three Additional Hepatitis B Vaccine Doses Following Primary Vaccination Failure in Patients with Inflammatory Bowel Disease. Dig Dis Sci. 2019 07; 64(7):2031-2038. PMID: 30945037.
Published on 8/4/2018
Tran AN, Sachdev R, Fricker ZP, Leber M, Zahorian T, Shah B, Nunes DP, Long MT. Intensive Pharmacy Care Improves Outcomes of Hepatitis C Treatment in a Vulnerable Patient Population at a Safety-Net Hospital. Dig Dis Sci. 2018 12; 63(12):3241-3249. PMID: 30078116.
Published on 7/24/2018
Kalman RS, Stawarz A, Nunes D, Zhang D, Dela Cruz MA, Mohanty A, Subramanian H, Backman V, Roy HK. Correction: Biophotonic detection of high order chromatin alterations in field carcinogenesis predicts risk of future hepatocellular carcinoma: A pilot study. PLoS One. 2018; 13(7):e0201500. PMID: 30040862.
View full list of 64 publications.