David Del Sesto DO
Voluntary Assistant Professor, General Internal Medicine
72 East Concord Street, L-315 | (617) 924-6484

delsesto@bu.edu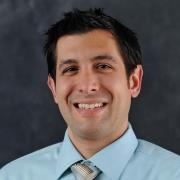 Sections
General Internal Medicine
Websites
Education
DO, Nova Southeastern University, 2004
Biology, BS, University of Miami, 1999
Publications
Published on 6/9/2011
Delsesto D, Opal SM. Future perspectives on regulating pro-and anti-inflammatory responses in sepsis. Contrib Microbiol. 2011; 17:137-156. PMID: 21659751.
Published on 1/1/2011
Opal SM, Lim YP, Cristofaro P, Artenstein AW, Kessimian N, Delsesto D, Parejo N, Palardy JE, Siryaporn E. Inter-a inhibitor proteins: a novel therapeutic strategy for experimental anthrax infection. Shock. 2011 Jan; 35(1):42-4. PMID: 20523269.
Published on 7/1/2007
Kireyev D, Delsesto DJ, Ross JJ. A Vascular Thigh Mass in a Patient With AIDS. Infectious Diseases in Clinical Practice. 2007; 15(4):261-262.
View full list of 3 publications.