David Hing-Kwei Chui MD
Professor, Hematology & Medical Oncology
Professor, Pathology & Laboratory Medicine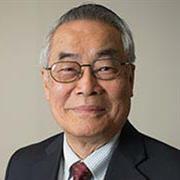 Sections
Hematology & Medical Oncology
Centers
Center of Excellence in Sickle Cell Disease
Center for Regenerative Medicine
Evans Center for Interdisciplinary Biomedical Research
Biography
Dr. Chui is a physician-scientist with a long standing clinical and research interest in hemoglobin disorders. He has contributed to the field ranging from population genetics, genotype-phenotype correlation, genetic modifiers, and regulation of HbF expression. He received MD,CM degree from McGill University, Montreal, Canada in 1963. In 1970, he joined the Faculty at the McMaster University, Hamilton, Ontario, Canada, and rose to become a full Professor in 1982. He has always enjoyed teaching and mentoring students, residents and fellows. He served on the Editorial Board of BLOOD (1980-84), American Society of Hematology (ASH) Committee on Educational Affairs and Training (1984-87), NIH Hematology Study Section (1987-91), ASH Scientific Affairs Subcommittee on Hemoglobin/Red Cell (1989-1991), and Chair of Medical Advisory Board, the Thalassemia Foundation of Canada (2000-2002). He was elected to two honorific societies, the American Society for Clinical Investigation (1980) and the Association of American Physicians (1991). In 2003, Dr. Chui joined Boston University School of Medicine, and was appointed a full Professor of Medicine, Pathology and Laboratory Medicine.

Expertise includes: Globin gene mutations; Hemoglobin diseases; Thalassmeias; and Regulation of fetal hemoglobin expression.
Education
MD, McGill University, 1963
Chemistry, BSc, University of Maryland, 1959
Publications
Published on 5/11/2018
Singh SA, Sarangi S, Appiah-Kubi A, Hsu P, Smith WB, Gallagher PG, Glader B, Chui DHK. Hb Adana (HBA2 or HBA1: c.179G > A) and alpha thalassemia: Genotype-phenotype correlation. Pediatr Blood Cancer. 2018 09; 65(9):e27220. PMID: 29749692.
Published on 4/1/2018
Leung A, Zulick E, Skvir N, Vanuytsel K, Morrison TA, Naing ZH, Wang Z, Dai Y, Chui DHK, Steinberg MH, Sherr DH, Murphy GJ. Notch and Aryl Hydrocarbon Receptor Signaling Impact Definitive Hematopoiesis from Human Pluripotent Stem Cells. Stem Cells. 2018 07; 36(7):1004-1019. PMID: 29569827.
Published on 4/1/2018
Akinbami AO, Sobota AE, Luo HY, Chui DHK, Steinberg MH. A Mild Phenotype of Severe ß+ Thalassemia in a 16-Month-Old Boy. J Pediatr Hematol Oncol. 2018 04; 40(3):e145-e147. PMID: 29309373.
Published on 11/29/2017
Morrison TA, Wilcox I, Luo HY, Farrell JJ, Kurita R, Nakamura Y, Murphy GJ, Cui S, Steinberg MH, Chui DHK. A long noncoding RNA from the HBS1L-MYB intergenic region on chr6q23 regulates human fetal hemoglobin expression. Blood Cells Mol Dis. 2018 03; 69:1-9. PMID: 29227829.
Published on 8/11/2017
Shaikho EM, Farrell JJ, Alsultan A, Qutub H, Al-Ali AK, Figueiredo MS, Chui DHK, Farrer LA, Murphy GJ, Mostoslavsky G, Sebastiani P, Steinberg MH. A phased SNP-based classification of sickle cell anemia HBB haplotypes. BMC Genomics. 2017 Aug 11; 18(1):608. PMID: 28800727.
Published on 4/28/2017
Cancio MI, Aygun B, Chui DHK, Rothman JA, Scott JP, Estepp JH, Hankins JS. The clinical severity of hemoglobin S/Black (A ?dß)0 -thalassemia. Pediatr Blood Cancer. 2017 Nov; 64(11). PMID: 28453928.
Published on 4/11/2017
Pernudy-Ubau A, Salinas-Molina J, Requenez Y, Ortiz-Lopez M, Puller AC, García-Rosales K, Rodríguez-Estrada A, Rodríguez-Romero W, Mejía-Baltodano G, Luo HY, Chui DHK. Hb Presbyterian (HBB: c.327C>G) in a Nicaraguan Family. Hemoglobin. 2017 Jan; 41(1):50-52. PMID: 28395541.
Published on 2/27/2017
Jiang Z, Luo HY, Farrell JJ, Zhang Z, Schulz VP, Albarawi D, Steinberg MH, Al-Allawi NAS, Gallagher PG, Forget BG, Chui DHK. A variant Sp1 (R218Q) transcription factor might enhance HbF expression in ß0 -thalassaemia homozygotes. Br J Haematol. 2018 03; 180(5):755-757. PMID: 28240767.
Published on 1/19/2017
Park S, Gianotti-Sommer A, Molina-Estevez FJ, Vanuytsel K, Skvir N, Leung A, Rozelle SS, Shaikho EM, Weir I, Jiang Z, Luo HY, Chui DHK, Figueiredo MS, Alsultan A, Al-Ali A, Sebastiani P, Steinberg MH, Mostoslavsky G, Murphy GJ. A Comprehensive, Ethnically Diverse Library of Sickle Cell Disease-Specific Induced Pluripotent Stem Cells. Stem Cell Reports. 2017 Apr 11; 8(4):1076-1085. PMID: 28111279.
Published on 8/22/2016
Vathipadiekal V, Farrell JJ, Wang S, Edward HL, Shappell H, Al-Rubaish AM, Al-Muhanna F, Naserullah Z, Alsuliman A, Qutub HO, Simkin I, Farrer LA, Jiang Z, Luo HY, Huang S, Mostoslavsky G, Murphy GJ, Patra PK, Chui DH, Alsultan A, Al-Ali AK, Sebastiani P, Steinberg MH. A candidate transacting modulator of fetal hemoglobin gene expression in the Arab-Indian haplotype of sickle cell anemia. Am J Hematol. 2016 Nov; 91(11):1118-1122. PMID: 27501013.
View full list of 100 publications.