Craig Francis Noronha MD
Clinical Associate Professor, General Internal Medicine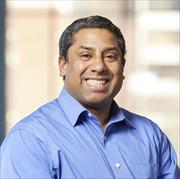 Sections
General Internal Medicine
Centers
Evans Center for Interdisciplinary Biomedical Research
Biography
Craig F. Noronha, MD is an Associate Program Director Boston Medical Center/Chobanian and Avedisian School of Medicine Internal Medical Program. He is on staff in the section of General Internal Medicine. He is the Director of Quality Improvement and Patient Safety Education and Director of Professional Development for the Residency Program. His educational research interests focus on residency scheduling models, professionalism, and feedback. He has published several articles related to scheduling models. He currently co-directs a Department of Medicine initiative to improve feedback exchange between all members of the department. Dr. Noronha has been an advanced user and physician lead for Boston Medical Center Information Technology including acting as a physician consultant for numerous projects.
Education
MD, Boston University School of Medicine, 2003
Biology/History, BA, Boston University, 1999
Publications
Published on 4/26/2022
Noronha C, Lo MC, Nikiforova T, Jones D, Nandiwada DR, Leung TI, Smith JE, Lee WW. Telehealth Competencies in Medical Education: New Frontiers in Faculty Development and Learner Assessments. J Gen Intern Med. 2022 Sep; 37(12):3168-3173. PMID: 35474505.
Published on 2/17/2021
Ananthakrishnan S, Eyllon M, Noronha C. Can You Hear Me Now? Helping Faculty Improve Feedback Exchange for Internal Medicine Subspecialty Fellows. MedEdPORTAL. 2021 02 17; 17:11099. PMID: 33644304.
Published on 2/1/2020
Epstein JA, Noronha C, Berkenblit G. Smarter Screen Time: Integrating Clinical Dashboards Into Graduate Medical Education. J Grad Med Educ. 2020 Feb; 12(1):19-24. PMID: 32064058.
Published on 10/19/2019
Craig Noronha, John Donnelly, Julia Limes, Katie Suddarth. Advanced Wellness: Implementing Programs to Promote Resident Wellness and Professional Development. 2019.
Published on 4/13/2018
Craig Noronha, Jeremy Epstein, Gail Berkeblit. A Cinderella Story: How to Transform Performance Dashboards into Tools for Resident Training. 2018.
Published on 3/19/2018
Craig Noronha, Sonia Ananthakrishan. Creating a Universal Language- Development of a Longitudinal Feedback Curriculum for Students to Residents to Fellows to Faculty. 2018.
Published on 3/18/2018
Lee Bach Lu, Ernie-Paul Barrette, Craig Noronha, Halle G. Sobel, Daniel G. Tobin. Leading an Academic Medical Practice. Springer. 2018; 366.
Published on 3/18/2018
Craig Noronha and Mark E. Pasanen. Leading an Academic Medical Practice. ACGME Requirements/Accreditation Issues. 2018.
Published on 3/18/2018
William Weppner, Craig Noronha and Matma (Mimi) K. Singh. Leading an Academic Medical Practice. Traditional and Block Scheduling Challenges and Solutions for Internal Medicine Residents. 2018.
Published on 3/18/2018
Craig Noronha. Leading an Academic Medical Practice. Practice Improvement Modules. 2018.
View full list of 29 publications.