Chunlei Zheng PhD
Assistant Professor, General Internal Medicine
801 Massachusetts Ave | (216) 482-5101

chunleiz@bu.edu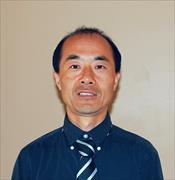 Sections
General Internal Medicine
Biography
Chunlei Zheng is an Assistant Professor of Medicine at Chobanian and Avedisian School of Medicine. He is also a Health Science Specialist at VA Boston Healthcare System. Dr. Zheng completed his PhD in Biophysics at Chinese Academy of Sciences. After graduation, he moved to Cleveland Clinic, where he received a postdoctoral fellowship from American Heart Association to study the protein trafficking in human diseases. Before joining Boston University, Dr. Zheng is a research scientist at Case Western Reserve University, where he received intensive biomedical informatics training.

With solid background in biology and medicine and expertise in genomics, computer science, and statistics, Dr. Zheng has great passion for data-driven biomedical discovery. In particular, he has great interest on developing/applying computational algorithm, machine learning and statistical modeling into large-scale biomedical data to facilitate disease understanding and drug discovery. Currently, his research focuses on using artificial intelligence (AI) on Alzheimer's Disease and Cancer.
Websites
Education
PhD, Chinese Academy of Sciences, 2007
Biology, BS, Shaanxi Normal University, 1997
Publications
Published on 9/27/2021
Zheng C, Fillmore NR, Ramos-Cejudo J, Brophy M, Osorio R, Gurney ME, Qiu WQ, Au R, Perry G, Dubreuil M, Chen SG, Qi X, Davis PB, Do N, Xu R. Potential long-term effect of tumor necrosis factor inhibitors on dementia risk: A propensity score matched retrospective cohort study in US veterans. Alzheimers Dement. 2022 Jun; 18(6):1248-1259. PMID: 34569707.
Published on 5/20/2021
Zheng C, Xu R. Molecular subtyping of Alzheimer's disease with consensus non-negative matrix factorization. PLoS One. 2021; 16(5):e0250278. PMID: 34014928.
Published on 1/25/2021
Wang Q, Li Y, Zheng C, Xu R. DenseCNN: A Densely Connected CNN Model for Alzheimer's Disease Classification Based on Hippocampus MRI Data. AMIA Annu Symp Proc. 2020; 2020:1277-1286. PMID: 33936504.
Published on 1/11/2021
Zhou M, Wang Q, Zheng C, John Rush A, Volkow ND, Xu R. Drug repurposing for opioid use disorders: integration of computational prediction, clinical corroboration, and mechanism of action analyses. Mol Psychiatry. 2021 09; 26(9):5286-5296. PMID: 33432189.
Published on 7/21/2020
Zheng C, Berger NA, Li L, Xu R. Epigenetic age acceleration and clinical outcomes in gliomas. PLoS One. 2020; 15(7):e0236045. PMID: 32692766.
Published on 7/1/2020
Zhou M, Zheng C, Xu R. Combining phenome-driven drug-target interaction prediction with patients' electronic health records-based clinical corroboration toward drug discovery. Bioinformatics. 2020 07 01; 36(Suppl_1):i436-i444. PMID: 32657406.
Published on 5/8/2020
Zheng C, Xu R. Predicting cancer origins with a DNA methylation-based deep neural network model. PLoS One. 2020; 15(5):e0226461. PMID: 32384093.
Published on 1/9/2020
Conic RR, Damiani G, Schrom KP, Ramser AE, Zheng C, Xu R, McCormick TS, Cooper KD. Psoriasis and Psoriatic Arthritis Cardiovascular Disease Endotypes Identified by Red Blood Cell Distribution Width and Mean Platelet Volume. J Clin Med. 2020 Jan 09; 9(1). PMID: 31936662.
Published on 8/2/2019
Zheng C, Li L, Xu R. Association of Epigenetic Clock with Consensus Molecular Subtypes and Overall Survival of Colorectal Cancer. Cancer Epidemiol Biomarkers Prev. 2019 10; 28(10):1720-1724. PMID: 31375479.
Published on 6/15/2019
Luo L, Zheng C, Wang J, Tan M, Li Y, Xu R. Analysis of disease organ as a novel phenotype towards disease genetics understanding. J Biomed Inform. 2019 07; 95:103235. PMID: 31207382.
View full list of 27 publications.