Christopher So-Chi Huang MD
Clinical Associate Professor, Gastroenterology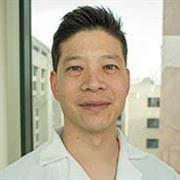 Biography
Christopher Huang MD is Clinical Associate Professor of Medicine at Chobanian and Avedisian School of Medicine and is Director of Endoscopy Services at Boston Medical Center. He graduated from Cornell University in 1994 and then attended New Jersey Medical School (1994-1998) before completing his Internal Medicine Residency at the Brigham and Women's Hospital. He then completed his Gastroenterology Fellowship training at Boston Medical Center in 2004 and stayed on to join the faculty. His clinical interests include colonoscopy, capsule endoscopy, and therapeutic/advanced endoscopy techniques such as ERCP, endoscopic ultrasound, endoscopic mucosal resection, and enteral stenting. His professional interests include endoscopy education, and he has taught at and co-directed several national endoscopy courses for first year GI fellows. He has served on various institutional, local, and national committees including the the Seven Year Liberal Arts/Medical Education Program Admissions Committee at Boston University, the Education Committee of the Massachusetts Gastroenterology Association, and the Training Committee of the American Society For Gastrointestinal Endoscopy.
Education
MD, University of Medicine and Dentistry of New Jersey, 1998
BA, Cornell University, 1994
Publications
Published on 4/27/2018
Wani S, Keswani RN, Petersen B, Edmundowicz SA, Walsh CM, Huang C, Cohen J, Cote G. Training in EUS and ERCP: standardizing methods to assess competence. Gastrointest Endosc. 2018 06; 87(6):1371-1382. PMID: 29709305.
Published on 3/28/2017
Cruz MD, Ledbetter S, Chowdhury S, Tiwari AK, Momi N, Wali RK, Bliss C, Huang C, Lichtenstein D, Bhattacharya S, Varma-Wilson A, Backman V, Roy HK. Metabolic reprogramming of the premalignant colonic mucosa is an early event in carcinogenesis. Oncotarget. 2017 Mar 28; 8(13):20543-20557. PMID: 28423551.
Published on 12/6/2016
Thompson CC, Abu Dayyeh BK, Kushner R, Sullivan S, Schorr AB, Amaro A, Apovian CM, Fullum T, Zarrinpar A, Jensen MD, Stein AC, Edmundowicz S, Kahaleh M, Ryou M, Bohning JM, Ginsberg G, Huang C, Tran DD, Glaser JP, Martin JA, Jaffe DL, Farraye FA, Ho SB, Kumar N, Harakal D, Young M, Thomas CE, Shukla AP, Ryan MB, Haas M, Goldsmith H, McCrea J, Aronne LJ. Percutaneous Gastrostomy Device for the Treatment of Class II and Class III Obesity: Results of a Randomized Controlled Trial. Am J Gastroenterol. 2017 Mar; 112(3):447-457. PMID: 27922026.
Published on 7/3/2014
Ahmad H, Berzin TM, Yu HJ, Huang CS, Mishkin DS. Central endoscopy reads in inflammatory bowel disease clinical trials: The role of the imaging core lab. Gastroenterol Rep (Oxf). 2014 Aug; 2(3):201-6. PMID: 24994835.
Published on 6/1/2014
Rodriguez-Diaz E, Atkinson C, Jepeal LI, Berg A, Huang CS, Cerda SR, O'Brien MJ, Bigio IJ, Farraye FA, Singh SK. Elastic scattering spectroscopy as an optical marker of inflammatory bowel disease activity and subtypes. Inflamm Bowel Dis. 2014 Jun; 20(6):1029-36. PMID: 24798637.
Published on 12/14/2013
Kalman RS, Bresnick MA, Huang CS. Now you see it, now you don't: an unusual cause of the "double duct sign". Gastroenterology. 2014 Feb; 146(2):348,591-2. PMID: 24342808.
Published on 9/15/2011
Humm S, Huang CS. Acute cholangitis and biliary emergencies. GI Emergencies: a quick reference guide. Lowe R, Farraye FA (eds). Slack, Incorporated. 2011.
Published on 1/1/2011
Huang CS. ERCP in patients with Roux-en-Y. UpToDate, Basow DS (ed). 2011.
Published on 11/2/2010
Huang CS, Farraye FA, Yang S, O'Brien MJ. The clinical significance of serrated polyps. Am J Gastroenterol. 2011 Feb; 106(2):229-40; quiz 241. PMID: 21045813.
Published on 11/1/2010
Telford JJ, Carr-Locke DL, Baron TH, Poneros JM, Bounds BC, Kelsey PB, Schapiro RH, Huang CS, Lichtenstein DR, Jacobson BC, Saltzman JR, Thompson CC, Forcione DG, Gostout CJ, Brugge WR. A randomized trial comparing uncovered and partially covered self-expandable metal stents in the palliation of distal malignant biliary obstruction. Gastrointest Endosc. 2010 Nov; 72(5):907-14. PMID: 21034891.
View full list of 31 publications.