Christine Prifti MD
Assistant Professor, General Internal Medicine
Member, General Internal Medicine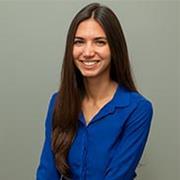 Sections
General Internal Medicine
Centers
Center of Excellence in Women's Health 
Biography
Christine A Prifti, MD is an Assistant Professor of General Internal Medicine at the Chobanian and Avedisian School of Medicine. She received her medical degree from Drexel Univerisity College of Medicine and then completed her internship and residency at the Massachusetts General Hospital. She has special interests in women's health, contraception, menopause, and diabetes. Her research interests are in women's health and family planning.
Websites
Education
Medicine, MD, Drexel University College of Medicine, 2015
AB, Princeton University, 2010
Publications
Published on 2/23/2023
Murray Horwitz ME, Prifti CA, Battaglia TA, Ajayi AT, Edwards CV, Benjamin EJ, Yarrington CD, Parker SE. Prepregnancy Cardiovascular Disease Risk Factors and Adverse Pregnancy Outcomes in a Safety-Net Hospital. J Womens Health (Larchmt). 2023 Apr; 32(4):401-408. PMID: 36827080.
Published on 7/1/2022
Dolan BM, Merriam S, Prifti CA, Walsh JM. Women's health update: A literature review impacting primary care. Cleve Clin J Med. 2022 Jul 01; 89(7):373-381. PMID: 35777837.
Published on 5/1/2022
Le-Petross HT, Slanetz PJ, Lewin AA, Bao J, Dibble EH, Golshan M, Hayward JH, Kubicky CD, Leitch AM, Newell MS, Prifti C, Sanford MF, Scheel JR, Sharpe RE, Weinstein SP, Moy L. ACR Appropriateness Criteria® Imaging of the Axilla. J Am Coll Radiol. 2022 05; 19(5S):S87-S113. PMID: 35550807.
Published on 1/6/2022
Murray Horwitz ME, Fisher MA, Prifti CA, Rich-Edwards JW, Yarrington CD, White KO, Battaglia TA. Primary Care-Based Cardiovascular Disease Risk Management After Adverse Pregnancy Outcomes: a Narrative Review. J Gen Intern Med. 2022 03; 37(4):912-921. PMID: 34993867.
Published on 9/13/2021
Murray Horwitz ME, Prifti CA, Fisher MA, Battaglia TA. Pregnancy-Related Weight Gain and the Obesity Epidemic-a Missed Opportunity: Systematic Review of Clinical Practice Recommendations. J Gen Intern Med. 2022 May; 37(6):1572-1574. PMID: 34518979.
Published on 5/6/2021
Casas RS, Prifti CA, Bachorik AE, Stuckey H, Sobota M, Chuang CH, Weisman CS. Contraceptive Procedures in Internal Medicine Clinics and Resident Education: a Qualitative Study of Implementation Methods, Barriers, and Facilitators. J Gen Intern Med. 2021 11; 36(11):3346-3352. PMID: 33959883.
Published on 5/14/2020
Beaman J, Prifti C, Schwarz EB, Sobota M. Medication to Manage Abortion and Miscarriage. J Gen Intern Med. 2020 08; 35(8):2398-2405. PMID: 32410127.
Published on 7/1/2017
Geary M, Prifti C, Bachorik A. Residency Training in Long-Acting Reversible Contraceptive Methods. JAMA Intern Med. 2017 07 01; 177(7):1061-1062. PMID: 28672356.
Published on 10/1/2007
Dukeheart J, Donahue MP, Prifti C. Latest Trends in Child Pedestrian Safety, a 5 year review. Safe Kids Worldwide. 2007.
View full list of 9 publications.