Christine A. Pace MD
Assistant Professor, General Internal Medicine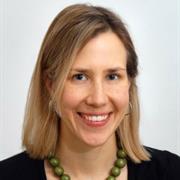 Sections
General Internal Medicine
Centers
Clinical Addiction Research and Education Unit
Biography
Christine Pace is a primary care physician at Boston Medical Center (BMC) and Medical Director of Population Health Services for BMC Health System. A graduate of Harvard Medical School, an Internal Medicine residency at Brigham and Women's Hospital, and the Boston University Addiction Medicine Fellowship, she has held several leadership roles focused on the design, implementation, and evaluation of programs to improve integration of mental health services and substance use treatment with primary care. In her current role as a Medical Director of Population Health Services, she leads several medical management initiatives within the health system's Medicaid Accountable Care Organizations (ACOs), including complex care management, integrated behavioral health, and, with the Grayken Center, improving the quality, efficiency and coordination of care for high risk patients with substance use disorder. Dr. Pace provides primary care and addiction treatment within General Internal Medicine and at the Boston Public Health Commission, and is an attending on the Addiction Consult Service. She is a recipient of a HRSA Primary Care Medicine and Dentistry Clinician Educator Career Development Award.
Education
MD, Harvard Medical School, 2007
Epidemiology, MSc, Boston University School of Public Health, 2012
Biology, BA, Williams College, 2001
Publications
Published on 11/25/2020
Prom MC, Canelos V, Fernandez PJ, Gergen Barnett K, Gordon CM, Pace CA, Ng LC. Implementation of Integrated Behavioral Health Care in a Large Medical Center: Benefits, Challenges, and Recommendations. J Behav Health Serv Res. 2021 07; 48(3):346-362. PMID: 33241465.
Published on 10/1/2018
D'Afflitti J, Lee K, Jacobs M, Pace C, Worcester J, Thornton S, Lasser KE. Improving Provider Experience and Increasing Patient Access Through Nurse Practitioner-Physician Primary Care Teams. J Ambul Care Manage. 2018 Oct/Dec; 41(4):308-313. PMID: 30148771.
Published on 7/1/2018
Pace CA, Uebelacker LA. Addressing Unhealthy Substance Use in Primary Care. Med Clin North Am. 2018 Jul; 102(4):567-586. PMID: 29933816.
Published on 7/1/2018
Pace CA, Gergen-Barnett K, Veidis A, D'Afflitti J, Worcester J, Fernandez P, Lasser KE. Warm Handoffs and Attendance at Initial Integrated Behavioral Health Appointments. Ann Fam Med. 2018 07; 16(4):346-348. PMID: 29987084.
Published on 4/5/2016
Pace CA, Samet JH. In the Clinic. Substance Use Disorders. Ann Intern Med. 2016 Apr 5; 164(7):ITC49-ITC64. PMID: 27043992.
Published on 5/2/2014
Pace CA, Kaminetzky LB, Winter M, Cheng DM, Saia K, Samet JH, Walley AY. Postpartum changes in methadone maintenance dose. J Subst Abuse Treat. 2014 Sep; 47(3):229-32. PMID: 24953167.
Published on 12/1/2012
Pace CA, Lioznov D, Cheng DM, Wakeman SE, Raj A, Walley AY, Coleman SM, Bridden C, Krupitsky E, Samet JH. Sexually transmitted infections among HIV-infected heavy drinkers in St Petersburg, Russia. Int J STD AIDS. 2012 Dec; 23(12):853-8. PMID: 23258823.
Published on 2/7/2012
Mandava A, Pace C, Campbell B, Emanuel E, Grady C. The quality of informed consent: mapping the landscape. A review of empirical data from developing and developed countries. J Med Ethics. 2012 Jun; 38(6):356-65. PMID: 22313664.
Published on 10/1/2010
Mahajan VS, Pace CA, Jarolim P. Interpretation of HIV serologic testing results. Clin Chem. 2010 Oct; 56(10):1523-6. PMID: 20876778.
Published on 8/1/2010
Samet JH, Pace CA, Cheng DM, Coleman S, Bridden C, Pardesi M, Saggurti N, Raj A. Alcohol use and sex risk behaviors among HIV-infected female sex workers (FSWs) and HIV-infected male clients of FSWs in India. AIDS Behav. 2010 Aug; 14 Suppl 1:S74-83. PMID: 20544381.
View full list of 17 publications.