Christine Marie Gunn PhD
Adjunct Assistant Professor, General Internal Medicine
Adjunct Assistant Professor, Health Law, Policy & Management
801 Massachusetts Ave | (617) 414-1993

cgunn@bu.edu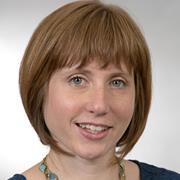 Sections
General Internal Medicine
Centers
Clinical Addiction Research and Education Unit
BU-BMC Cancer Center
Center of Excellence in Women's Health 
Biography
Dr. Gunn completed her PhD in Health Services Research in the Department of Health Policy and Management at the Boston University School of Public Health. She is currently an Assistant Professor in the Women's Health Unit, Section of General Internal Medicine at the Boston University School of Medicine. She holds a secondary appointment at the Boston University School of Public Health in the Department of Health Law, Policy and Management.

Dr. Gunn is a health services researcher focused on risk communication, decision-making, and the utilization of evidence-based care. She has conducted an array of research on how patients and providers negotiate the experience of being at risk for cancer and its impact on the utilization of health services. She is particularly interested studying how health literacy impacts health decision-making and behaviors. Dr. Gunn has extensive experience in qualitative research methods, surveys, and mixed methods approaches to studying risk and prevention behaviors.

Dr. Gunn has received funding from AcademyHealth through the New Investigator Small Grant Program to examine women's perceptions of the Massachusetts breast density notification legislation and its influence on their intentions for future screening. She is the recipient of a K07 career development award from the National Cancer Institute. This award uses community-engaged methods to develop and test a breast cancer screening decision aid in partnership with women with low health literacy. She is also conducting work through the BU-BMC Cancer Center American Cancer Society pilot program that aims to develop patient education to help women understand breast density and has a CTSI pilot award expanding her risk communication work to explore gender and age based differences in risk communication about fentanyl use.

Areas of Interest:
Cancer, Decision-making, Risk communication, Screening and prevention, Breast density, Health services research, health literacy, health disparities
Education
Health Services Research, PhD, Boston University, 2015
Kinesiology, MA, University of Western Ontario, 2007
Health Science, BSc, University of Western Ontario, 2005
Publications
Published on 7/1/2022
Battaglia TA, Gunn CM, Bak SM, Flacks J, Nelson KP, Wang N, Ko NY, Morton SJ. Patient navigation to address sociolegal barriers for patients with cancer: A comparative-effectiveness study. Cancer. 2022 Jul 01; 128 Suppl 13:2623-2635. PMID: 35699610.
Published on 5/21/2022
Loo S, Mullikin K, Robbins C, Xiao V, Battaglia TA, Lemon SC, Gunn C. Patient navigator team perceptions on the implementation of a citywide breast cancer patient navigation protocol: a qualitative study. BMC Health Serv Res. 2022 May 21; 22(1):683. PMID: 35597947.
Published on 3/19/2022
Kressin NR, Wormwood JB, Battaglia TA, Slanetz PJ, Gunn CM. A letter is not enough: Women's preferences for and experiences of receiving breast density information. Patient Educ Couns. 2022 Jul; 105(7):2450-2456. PMID: 35534300.
Published on 2/28/2022
Kressin NR, Wormwood JB, Battaglia TA, Maschke AD, Slanetz PJ, Pankowska M, Gunn CM. Women's Understandings and Misunderstandings of Breast Density and Related Concepts: A Mixed Methods Study. J Womens Health (Larchmt). 2022 Jul; 31(7):983-990. PMID: 35230164.
Published on 2/27/2022
Gunn CM, Pankowska M, Harris M, Helsing E, Battaglia TA, Bagley SM. The representation of females in clinical trials for substance use disorder conducted in the United States (2010-19). Addiction. 2022 Oct; 117(10):2583-2590. PMID: 35165969.
Published on 2/2/2022
Woods AP, Alonso A, Duraiswamy S, Ceraolo C, Feeney T, Gunn CM, Burns WR, Segev DL, Drake FT. Limited English Proficiency and Clinical Outcomes After Hospital-Based Care in English-Speaking Countries: a Systematic Review. J Gen Intern Med. 2022 Jun; 37(8):2050-2061. PMID: 35112283.
Published on 12/17/2021
Kim SE, Bachorik AE, Bertrand KA, Gunn CM. Differences in Breast Cancer Screening Practices by Diabetes Status and Race/Ethnicity in the United States. J Womens Health (Larchmt). 2022 Jun; 31(6):848-855. PMID: 34935471.
Published on 11/4/2021
Harris MTH, Lambert AM, Maschke AD, Bagley SM, Walley AY, Gunn CM. "No home to take methadone to": Experiences with addiction services during the COVID-19 pandemic among survivors of opioid overdose in Boston. J Subst Abuse Treat. 2022 04; 135:108655. PMID: 34772604.
Published on 7/20/2021
Gunn CM, Maschke A, Paasche-Orlow MK, Housten AJ, Kressin NR, Schonberg MA, Battaglia TA. Using Mixed Methods With Multiple Stakeholders to Inform Development of a Breast Cancer Screening Decision Aid for Women With Limited Health Literacy. MDM Policy Pract. 2021 Jul-Dec; 6(2):23814683211033249. PMID: 34350361.
Published on 5/23/2021
Pytell JD, Sklar MD, Carrese J, Rastegar DA, Gunn C, Chander G. "I'm a Survivor": Perceptions of Chronic Disease and Survivorship Among Individuals in Long-Term Remission from Opioid Use Disorder. J Gen Intern Med. 2022 02; 37(3):593-600. PMID: 34027611.
View full list of 48 publications.