Catherine Ann Sullivan MD
Assistant Professor, Endocrinology, Diabetes, Nutrition & Weight Management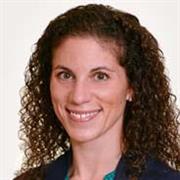 Sections
Endocrinology, Diabetes, Nutrition & Weight Management
Biography
Catherine Sullivan, MD is an Assistant Professor of Medicine in Endocrinology, Diabetes & Nutrition at the Chobanian and Avedisian School of Medicine. She completed her MD at Boston University and attended the University of Washington for her Internal Medicine training and her endocrinology fellowship at Boston University. Currently, she is participating in type 2 diabetes research studies. She has a clinical interest in type 1 and type 2 diabetes, diabetes and pregnancy and general endocrinology including thyroid disease, androgen related disorders and transgender medicine. She is additionally involved in medical education and helps run the endocrine and transgender medicine electives for 4th year medical students at Chobanian and Avedisian School of Medicine.
Websites
Education
Medicine-Internal, MD, Boston University School of Medicine, 2012
Biology/Chemistry, BS, Boston College, 2006
Publications
Published on 5/1/2019
Steenkamp DW, Cacicedo JM, Sullivan CA. Comment on Sims et al. Proinsulin Secretion Is a Persistent Feature of Type 1 Diabetes. Diabetes Care 2019;42:258-264. Diabetes Care. 2019 05; 42(5):e84. PMID: 31010951.
Published on 11/9/2018
Sullivan CA, Cacicedo JM, Rajendran I, Steenkamp DW. Comparison of proinsulin and C-peptide secretion in healthy versus long-standing type 1 diabetes mellitus cohorts: A pilot study. PLoS One. 2018; 13(11):e0207065. PMID: 30412637.
Published on 6/29/2018
Rodriguez-Diaz E, Rizo I, Sullivan C, Steenkamp DW. Perioperative Use of a Hybrid Closed Loop System in an Obese Patient With Type 1 Diabetes Undergoing Metabolic Surgery: Insights Into Changes in Insulin Delivery and Sensitivity. J Diabetes Sci Technol. 2018 11; 12(6):1239-1240. PMID: 29957042.
Published on 11/16/2017
Steenkamp DW, Cacicedo JM, Sahin-Efe A, Sullivan C, Sternthal E. PRESERVED PROINSULIN SECRETION IN LONG-STANDING TYPE 1 DIABETES. Endocr Pract. 2017 Dec; 23(12):1387-1393. PMID: 29144809.
Published on 6/23/2017
Herron A, Sullivan C, Brouillard E, Steenkamp D. Late to the Party: Importance of Dietary Fat and Protein in the Intensive Management of Type 1 Diabetes. A Case Report. J Endocr Soc. 2017 Aug 01; 1(8):1002-1005. PMID: 29264550.
Published on 5/11/2015
Sullivan CA, Kahn SE, Fujimoto WY, Hayashi T, Leonetti DL, Boyko EJ. Change in Intra-Abdominal Fat Predicts the Risk of Hypertension in Japanese Americans. Hypertension. 2015 Jul; 66(1):134-40. PMID: 26063668.
View full list of 6 publications.