Cassandra M. Pierre MD, MPH, MSc
Assistant Professor, Infectious Diseases
Medical Director of Public Health Programs , Infectious Diseases
771 Albany St | (617) 414-2894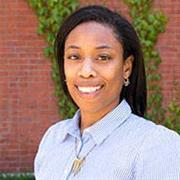 Sections
Infectious Diseases
Biography
Residency training: Boston Medical Center
Fellowship training: Boston Medical Center

Dr. Cassandra Pierre is an Assistant Professor at the Chobanian and Avedisian School of Medicine, the Medical Director of Public Health Programs and the Associate Hospital Epidemiologist at Boston Medical Center and the Chair of the Diversity and Inclusion Council. Supported by state and local public health agencies, the Public Health Programs provide resources for HIV, HCV and STI prevention, linkage to care and management throughout the hospital. Her research is focused on infection prevention in vulnerable population (including the implementation of low-cost infection control interventions to reduce bacteremia among neonates in low-income settings) Her clinical interests include HIV management in special subpopulations (immigrants of color, pregnant women, transactional sex workers and people with substance use).
Other Positions
Websites
Education
MD, State University of New York at Buffalo, 2006
Global Health Management, MPH, Loma Linda University, 2005
English Literature, BA, Cornell University, 2001
Publications
Published on 5/17/2022
Assoumou SA, Peterson A, Ginman E, James T, Pierre CM, Hamilton S, Chapman S, Goldie J, Koenig R, Mendez-Escobar E, Leaver H, Graham R, Crichlow R, Weaver T, Cotterell S, Valdez G, De Las Nueces D, Scott NA, Linas BP, Cherry PM. Addressing Inequities in SARS-CoV-2 Vaccine Uptake: The Boston Medical Center Health System Experience. Ann Intern Med. 2022 Jun; 175(6):879-884. PMID: 35576586.
Published on 5/2/2022
Rowe SG, Stewart MT, Van Horne S, Pierre C, Wang H, Manukyan M, Bair-Merritt M, Lee-Parritz A, Rowe MP, Shanafelt T, Trockel M. Mistreatment Experiences, Protective Workplace Systems, and Occupational Distress in Physicians. JAMA Netw Open. 2022 May 02; 5(5):e2210768. PMID: 35522279.
Published on 4/12/2022
Khan GK, Harvey L, Johnson S, Long P, Kimmel S, Pierre C, Drainoni ML. Integration of a community-based harm reduction program into a safety net hospital: a qualitative study. Harm Reduct J. 2022 Apr 12; 19(1):35. PMID: 35414072.
Published on 9/17/2021
Bouton TC, Lodi S, Turcinovic J, Schaeffer B, Weber SE, Quinn E, Korn C, Steiner J, Schechter-Perkins EM, Duffy E, Ragan EJ, Taylor BP, Miller N, Davidoff R, Hanage WP, Connor J, Pierre C, Jacobson KR. Coronavirus Disease 2019 Vaccine Impact on Rates of Severe Acute Respiratory Syndrome Coronavirus 2 Cases and Postvaccination Strain Sequences Among Health Care Workers at an Urban Academic Medical Center: A Prospective Cohort Study. Open Forum Infect Dis. 2021 Oct; 8(10):ofab465. PMID: 34646910.
Published on 5/6/2021
Kataria Y, Cole M, Duffy E, de la Cena K, Schechter-Perkins EM, Bouton TC, Werler MM, Pierre C, Ragan EJ, Weber SE, Jacobson KR, Andry C. Seroprevalence of SARS-CoV-2 IgG antibodies and risk factors in health care workers at an academic medical center in Boston, Massachusetts. Sci Rep. 2021 05 06; 11(1):9694. PMID: 33958668.
Published on 4/27/2021
Burns RH, Pierre CM, Marathe JG, Ruiz-Mercado G, Taylor JL, Kimmel SD, Johnson SL, Fukuda HD, Assoumou SA. Partnering With State Health Departments to Address Injection-Related Infections During the Opioid Epidemic: Experience at a Safety Net Hospital. Open Forum Infect Dis. 2021 Aug; 8(8):ofab208. PMID: 34409120.
Published on 3/31/2021
Bouton TC, Lodi S, Turcinovic J, Weber SE, Quinn E, Korn C, Steiner J, Schechter-Perkins EM, Duffy E, Ragan EJ, Taylor BP, Schaeffer B, Miller N, Davidoff R, Hanage WP, Connor J, Pierre C, Jacobson KR. COVID-19 vaccine impact on rates of SARS-CoV-2 cases and post vaccination strain sequences among healthcare workers at an urban academic medical center: a prospective cohort study. medRxiv. 2021 Mar 31. PMID: 33821283.
Published on 3/29/2021
DiLorenzo MA, O'Connor SK, Ezekwesili C, Sampath S, Zhao M, Yarrington C, Pierre C. COVID-19 guidelines for pregnant women and new mothers: A systematic evidence review. Int J Gynaecol Obstet. 2021 Jun; 153(3):373-382. PMID: 33660854.
Published on 9/27/2019
Mwananyanda L, Pierre C, Mwansa J, Cowden C, Localio AR, Kapasa ML, Machona S, Musyani CL, Chilufya MM, Munanjala G, Lyondo A, Bates MA, Coffin SE, Hamer DH. Preventing Bloodstream Infections and Death in Zambian Neonates: Impact of a Low-cost Infection Control Bundle. Clin Infect Dis. 2019 09 27; 69(8):1360-1367. PMID: 30596901.
Published on 8/1/2013
Pierre CM, Lim PL, Hamer DH. Expatriates: special considerations in pretravel preparation. Curr Infect Dis Rep. 2013 Aug; 15(4):299-306. PMID: 23784665.
View full list of 11 publications.