Cassandra M. Pierre MD, MPH, MSc
Assistant Professor, Infectious Diseases
Medical Director of Public Health Programs , Infectious Diseases
771 Albany St | (617) 414-2894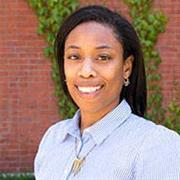 Sections
Infectious Diseases
Biography
Residency training: Boston Medical Center
Fellowship training: Boston Medical Center

Dr. Cassandra Pierre is an Assistant Professor at the Boston university School of Medicine, the Medical Director of Public Health Programs and the Associate Hospital Epidemiologist at Boston Medical Center and the Chair of the Diversity and Inclusion Council. Supported by state and local public health agencies, the Public Health Programs provide resources for HIV, HCV and STI prevention, linkage to care and management throughout the hospital. Her research is focused on infection prevention in vulnerable population (including the implementation of low-cost infection control interventions to reduce bacteremia among neonates in low-income settings) Her clinical interests include HIV management in special subpopulations (immigrants of color, pregnant women, transactional sex workers and people with substance use).
Other Positions
Chair, Diversity and Inclusion Advisory Council
Websites
Education
MD, State University of New York at Buffalo, 2006
Global Health Management, MPH, Loma Linda University, 2005
English Literature, BA, Cornell University, 2001
Publications
Published on 3/4/2021
DiLorenzo MA, O'Connor S, Ezekwesili C, Sampath S, Zhao M, Yarrington C, Pierre C. COVID-19 guidelines for pregnant women and new mothers: A systematic evidence review. Int J Gynaecol Obstet. 2021 Mar 04. PMID: 33660854.
Published on 8/1/2013
Pierre CM, Lim PL, Hamer DH. Expatriates: special considerations in pretravel preparation. Curr Infect Dis Rep. 2013 Aug; 15(4):299-306. PMID: 23784665.
Published on 4/1/2011
Saint-Jean G, Metsch L, Gomez-Marin O, Pierre C, Jeanty Y, Rodriguez A, Malow R. Use of HIV primary care by HIV-positive Haitian immigrants in Miami, Florida. AIDS Care. 2011 Apr; 23(4):486-93. PMID: 21271398.
View full list of 3 publications.