Camille Edwards MD
Assistant Professor, Hematology & Medical Oncology
820 Harrison Ave | (617) 638-7012

caedward@bu.edu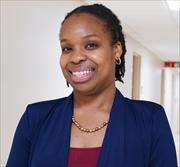 Sections
Hematology & Medical Oncology
Biography
Dr. Edwards is an Assistant Professor of Medicine at Boston University School of Medicine (BUSM). She maintains a clinical practice in hematology at Boston Medical Center (BMC) with a specific research interest in plasma cell disorders such as systemic immunoglobulin light chain (AL) amyloidosis. She is committed to improving the care of vulnerable patient populations using her translational research platform to address unanswered questions encountered in clinical care. After internal medicine residency, she completed hematology and oncology fellowship at BUSM/BMC, obtaining rigorous training through the comprehensive cancer center and the world-renowned BU Amyloidosis Center. Her current research, a collaboration with the Center for Regenerative Medicine (CReM) and BU Amyloidosis Center, focuses on using novel disease models for hematologic malignancies to study the earliest signs of disease, test treatments and develop the most promising therapeutic agents for clinical trials. She is also an active mentor for students and residents, and has a strong passion for teaching and mentoring trainees.
Websites
Publications
Published on 9/14/2021
Edwards CV, Rao N, Bhutani D, Mapara MY, Radhakrishnan J, Shames S, Maurer MS, Leng S, Solomon A, Lentzsch S, Eisenberger A. Phase 1a/b Study of Monoclonal Antibody CAEL-101 (11-1F4) in Patients with AL Amyloidosis. Blood. 2021 Sep 14. PMID: 34521113.
Published on 1/1/2019
Edwards CV, Bhutani D, Mapara M, Radhakrishnan J, Shames S, Maurer MS, Leng S, Wall JS, Solomon A, Eisenberger A, Lentzsch S. One year follow up analysis of the phase 1a/b study of chimeric fibril-reactive monoclonal antibody 11-1F4 in patients with AL amyloidosis. Amyloid. 2019; 26(sup1):115-116. PMID: 31343323.
Published on 12/13/2018
Nwabudike SM, Edwards CV, Akinboro O, Quinn K, Sarosiek S, Ko N. Cyclin-Dependent Kinase 4/6 Inhibitor (Palbociclib) Induced Aplastic Anemia in a Patient with Metastatic Breast Cancer. Case Rep Hematol. 2018; 2018:9249506. PMID: 30647983.
Published on 11/1/2016
Edwards C, Sideeg A, Kunadu A, Sammut A, Redwood E. Adult- onset Still's Disease. American College of Physicians Hospitalist Journal. 2016; 35-36.
View full list of 4 publications.