Bharti Rathore MBBS
Voluntary Assistant Professor, Hematology & Medical Oncology
25 Buick St | (401) 456-2000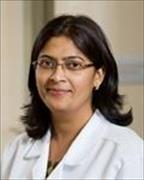 Sections
Hematology & Medical Oncology
Biography
Bharti Rathore, MD is a Hematologist Oncologist who also serves as an Associate Professor of Medicine at Chobanian and Avedisian School of Medicine. She was fellowship-trained in Hematology/Medical Oncology at Brown Medical School. She completed a residency in Internal Medicine at Memorial Hospital/Brown Medical School, following her graduation from J.N.M Medical College, Ravishankar University in India.
Websites
Education
MBBS, Pt. Ravishankar Shukla University, 1995
Publications
Published on 7/1/2014
Roda DJ, Albano B, Rathore B, Zhou L. Merkel cell carcinoma of the lower extremity: a case report. J Am Podiatr Med Assoc. 2014 Jul; 104(4):422-5. PMID: 25076088.
Published on 6/25/2014
Roda DJ, Albano BJ, Rathore B, Zhou L. Merkel Cell Carcinoma of the Lower Extremity A Case Report. J Am Podiatr Med Assoc. 2014 Jun 25. PMID: 24964144.
Published on 12/1/2010
Rathore B, Kadin ME. Hodgkin's lymphoma therapy: past, present, and future. Expert Opin Pharmacother. 2010 Dec; 11(17):2891-906. PMID: 21050034.
Published on 2/4/2010
Rathore R, Birnbaum A, Rathore B, DiPetrillo T, Kennedy T, Ready N. Carboplatin with weekly docetaxel and ifosfamide in advanced head and neck cancers: a phase I Brown University Oncology Group dose escalation study (HN-93). Cancer Chemother Pharmacol. 2010 Nov; 66(6):1013-7. PMID: 20130878.
Published on 9/1/2007
Evans D, Miner T, Iannitti D, Akerman P, Cruff D, Maia-Acuna C, Harrington D, Habr F, Chauhan B, Berkenblit A, Stuart K, Sears D, Kennedy T, Safran H. Docetaxel, capecitabine and carboplatin in metastatic esophagogastric cancer: a phase II study. Cancer Invest. 2007 Sep; 25(6):445-8. PMID: 17882656.
Published on 8/1/2006
Dipetrillo T, Milas L, Evans D, Akerman P, Ng T, Miner T, Cruff D, Chauhan B, Iannitti D, Harrington D, Safran H. Paclitaxel poliglumex (PPX-Xyotax) and concurrent radiation for esophageal and gastric cancer: a phase I study. Am J Clin Oncol. 2006 Aug; 29(4):376-9. PMID: 16891865.
View full list of 6 publications.