Beth Meryl Cohen MD
Assistant Professor, Endocrinology, Diabetes, Nutrition & Weight Management
72 E. Concord Street | (617) 638-7470

cohenbm@bu.edu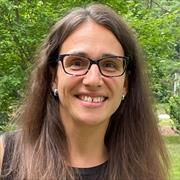 Sections
Endocrinology, Diabetes, Nutrition & Weight Management
Biography
Experienced Endocrinologist with a demonstrated history of working in the hospital & health care industry. Skilled in Clinical Research, Medicine, Inpatient and Outpatient Care. More than 10 years of clinical experience in outpatient and inpatient practice, subacute and long term care facilities.

Dr. Cohen is currently the Medical Director of the GenderCare Center (GCC) at Boston Medical Center and an Assistant Clinical Professor of Medicine at the Boston University Chobanian & Avedisian School of Medicine. She is a Board-Certified Endocrinologist whose clinical practice is within the Endocrinology, Diabetes, Nutrition and Weight Management section of Boston Medical Center. Dr. Cohen specializes in gender affirming hormone therapy and care for transgender and gender diverse individuals.
Additional areas of interest include the evaluation and treatment of hypogonadism (estrogen or testosterone deficiency) and Polycystic Ovarian Syndrome (PCOS).
Websites
Education
MD, Albert Einstein College of Medicine, 2003
Psychology, BA, Brandeis University, 1999
Publications
Published on 11/20/2012
Spitzer M, Basaria S, Travison TG, Davda MN, Paley A, Cohen B, Mazer NA, Knapp PE, Hanka S, Lakshman KM, Ulloor J, Zhang A, Orwoll K, Eder R, Collins L, Mohammed N, Rosen RC, DeRogatis L, Bhasin S. Effect of testosterone replacement on response to sildenafil citrate in men with erectile dysfunction: a parallel, randomized trial. Ann Intern Med. 2012 Nov 20; 157(10):681-91. PMID: 23165659.
Published on 4/1/2011
Kaplan B, Pearce E, Farwell A. Wiersinga W (ed.), Oxford Textbook of Endocrinology and Diabetes. Thyroiditis. Oxford University Press. 2011.
Published on 6/9/2010
Lakshman KM, Kaplan B, Travison TG, Basaria S, Knapp PE, Singh AB, LaValley MP, Mazer NA, Bhasin S. The effects of injected testosterone dose and age on the conversion of testosterone to estradiol and dihydrotestosterone in young and older men. J Clin Endocrinol Metab. 2010 Aug; 95(8):3955-64. PMID: 20534765.
Published on 8/1/2009
Kaplan B, Lee SL. Osteopenia and Primary amenorrhea: Are those the ovaries on the scan?. Endocrine Today. 2009; 10.
Published on 3/1/2008
Coviello AD, Kaplan B, Lakshman KM, Chen T, Singh AB, Bhasin S. Effects of 2008 Mar;93(3):914-9. Lee SL, Kaplan B. Pheochromocytoma imaging with an unremarkable biochemical evaluation. Endocrine Today. 2008; 6(20).
View full list of 5 publications.