Barbara E. Corkey PhD
Professor Emeritus, Endocrinology, Diabetes, Nutrition & Weight Management
Zoltan Kohn Professor, Medicine
650 Albany St | (617) 638-7091

bcorkey@bu.edu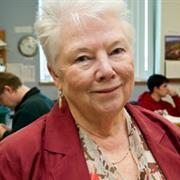 Sections
Endocrinology, Diabetes, Nutrition & Weight Management
Centers
Boston Nutrition Obesity Research Center
Evans Center for Interdisciplinary Biomedical Research
Biography
Dr. Barbara Corkey is Emeritus Professor of Medicine and Biochemistry. Dr. Corkey's work focuses on the metabolic regulation of signal transduction and energy metabolism in fat cells, β-cells, and human fibroblasts. She and her colleagues have been studying fuel-stimulated insulin secretion by the pancreatic β-cell; fuel partitioning in rat adipocytes; cytokine signaling; and Ca2+ transients in human fibroblasts from patients with inborn errors of fatty acid oxidation and Type 1 diabetes.
Other Positions
Professor Emeritus, Biochemistry
Websites
Education
PhD, University of Pennsylvania School of Medicine, 1981
Publications
Published on 4/6/2021
Roth J, Ashcroft FM, Wollheim CB, Kieffer TJ, Cherrington AD, Bergman RN, Taylor R, Najjar SM, Pedersen O, Ellingsgaard H, Holst JJ, Nauck MA, Kadowaki T, Czech MP, Corvera S, Saltiel AR, Corkey BE, Atkinson MA. Voices: Insulin and beyond. Cell Metab. 2021 Apr 06; 33(4):692-699. PMID: 33826910.
Published on 12/3/2020
Veliova M, Ferreira CM, Benador IY, Jones AE, Mahdaviani K, Brownstein AJ, Desousa BR, Acín-Pérez R, Petcherski A, Assali EA, Stiles L, Divakaruni AS, Prentki M, Corkey BE, Liesa M, Oliveira MF, Shirihai OS. Blocking mitochondrial pyruvate import in brown adipocytes induces energy wasting via lipid cycling. EMBO Rep. 2020 12 03; 21(12):e49634. PMID: 33275313.
Published on 11/3/2020
Corkey BE. Targeting Pyruvate Kinase PEPs Up Insulin Secretion and Improves Glucose Homeostasis. Cell Metab. 2020 11 03; 32(5):693-694. PMID: 33147479.
Published on 10/15/2020
Corkey BE, Deeney JT. The Redox Communication Network as a Regulator of Metabolism. Front Physiol. 2020; 11:567796. PMID: 33178037.
Published on 1/22/2020
Rumala CZ, Liu J, Locasale JW, Corkey BE, Deeney JT, Rameh LE. Exposure of Pancreatic ß-Cells to Excess Glucose Results in Bimodal Activation of mTORC1 and mTOR-Dependent Metabolic Acceleration. iScience. 2020 Feb 21; 23(2):100858. PMID: 32058969.
Published on 12/23/2019
Thomas DD, Stockman MC, Yu L, Meshulam T, McCarthy AC, Ionson A, Burritt N, Deeney J, Cabral H, Corkey B, Istfan N, Apovian CM. Effects of medium chain triglycerides supplementation on insulin sensitivity and beta cell function: A feasibility study. PLoS One. 2019; 14(12):e0226200. PMID: 31869355.
Published on 8/19/2019
Prentki M, Corkey BE, Madiraju SRM. Lipid-associated metabolic signalling networks in pancreatic beta cell function. Diabetologia. 2020 01; 63(1):10-20. PMID: 31423551.
Published on 8/1/2019
Nicholas DA, Proctor EA, Agrawal M, Belkina AC, Van Nostrand SC, Panneerseelan-Bharath L, Jones AR, Raval F, Ip BC, Zhu M, Cacicedo JM, Habib C, Sainz-Rueda N, Persky L, Sullivan PG, Corkey BE, Apovian CM, Kern PA, Lauffenburger DA, Nikolajczyk BS. Fatty Acid Metabolites Combine with Reduced ß Oxidation to Activate Th17 Inflammation in Human Type 2 Diabetes. Cell Metab. 2019 09 03; 30(3):447-461.e5. PMID: 31378464.
Published on 7/24/2019
Thomas DD, Corkey BE, Istfan NW, Apovian CM. Hyperinsulinemia: An Early Indicator of Metabolic Dysfunction. J Endocr Soc. 2019 Sep 01; 3(9):1727-1747. PMID: 31528832.
Published on 9/13/2018
Erion K, Corkey BE. ß-Cell Failure or ß-Cell Abuse? Front Endocrinol (Lausanne). 2018; 9:532. PMID: 30271382.
View full list of 253 publications.