Barbara E. Corkey PhD
Emeritus Professor, Endocrinology, Diabetes, Nutrition & Weight Management
Zoltan Kohn Professor, Medicine
650 Albany St | (617) 638-7091

bcorkey@bu.edu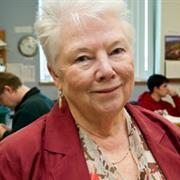 Sections
Endocrinology, Diabetes, Nutrition & Weight Management
Centers
Boston Nutrition Obesity Research Center
Evans Center for Interdisciplinary Biomedical Research
Biography
Dr. Barbara Corkey is Emeritus Professor of Medicine and Biochemistry. Dr. Corkey's work focuses on the metabolic regulation of signal transduction and energy metabolism in fat cells, β-cells, and human fibroblasts. She and her colleagues have been studying fuel-stimulated insulin secretion by the pancreatic β-cell; fuel partitioning in rat adipocytes; cytokine signaling; and Ca2+ transients in human fibroblasts from patients with inborn errors of fatty acid oxidation and Type 1 diabetes.
Other Positions
Websites
Education
PhD, University of Pennsylvania School of Medicine
Publications
Published on 7/24/2023
Corkey BE. Reactive oxygen species: role in obesity and mitochondrial energy efficiency. Philos Trans R Soc Lond B Biol Sci. 2023 Sep 11; 378(1885):20220210. PMID: 37482778.
Published on 5/23/2023
Heindel JJ, Alvarez JA, Atlas E, Cave MC, Chatzi VL, Collier D, Corkey B, Fischer D, Goran MI, Howard S, Kahan S, Kayhoe M, Koliwad S, Kotz CM, La Merrill M, Lobstein T, Lumeng C, Ludwig DS, Lustig RH, Myers P, Nadal A, Trasande L, Redman LM, Rodeheffer MS, Sargis RM, Stephens JM, Ziegler TR, Blumberg B. Obesogens and Obesity: State-of-the-Science and Future Directions Summary from a Healthy Environment and Endocrine Disruptors Strategies Workshop. Am J Clin Nutr. 2023 Jul; 118(1):329-337. PMID: 37230178.
Published on 10/3/2022
Corkey BE, Apovian CM. "En attendant Godot": Waiting for the answer to obesity and longevity. Obesity (Silver Spring). 2022 Nov; 30(11):2105-2106. PMID: 36192830.
Published on 10/1/2022
Corkey BE, Kilpatrick LE, Evans-Molina C. Hypothesis: Induction of Autoimmunity in Type 1 Diabetes-A Lipid Focus. Diabetes. 2022 Oct 01; 71(10):2067-2074. PMID: 36126206.
Published on 6/20/2022
Merrins MJ, Corkey BE, Kibbey RG, Prentki M. Metabolic cycles and signals for insulin secretion. Cell Metab. 2022 Jul 05; 34(7):947-968. PMID: 35728586.
Published on 11/12/2021
Schwartz SS, Rachfal AW, Corkey BE. The time is now for new, lower diabetes diagnostic thresholds. Trends Endocrinol Metab. 2022 01; 33(1):4-7. PMID: 34776305.
Published on 10/1/2021
Corkey BE, Deeney JT, Merrins MJ. What Regulates Basal Insulin Secretion and Causes Hyperinsulinemia? Diabetes. 2021 10; 70(10):2174-2182. PMID: 34593535.
Published on 9/27/2021
Istfan N, Hasson B, Apovian C, Meshulam T, Yu L, Anderson W, Corkey BE. Acute carbohydrate overfeeding: a redox model of insulin action and its impact on metabolic dysfunction in humans. Am J Physiol Endocrinol Metab. 2021 11 01; 321(5):E636-E651. PMID: 34569273.
Published on 4/6/2021
Roth J, Ashcroft FM, Wollheim CB, Kieffer TJ, Cherrington AD, Bergman RN, Taylor R, Najjar SM, Pedersen O, Ellingsgaard H, Holst JJ, Nauck MA, Kadowaki T, Czech MP, Corvera S, Saltiel AR, Corkey BE, Atkinson MA. Voices: Insulin and beyond. Cell Metab. 2021 04 06; 33(4):692-699. PMID: 33826910.
Published on 12/3/2020
Veliova M, Ferreira CM, Benador IY, Jones AE, Mahdaviani K, Brownstein AJ, Desousa BR, Acín-Pérez R, Petcherski A, Assali EA, Stiles L, Divakaruni AS, Prentki M, Corkey BE, Liesa M, Oliveira MF, Shirihai OS. Blocking mitochondrial pyruvate import in brown adipocytes induces energy wasting via lipid cycling. EMBO Rep. 2020 12 03; 21(12):e49634. PMID: 33275313.
View full list of 261 publications.