Avik Chatterjee MD, MPH
Assistant Professor, General Internal Medicine
801 Massachusetts Ave | (617) 414-7399

chatter@bu.edu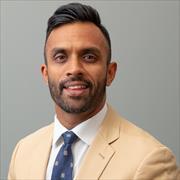 Sections
General Internal Medicine
Centers
Clinical Addiction Research and Education Unit
Evans Center for Interdisciplinary Biomedical Research
Biography
Dr. Chatterjee is a med-peds trained primary care and addiction medicine physician at several shelter-based clinics through Boston Health Care for the Homeless Program. His areas of clinical and research interest include innovative treatment models for opioid use disorder in marginalized populations, and interventions on social determinants of health, such as food insecurity. He has an additional interest in racism and health care, particularly its manifestations in medical education and training.
Websites
Education
Medicine, MD, University of North Carolina at Chapel Hill, 2008
Publications
Published on 5/17/2023
Swartz N, Odayappan S, Chatterjee A, Cutler D. Impact of Medicaid expansion on inclusion of medications for opioid use disorder in homeless adults' treatment plans. J Subst Use Addict Treat. 2023 May 17; 209059. PMID: 37207834.
Published on 4/19/2023
Dang N, Khunte M, Zhong A, Chatterjee A. Naloxone Online Information Exceeds the Recommended Reading Level for Patient Education Materials. J Stud Alcohol Drugs. 2023 Apr 19. PMID: 37096779.
Published on 4/5/2023
Chatterjee A, Bannister M, Hill LG, Davis CS. Prescribing Syringes to People Who Inject Drugs: Advancing Harm Reduction in Primary Care. J Gen Intern Med. 2023 Apr 05. PMID: 37020124.
Published on 4/3/2023
Chatterjee A, Weitz M, Savinkina A, Macmadu A, Madushani RWMA, Potee RA, Ryan D, Murphy SM, Walley AY, Linas BP. Estimated Costs and Outcomes Associated With Use and Nonuse of Medications for Opioid Use Disorder During Incarceration and at Release in Massachusetts. JAMA Netw Open. 2023 Apr 03; 6(4):e237036. PMID: 37058306.
Published on 11/11/2022
Chatterjee A, Dunleavy S, Gonzalez T, Benson J, Henault L, MacIntosh A, Goodell K, Witzburg R, Paasche-Orlow M. Health professions school applicant experiences of discrimination during interviews. Med Teach. 2023 May; 45(5):532-541. PMID: 36369780.
Published on 10/20/2022
Nolen S, Zang X, Chatterjee A, Behrends CN, Green TC, Linas BP, Morgan JR, Murphy SM, Walley AY, Schackman BR, Marshall BDL. Evaluating equity in community-based naloxone access among racial/ethnic groups in Massachusetts. Drug Alcohol Depend. 2022 Dec 01; 241:109668. PMID: 36309001.
Published on 7/27/2022
Morgan JR, Freibott CE, Jalali A, Jeng PJ, Walley AY, Chatterjee A, Green TC, Nolan ML, Linas BP, Marshall BDL, Murphy SM. The role of increasing pharmacy and community distributed naloxone in the opioid overdose epidemic in Massachusetts, Rhode Island, and New York City. Drug Alcohol Depend Rep. 2022 Sep; 4. PMID: 36337350.
Published on 4/3/2022
Adams JW, Savinkina A, Fox A, Behrends CN, Madushani RWMA, Wang J, Chatterjee A, Walley AY, Barocas JA, Linas BP. Modeling the cost-effectiveness and impact on fatal overdose and initiation of buprenorphine-naloxone treatment at syringe service programs. Addiction. 2022 Oct; 117(10):2635-2648. PMID: 35315148.
Published on 2/23/2022
Noyes EA, Dunleavy S, Mail V, Plakas I, Keyes S, Gaeta JM, Obando A, Paci E, Lent C, Regis C, Taveras EM, Yule AM, Chatterjee A. Awareness, Utilization, and Preferences of Harm Reduction Interventions among Street-Involved Young Adults in Boston. Subst Use Misuse. 2022; 57(5):827-832. PMID: 35195488.
Published on 2/23/2022
Swartz N, Adnan T, Peréa F, Baggett TP, Chatterjee A. "Sick and tired of being sick and tired": Exploring initiation of medications for opioid use disorder among people experiencing homelessness. J Subst Abuse Treat. 2022 Jul; 138:108752. PMID: 35277306.
View full list of 45 publications.