Avik Chatterjee MD, MPH
Assistant Professor, General Internal Medicine
801 Massachusetts Ave | (617) 414-7399

chatter@bu.edu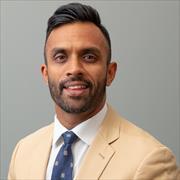 Sections
General Internal Medicine
Centers
Clinical Addiction Research and Education Unit
Evans Center for Interdisciplinary Biomedical Research
Biography
Dr. Chatterjee is a med-peds trained primary care and addiction medicine physician at several shelter-based clinics through Boston Health Care for the Homeless Program. His areas of clinical and research interest include innovative treatment models for opioid use disorder in marginalized populations, and interventions on social determinants of health, such as food insecurity. He has an additional interest in racism and health care, particularly its manifestations in medical education and training.
Websites
Education
Medicine, MD, University of North Carolina at Chapel Hill, 2008
Publications
Published on 4/3/2022
Adams JW, Savinkina A, Fox A, Behrends CN, Madushani RWMA, Wang J, Chatterjee A, Walley AY, Barocas JA, Linas BP. Modeling the cost-effectiveness and impact on fatal overdose and initiation of buprenorphine-naloxone treatment at syringe service programs. Addiction. 2022 Oct; 117(10):2635-2648. PMID: 35315148.
Published on 2/23/2022
Swartz N, Adnan T, Peréa F, Baggett TP, Chatterjee A. "Sick and tired of being sick and tired": Exploring initiation of medications for opioid use disorder among people experiencing homelessness. J Subst Abuse Treat. 2022 Jul; 138:108752. PMID: 35277306.
Published on 2/23/2022
Noyes EA, Dunleavy S, Mail V, Plakas I, Keyes S, Gaeta JM, Obando A, Paci E, Lent C, Regis C, Taveras EM, Yule AM, Chatterjee A. Awareness, Utilization, and Preferences of Harm Reduction Interventions among Street-Involved Young Adults in Boston. Subst Use Misuse. 2022; 57(5):827-832. PMID: 35195488.
Published on 2/1/2022
Chatterjee A, Glasgow L, Bullard M, Sabir M, Hamilton G, Chassler D, Stevens-Watkins DJ, Goddard-Eckrich D, Rodgers E, Chaya J, Rodriguez S, Gutnick DN, Oga EA, Salsberry P, Martinez LS. Placing Racial Equity at the Center of Substance Use Research: Lessons From the HEALing Communities Study. Am J Public Health. 2022 02; 112(2):204-208. PMID: 35080947.
Published on 12/5/2021
Nolen S, Zang X, Chatterjee A, Behrends CN, Green TC, Kumar A, Linas BP, Morgan JR, Murphy SM, Walley AY, Yan S, Schackman BR, Marshall BDL. Community-based naloxone coverage equity for the prevention of opioid overdose fatalities in racial/ethnic minority communities in Massachusetts and Rhode Island. Addiction. 2022 May; 117(5):1372-1381. PMID: 34825427.
Published on 12/3/2021
Sandoval RS, Dunleavy S, Afolabi T, Said JT, Connor J, Hossain A, Kassamali B, Kienka T, Srinivasan M, Cheng A, Ölveczky D, Chatterjee A. Equity in medical education: Addressing microaggressions and discrimination on the wards. Med Teach. 2022 May; 44(5):551-558. PMID: 34860635.
Published on 11/27/2021
Chatterjee A, Yan S, Xuan Z, Waye KM, Lambert AM, Green TC, Stopka TJ, Pollini RA, Morgan JR, Walley AY. Broadening access to naloxone: Community predictors of standing order naloxone distribution in Massachusetts. Drug Alcohol Depend. 2022 01 01; 230:109190. PMID: 34864356.
Published on 6/1/2021
Afolabi T, Borowsky HM, Cordero DM, Paul DW, Said JT, Sandoval RS, Davis D, Ölveczky D, Chatterjee A. Student-Led Efforts to Advance Anti-Racist Medical Education. Acad Med. 2021 06 01; 96(6):802-807. PMID: 33711839.
Published on 5/21/2021
Morgan JR, Walley AY, Murphy SM, Chatterjee A, Hadland SE, Barocas J, Linas BP, Assoumou SA. Characterizing initiation, use, and discontinuation of extended-release buprenorphine in a nationally representative United States commercially insured cohort. Drug Alcohol Depend. 2021 08 01; 225:108764. PMID: 34051547.
Published on 4/20/2021
McLaughlin MF, Li R, Carrero ND, Bain PA, Chatterjee A. Opioid use disorder treatment for people experiencing homelessness: A scoping review. Drug Alcohol Depend. 2021 07 01; 224:108717. PMID: 33985863.
View full list of 35 publications.