Avik Chatterjee MD, MPH
Assistant Professor, General Internal Medicine
801 Massachusetts Ave | (617) 414-7399

chatter@bu.edu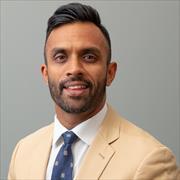 Sections
General Internal Medicine
Centers
Clinical Addiction Research and Education Unit
Evans Center for Interdisciplinary Biomedical Research
Biography
Dr. Chatterjee is a med-peds trained primary care and addiction medicine physician at several shelter-based clinics through Boston Health Care for the Homeless Program. His areas of clinical and research interest include innovative treatment models for opioid use disorder in marginalized populations, and interventions on social determinants of health, such as food insecurity. He has an additional interest in racism and health care, particularly its manifestations in medical education and training.
Websites
Education
Medicine, MD, University of North Carolina at Chapel Hill, 2008
Publications
Published on 6/1/2021
Afolabi T, Borowsky HM, Cordero DM, Paul DW, Said JT, Sandoval RS, Davis D, Ölveczky D, Chatterjee A. Student-Led Efforts to Advance Anti-Racist Medical Education. Acad Med. 2021 06 01; 96(6):802-807. PMID: 33711839.
Published on 5/21/2021
Morgan JR, Walley AY, Murphy SM, Chatterjee A, Hadland SE, Barocas J, Linas BP, Assoumou SA. Characterizing initiation, use, and discontinuation of extended-release buprenorphine in a nationally representative United States commercially insured cohort. Drug Alcohol Depend. 2021 08 01; 225:108764. PMID: 34051547.
Published on 4/20/2021
McLaughlin MF, Li R, Carrero ND, Bain PA, Chatterjee A. Opioid use disorder treatment for people experiencing homelessness: A scoping review. Drug Alcohol Depend. 2021 07 01; 224:108717. PMID: 33985863.
Published on 2/1/2021
Linas BP, Savinkina A, Madushani RWMA, Wang J, Eftekhari Yazdi G, Chatterjee A, Walley AY, Morgan JR, Epstein RL, Assoumou SA, Murphy SM, Schackman BR, Chrysanthopoulou SA, White LF, Barocas JA. Projected Estimates of Opioid Mortality After Community-Level Interventions. JAMA Netw Open. 2021 02 01; 4(2):e2037259. PMID: 33587136.
Published on 1/11/2021
McCormack L, Ponce J, Chatterjee A, Tan JK. Oxybutynin treatment for buprenorphine-naloxone-induced hyperhidrosis. JAAD Case Rep. 2021 Apr; 10:22-24. PMID: 33732840.
Published on 7/22/2020
Berkowitz SA, Cené CW, Chatterjee A. Covid-19 and Health Equity - Time to Think Big. N Engl J Med. 2020 Sep 17; 383(12):e76. PMID: 32706955.
Published on 4/3/2020
Sandoval RS, Afolabi T, Said J, Dunleavy S, Chatterjee A, Ölveczky D. Building a Tool Kit for Medical and Dental Students: Addressing Microaggressions and Discrimination on the Wards. MedEdPORTAL. 2020 04 03; 16:10893. PMID: 32352030.
Published on 4/1/2020
Chatterjee A. Capsule Commentary on Saha et al., Impact of Physician Race on Patient Decision-making and Ratings of Physicians. J Gen Intern Med. 2020 04; 35(4):1361. PMID: 32076991.
Published on 1/1/2020
Chatterjee A, Greif C, Witzburg R, Henault L, Goodell K, Paasche-Orlow MK. US Medical School Applicant Experiences of Bias on the Interview Trail. J Health Care Poor Underserved. 2020; 31(1):185-200. PMID: 32037326.
Published on 10/22/2019
Chatterjee A, Lopez D, Ramkellawan S, Brown R, Smith K, Gaeta JM, Baggett TP. "That's what we call the cocktail": Non-Opioid medication and supplement misuse among opioid users. Subst Abus. 2021; 42(2):175-182. PMID: 31638874.
View full list of 28 publications.