Aurada Cholapranee MD
Adjunct Clinical Assistant Professor, General Internal Medicine
72 East Concord Street, L-315 | (617) 562-5432

aurada@bu.edu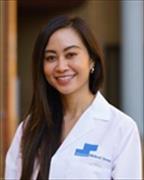 Sections
General Internal Medicine
Websites
Education
Medicine, MD, University of Pennsylvania School of Medicine, 2014
Biochemistry, BA, University of Pennsylvania, 2009
Publications
Published on 3/1/2023
Kassim G, Yzet C, Nair N, Debebe A, Rendon A, Colombel JF, Traboulsi C, Rubin DT, Maroli A, Coppola E, Carvello MM, Ben David N, De Lucia F, Sacchi M, Danese S, Spinelli A, Hirdes MMC, Ten Hove J, Oldenburg B, Cholapranee A, Riter M, Lukin D, Scherl E, Eren E, Sultan KS, Axelrad J, Sachar DB. Long-Term Outcomes of the Excluded Rectum in Crohn's Disease: A Multicenter International Study. Inflamm Bowel Dis. 2023 Mar 01; 29(3):417-422. PMID: 35522225.
Published on 3/1/2019
Cholapranee A, Trindade AJ. Challenges in Endoscopic Therapy of Dysplastic Barrett's Esophagus. Curr Treat Options Gastroenterol. 2019 Mar; 17(1):32-47. PMID: 30663018.
Published on 3/22/2017
Cholapranee A, Hazlewood GS, Kaplan GG, Peyrin-Biroulet L, Ananthakrishnan AN. Systematic review with meta-analysis: comparative efficacy of biologics for induction and maintenance of mucosal healing in Crohn's disease and ulcerative colitis controlled trials. Aliment Pharmacol Ther. 2017 May; 45(10):1291-1302. PMID: 28326566.
Published on 9/1/2016
Cholapranee A, Ananthakrishnan AN. Environmental Hygiene and Risk of Inflammatory Bowel Diseases: A Systematic Review and Meta-analysis. Inflamm Bowel Dis. 2016 09; 22(9):2191-9. PMID: 27482977.
Published on 7/3/2014
Cholapranee A, van Houten D, Deitrick G, Dagli M, Sudheendra D, Mondschein JI, Soulen MC. Risk of liver abscess formation in patients with prior biliary intervention following yttrium-90 radioembolization. Cardiovasc Intervent Radiol. 2015 Apr; 38(2):397-400. PMID: 24989145.
View full list of 5 publications.