Ashvin N. Pande MD
Clinical Associate Professor, Cardiovascular Medicine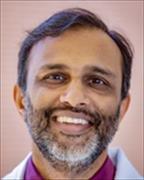 Sections
Cardiovascular Medicine
Biography
My expertise includes complex coronary interventions, vascular medicine and endovascular interventions, and percutaneous management of structural heart disease.
Education
MD, Duke University School of Medicine, 1999
Physics, AB, Harvard College, 1993
Publications
Published on 1/28/2021
Mazzotta C, Basu S, Gower AC, Karki S, Farb MG, Sroczynski E, Zizza E, Sarhan A, Pande AN, Walsh K, Dobrilovic N, Gokce N. Perivascular Adipose Tissue Inflammation in Ischemic Heart Disease. Arterioscler Thromb Vasc Biol. 2021 03; 41(3):1239-1250. PMID: 33504180.
Published on 2/19/2019
Pande AN, Jacobs AK. Reperfusion and Time to Presentation in Women: Too Little Too Late. J Am Heart Assoc. 2019 02 19; 8(4):e011835. PMID: 30767600.
Published on 5/14/2018
Jacobs AK, Pande AN. Revascularization for Stable Ischemic Heart Disease: The Courage to Use What We Have Learned. JACC Cardiovasc Interv. 2018 05 14; 11(9):876-878. PMID: 29747918.
Published on 7/28/2015
Pande AN, Jacobs AK. Percutaneous Coronary Intervention Without Onsite Cardiac Surgery: Ready for Take-Off? J Am Coll Cardiol. 2015 Jul 28; 66(4):373-5. PMID: 26205594.
Published on 1/3/2014
Pande AN, Jacobs AK. In-hospital ST-segment-elevation myocardial infarction: an inside-out approach. Circulation. 2014 Mar 18; 129(11):1193-5. PMID: 24389238.
Published on 6/11/2010
Desai SP, Januzzi JL, Pande AN, Pomerantsev EV, Resnic FS, Fossel A, Chibnik LB, Solomon DH. Comparison of symptoms, treatment, and outcomes of coronary artery disease among rheumatoid arthritis and matched subjects undergoing percutaneous coronary intervention. Semin Arthritis Rheum. 2010 Dec; 40(3):215-21. PMID: 20541791.
Published on 4/9/2007
Jaffer FA, Kim DE, Quinti L, Tung CH, Aikawa E, Pande AN, Kohler RH, Shi GP, Libby P, Weissleder R. Optical visualization of cathepsin K activity in atherosclerosis with a novel, protease-activatable fluorescence sensor. Circulation. 2007 May 1; 115(17):2292-8. PMID: 17420353.
Published on 3/22/2007
Nahrendorf M, Sosnovik DE, Waterman P, Swirski FK, Pande AN, Aikawa E, Figueiredo JL, Pittet MJ, Weissleder R. Dual channel optical tomographic imaging of leukocyte recruitment and protease activity in the healing myocardial infarct. Circ Res. 2007 Apr 27; 100(8):1218-25. PMID: 17379832.
Published on 3/1/2006
Pande AN, Kohler RH, Aikawa E, Weissleder R, Jaffer FA. Detection of macrophage activity in atherosclerosis in vivo using multichannel, high-resolution laser scanning fluorescence microscopy. J Biomed Opt. 2006 Mar-Apr; 11(2):021009. PMID: 16674184.
View full list of 9 publications.