Ashish Verma MD
Assistant Professor, Nephrology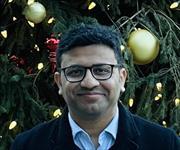 Biography
Dr. Verma is a clinician-investigator interested in chronic kidney disease (CKD), Renal Amyloidosis, cardiorenal syndrome, diabetic kidney disease (DKD), renal physiology, and electrolyte abnormalities. Dr. Verma's research projects include epidemiologic investigations utilizing large databases and translational and patient-oriented research projects. Ongoing studies include predictors of CKD progression using CRIC cohort and UK biobank, predictors of mortality in CKD patients using NHANES, a Physiology study examining the role of Kidney Function Reserve and renal plasma flow in phenotyping chronic kidney disease and the role of intravitreal VEGF inhibitors in causing nephrotoxicity.
Education
Medicine, MBBS, Stanley Medical School, 2012
Publications
Published on 4/30/2023
Claudel SE, Gandhi M, Patel AB, Verma A. Estimating kidney function in patients with cancer: A narrative review. Acta Physiol (Oxf). 2023 Jun; 238(2):e13977. PMID: 37057998.
Published on 4/1/2023
Buckley LF, Schmidt IM, Verma A, Palsson R, Adam D, Shah AM, Srivastava A, Waikar SS. Associations Between Kidney Histopathologic Lesions and Incident Cardiovascular Disease in Adults With Chronic Kidney Disease. JAMA Cardiol. 2023 Apr 01; 8(4):357-365. PMID: 36884237.
Published on 3/30/2023
Claudel SE, Jaganathan J, Patel A, Tapper EB, Verma A. Review article: Practical considerations for fluid resuscitation in cirrhosis. Aliment Pharmacol Ther. 2023 May; 57(10):1066-1082. PMID: 36998204.
Published on 11/7/2022
Liu J, Bankir L, Verma A, Waikar SS, Palsson R. Association of the Urine-to-Plasma Urea Ratio With CKD Progression. Am J Kidney Dis. 2023 Apr; 81(4):394-405. PMID: 36356680.
Published on 10/11/2022
Verma A, Vaidya A, Subudhi S, Waikar SS. Aldosterone in chronic kidney disease and renal outcomes. Eur Heart J. 2022 Oct 11; 43(38):3781-3791. PMID: 36219773.
Published on 9/15/2022
Claudel SE, Waikar SS, Verma A. Severe hyponatremia due to surreptitious water intoxication in a hospitalized patient. CEN Case Rep. 2023 May; 12(2):135-138. PMID: 36107392.
Published on 9/9/2022
Schmidt IM, Myrick S, Liu J, Verma A, Srivastava A, Palsson R, Onul IF, Stillman IE, Avillach C, Patil P, Waikar SS. The use of plasma biomarker-derived clusters for clinicopathologic phenotyping: results from the Boston Kidney Biopsy Cohort. Clin Kidney J. 2023 Jan; 16(1):90-99. PMID: 36726432.
Published on 8/31/2022
Ilori TO, Liu J, Rodan AR, Verma A, Mills KT, He J, Winkler CA, Dupuis J, Anderson CAM, Waikar SS. Apolipoprotein L1 Genotypes and the Association of Urinary Potassium Excretion with CKD Progression. Clin J Am Soc Nephrol. 2022 Oct; 17(10):1477-1486. PMID: 36400568.
Published on 4/13/2022
Ujjawal A, Schreiber B, Verma A. Sodium-glucose cotransporter-2 inhibitors (SGLT2i) in kidney transplant recipients: what is the evidence? Ther Adv Endocrinol Metab. 2022; 13:20420188221090001. PMID: 35450095.
Published on 3/2/2022
Claudel SE, Schmidt IM, Verma A. A Call for Implementation Science: Achieving Equitable Access to SGLT2 Inhibitors. Kidney360. 2022 May 26; 3(5):942-944. PMID: 36128478.
View full list of 41 publications.