Ashish Upadhyay MD
Associate Professor, Nephrology
Program Director, Nephrology Fellowship Program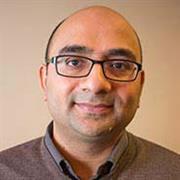 Centers
Evans Center for Interdisciplinary Biomedical Research
Biography
Dr. Upadhyay is a board-certified nephrologist with academic interests in examining the mechanisms of cardiovascular disease in patients with chronic kidney disease (CKD), hemodialysis systems, and evidence-based medicine (EBM). He has conducted epidemiologic research in the Framingham Heart Study, led the evidence review team for the Kidney Disease Improving Global Outcomes (KDIGO) clinical practice guidelines on lipid management in CKD, and participated in the evidence review teams for the KDIGO clinical practice guidelines on blood pressure management in CKD and anemia management in CKD. He maintains an active clinical practice in general nephrology, hemodialysis, and peritoneal dialysis, and is the Program Director of BU's Nephrology Fellowship Training Program. In addition, he directs research and EBM curriculum of BU's Internal Medicine Residency Program, and was an Associate Program Director of the Internal Medicine Residency Program from 2012 to 2018. Outside of BU, Dr. Upadhyay serves as a voting member of the Association for the Advancement of Medical Instrumentation (AAMI)'s Renal Disease and Detoxification Committee, the primary source of national and international consensus standards for hemodialysis technology and dialysis water sterilization processes.
Other Positions
Education
MBBS, Tribhuvan University, 2001
Publications
Published on 1/14/2023
Kamel MH, Upadhyay A, Borkan SC. Intractable hyponatremia complicated by a reset osmostat: a case report. J Med Case Rep. 2023 Jan 14; 17(1):13. PMID: 36639685.
Published on 1/1/2022
Bonner R, Stewart J, Upadhyay A, Bruce RD, Taylor JL. A Primary Care Intervention to Increase HIV Pre-Exposure Prophylaxis (PrEP) Uptake in Patients with Syphilis. J Int Assoc Provid AIDS Care. 2022 Jan-Dec; 21:23259582211073393. PMID: 35001723.
Published on 8/13/2021
Ataklte F, Song RJ, Upadhyay A, Musa Yola I, Vasan RS, Xanthakis V. Association of Mildly Reduced Kidney Function With Cardiovascular Disease: The Framingham Heart Study. J Am Heart Assoc. 2021 08 17; 10(16):e020301. PMID: 34387110.
Published on 6/4/2021
Kamel MH, Mahmoud H, Zhen A, Liu J, Bielick CG, Mostaghim A, Lin N, Chitalia V, Ilori T, Waikar SS, Upadhyay A. End-stage kidney disease and COVID-19 in an urban safety-net hospital in Boston, Massachusetts. PLoS One. 2021; 16(6):e0252679. PMID: 34086775.
Published on 9/23/2020
Bonner R, Albajrami O, Hudspeth J, Upadhyay A. Diabetic Kidney Disease. Prim Care. 2020 Dec; 47(4):645-659. PMID: 33121634.
Published on 4/21/2020
Verma A, Patel AB, Upadhyay A, Waikar SS. CREDENCE: Significant Victory for Diabetic Kidney Disease. Trends Endocrinol Metab. 2020 06; 31(6):391-393. PMID: 32327275.
Published on 4/7/2020
Neupane G, Acharya S, Bhattarai M, Upadhyay A, Belbase B, Bhandari M, Pandeya D, Pokharel S, Ghimire S, Thapa G, Karmacharya B, Bhatt MR, Spertus JA, Neupane D, Timsina L, Pokharel Y. Study, Design, and Rationale of Noncommunicable Diseases in Nepal (NCD Nepal) Study: A Community-Based Prospective Epidemiological and Implementation Study in Rural Nepal. Glob Adv Health Med. 2020; 9:2164956120917379. PMID: 32284911.
Published on 11/26/2019
Dennis M, Batalini F, Demers L, Upadhyay A. Overcoming barriers to resident scholarly productivity and research at a large academic institution. MedEdPublish. 2019; 8(3):1-11.
Published on 9/2/2019
Upadhyay A. Dialyzer reuse: is it safe and worth it? J Bras Nefrol. 2019 Sep 02; 41(3):312-314. PMID: 31508668.
Published on 3/8/2018
Toth PP, Dwyer JP, Cannon CP, Colhoun HM, Rader DJ, Upadhyay A, Louie MJ, Koren A, Letierce A, Mandel J, Banach M. Efficacy and safety of lipid lowering by alirocumab in chronic kidney disease. Kidney Int. 2018 06; 93(6):1397-1408. PMID: 29526502.
View full list of 43 publications.