Arturo Mendoza Cisneros PhD
Assistant Professor, Endocrinology, Diabetes, Nutrition & Weight Management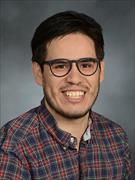 Sections
Endocrinology, Diabetes, Nutrition & Weight Management
Websites
Education
Biomedical Sciences, PhD, Universidad Nacional Autónoma de México, 2014
Chemistry, BS, Universidad Nacional Autónoma de México, 2011
Publications
Published on 11/16/2021
Mendoza A, Tang C, Choi J, Acuña M, Logan M, Martin AG, Al-Sowaimel L, Desai BN, Tenen DE, Jacobs C, Lyubetskaya A, Fu Y, Liu H, Tsai L, Cohen DE, Forrest D, Wilson AA, Hollenberg AN. Thyroid hormone signaling promotes hepatic lipogenesis through the transcription factor ChREBP. Sci Signal. 2021 11 16; 14(709):eabh3839. PMID: 34784250.
Published on 4/11/2019
Liang N, Damdimopoulos A, Goñi S, Huang Z, Vedin LL, Jakobsson T, Giudici M, Ahmed O, Pedrelli M, Barilla S, Alzaid F, Mendoza A, Schröder T, Kuiper R, Parini P, Hollenberg A, Lefebvre P, Francque S, Van Gaal L, Staels B, Venteclef N, Treuter E, Fan R. Hepatocyte-specific loss of GPS2 in mice reduces non-alcoholic steatohepatitis via activation of PPARa. Nat Commun. 2019 04 11; 10(1):1684. PMID: 30975991.
Published on 6/26/2018
Singh BK, Sinha RA, Tripathi M, Mendoza A, Ohba K, Sy JAC, Xie SY, Zhou J, Ho JP, Chang CY, Wu Y, Giguère V, Bay BH, Vanacker JM, Ghosh S, Gauthier K, Hollenberg AN, McDonnell DP, Yen PM. Thyroid hormone receptor and ERRa coordinately regulate mitochondrial fission, mitophagy, biogenesis, and function. Sci Signal. 2018 06 26; 11(536). PMID: 29945885.
Published on 9/18/2017
Mendoza A, Astapova I, Shimizu H, Gallop MR, Al-Sowaimel L, MacGowan SMD, Bergmann T, Berg AH, Tenen DE, Jacobs C, Lyubetskaya A, Tsai L, Hollenberg AN. NCoR1-independent mechanism plays a role in the action of the unliganded thyroid hormone receptor. Proc Natl Acad Sci U S A. 2017 10 03; 114(40):E8458-E8467. PMID: 28923959.
Published on 2/4/2017
Mendoza A, Hollenberg AN. New insights into thyroid hormone action. Pharmacol Ther. 2017 May; 173:135-145. PMID: 28174093.
Published on 1/4/2017
Hernández-Puga G, Mendoza A, León-Del-Río A, Orozco A. Jab1 is a T2-dependent coactivator or a T3-dependent corepressor of TRB1-mediated gene regulation. J Endocrinol. 2017 Mar; 232(3):451-459. PMID: 28053002.
Published on 1/26/2016
Hernández-Puga G, Navarrete-Ramírez P, Mendoza A, Olvera A, Villalobos P, Orozco A. 3,5-Diiodothyronine-mediated transrepression of the thyroid hormone receptor beta gene in tilapia. Insights on cross-talk between the thyroid hormone and cortisol signaling pathways. Mol Cell Endocrinol. 2016 Apr 15; 425:103-10. PMID: 26820127.
Published on 1/12/2015
Olvera A, Mendoza A, Villalobos P, Mayorga-Martínez L, Orozco A, Valverde-R C. The variable region of iodothyronine deiodinases directs their catalytic properties and subcellular localization. Mol Cell Endocrinol. 2015 Feb 15; 402:107-12. PMID: 25591907.
Published on 6/4/2013
Mendoza A, Navarrete-Ramírez P, Hernández-Puga G, Villalobos P, Holzer G, Renaud JP, Laudet V, Orozco A. 3,5-T2 is an alternative ligand for the thyroid hormone receptor ß1. Endocrinology. 2013 Aug; 154(8):2948-58. PMID: 23736295.
View full list of 9 publications.