Archana Asundi MD
Assistant Professor, Infectious Diseases
650 Albany St | (617) 414-5260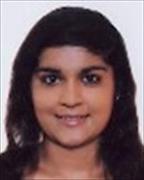 Sections
Infectious Diseases
Biography
Dr. Archana Asundi is a physician-scientist and infectious disease clinician, who specializes in care of people living with HIV with a specific focus on HIV and Aging. In her role Director of the Infectious Disease Clinical Research Unit (ID-CRU) at Boston Medical Center, she supports and oversees the conduct of a large portfolio of clinical trials and clinical-translational research studies in the Center for Infectious Disease (CID). Her individual research program focuses on investigating cardiometabolic comorbidities and weight gain/obesity among people living with HIV. She also engages in quality improvement and continuing medical education in the area of HIV and aging with several projects ongoing targeted around improvement of health-related quality of life among people aging with HIV.
Websites
Education
MD, McGill University, 2013
Psychology, BA, Tufts University, 2006
Publications
Published on 1/10/2022
Asundi A, Olson A, Jiang W, Varshney SP, White LF, Sagar M, Lin NH. Integrase Inhibitor Use Associated with Weight Gain in Women and Incident Diabetes Mellitus. AIDS Res Hum Retroviruses. 2022 03; 38(3):208-215. PMID: 34877881.
Published on 7/14/2021
Asundi A, O'Leary C, Bhadelia N. Global COVID-19 vaccine inequity: The scope, the impact, and the challenges. Cell Host Microbe. 2021 07 14; 29(7):1036-1039. PMID: 34265241.
Published on 4/7/2021
Asundi A, Resnik J, Benedict PA, Shin M, Rani Elwy A, Branch-Elliman W. How Are Emerging Data Translated Into Clinical Practice? A Mixed Methods Investigation of Coronavirus Disease 2019 Institutional Treatment Protocols. Open Forum Infect Dis. 2021 Apr; 8(4):ofab072. PMID: 33855102.
Published on 3/24/2020
Asundi A, Stanislawski M, Mehta P, Mull HJ, Schweizer ML, Barón AE, Ho PM, Gupta K, Branch-Elliman W. Development and Validation of a Semi-Automated Surveillance Algorithm for Cardiac Device Infections: Insights from the VA CART program. Sci Rep. 2020 03 24; 10(1):5276. PMID: 32210289.
Published on 1/30/2020
Mull HJ, Stolzmann K, Kalver E, Shin MH, Schweizer ML, Asundi A, Mehta P, Stanislawski M, Branch-Elliman W. Novel methodology to measure pre-procedure antimicrobial prophylaxis: integrating text searches with structured data from the Veterans Health Administration's electronic medical record. BMC Med Inform Decis Mak. 2020 01 30; 20(1):15. PMID: 32000780.
Published on 1/1/2020
Asundi A, Bhadelia N. Making Emergency Use of Experimental Vaccines Safer. AMA J Ethics. 2020 01 01; 22(1):E43-49. PMID: 31958390.
Published on 9/18/2019
Asundi A, Cervantes-Arslanian AM, Lin NH, Barbosa F. Infectious Myelitis. Semin Neurol. 2019 08; 39(4):472-481. PMID: 31533188.
Published on 8/15/2019
Asundi A, Robles Y, Starr T, Landay A, Kinslow J, Ladner J, White L, Plank RM, Melbourne K, Weisholtz D, Bennett M, Pan H, Stern E, Lin A, Kuritzkes DR, Lin NH. Immunological and Neurometabolite Changes Associated With Switch From Efavirenz to an Integrase Inhibitor. J Acquir Immune Defic Syndr. 2019 08 15; 81(5):585-593. PMID: 31045650.
Published on 6/4/2019
Asundi A, Stanislawski M, Mehta P, Baron AE, Mull HJ, Ho PM, Zimetbaum PJ, Gupta K, Branch-Elliman W. Real-world effectiveness of infection prevention interventions for reducing procedure-related cardiac device infections: Insights from the veterans affairs clinical assessment reporting and tracking program. Infect Control Hosp Epidemiol. 2019 08; 40(8):855-862. PMID: 31159895.
Published on 2/1/2019
Asundi A, Beliavsky A, Liu XJ, Akaberi A, Schwarzer G, Bisoffi Z, Requena-Méndez A, Shrier I, Greenaway C. Prevalence of strongyloidiasis and schistosomiasis among migrants: a systematic review and meta-analysis. Lancet Glob Health. 2019 02; 7(2):e236-e248. PMID: 30683241.
View full list of 12 publications.