Ansu M. Noronha MD
Clinical Associate Professor, Gastroenterology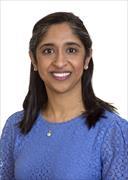 Biography
Dr. Ansu Noronha MD is a clinician-scientist with an expertise in Inflammatory Bowel Diseases and an Assistant Professor of Medicine at Boston University. She completed her clinical training at Boston Medical Center after receiving her MD from Jefferson Medical College. As a clinician in the Crohn's and Colitis Program at Boston Medical Center, she works as a part of a multi-disciplinary team of gastroenterologists, nutritionists, colorectal surgeons and pharmacists. Current research/clinical interests include the role of the microbiome in GI conditions including IBD, is trained in fecal microbiota transplant and chromoendoscopy.
Education
Medicine-Internal, MD, Thomas Jefferson University, 2003
Pre-Med, BS, Pennsylvania State University, 2001
Publications
Published on 1/2/2020
Satyam VR, Li PH, Reich J, Qazi T, Noronha A, Wasan SK, Farraye FA. Safety of Recombinant Zoster Vaccine in Patients with Inflammatory Bowel Disease. Dig Dis Sci. 2020 10; 65(10):2986-2991. PMID: 31897892.
Published on 10/21/2019
Shin D, Rahimi H, Haroon S, Merritt A, Vemula A, Noronha A, LeBedis CA. Imaging of Gastrointestinal Tract Perforation. Radiol Clin North Am. 2020 Jan; 58(1):19-44. PMID: 31731901.
Published on 12/7/2015
Naidu H, Farraye FA, Noronha A. Elective colectomy for severe ulcerative colitis may reduce mortality more than medical therapy. Evid Based Med. 2016 Feb; 21(1):29. PMID: 26642847.
Published on 6/1/2015
Reich JS, Miller HL, Wasan SK, Noronha A, Ardagna E, Sullivan K, Jacobson B, Farraye FA. Influenza and Pneumococcal Vaccination Rates in Patients With Inflammatory Bowel Disease. Gastroenterol Hepatol (N Y). 2015 Jun; 11(6):396-401. PMID: 27118933.
Published on 4/1/2013
Rehman MQ, Beal D, Liang Y, Noronha A, Winter H, Farraye FA, Ganley-Leal L. B cells secrete eotaxin-1 in human inflammatory bowel disease. Inflamm Bowel Dis. 2013 Apr; 19(5):922-33. PMID: 23511032.
Published on 12/1/2010
Noronha AM. New insights into the role of IL-17 in inflammatory bowel disease. Inflamm Bowel Dis. 2010 Dec; 16(12):2180-1. PMID: 20848534.
Published on 10/14/2010
Liang Y, Hasturk H, Elliot J, Noronha A, Liu X, Wetzler LM, Massari P, Kantarci A, Winter HS, Farraye FA, Ganley-Leal LM. Toll-like receptor 2 induces mucosal homing receptor expression and IgA production by human B cells. Clin Immunol. 2011 Jan; 138(1):33-40. PMID: 20947433.
Published on 8/30/2010
McDonnell M, Liang Y, Noronha A, Coukos J, Kasper DL, Farraye FA, Ganley-Leal LM. Systemic Toll-like receptor ligands modify B-cell responses in human inflammatory bowel disease. Inflamm Bowel Dis. 2011 Jan; 17(1):298-307. PMID: 20806343.
Published on 7/9/2009
Noronha AM, Liang Y, Hetzel JT, Hasturk H, Kantarci A, Stucchi A, Zhang Y, Nikolajczyk BS, Farraye FA, Ganley-Leal LM. Hyperactivated B cells in human inflammatory bowel disease. J Leukoc Biol. 2009 Oct; 86(4):1007-16. PMID: 19589946.
Published on 12/14/2001
Sauter ER, Ehya H, Mammen A, Klein G. Nipple aspirate cytology and pathologic parameters predict residual cancer and nodal involvement after excisional breast biopsy. Br J Cancer. 2001 Dec 14; 85(12):1952-7. PMID: 11747339.
View full list of 10 publications.