Anna Goldman MD
Assistant Professor, General Internal Medicine
801 Massachusetts Ave | (617) 414-5951

annagold@bu.edu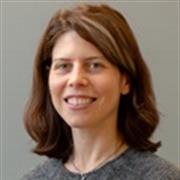 Sections
General Internal Medicine
Websites
Education
Medicine, MD, Mount Sinai School of Medicine, 2012
Public Health, MPH, Harvard School of Public Health, 2018
Public Affairs, MPA, Brown University, 2008
Art History, BA, Brown University, 2004
Publications
Published on 3/11/2022
Goldman AL, Gordon SH. Coverage Disruptions and Transitions Across the ACA's Medicaid/Marketplace Income Cutoff. J Gen Intern Med. 2022 Nov; 37(14):3570-3576. PMID: 35277806.
Published on 3/25/2021
Talutis SD, Childs E, Goldman AL, Knapp PE, Gupta A, Ferrao C, Feeney T, McAneny D, Drake FT. Strategies to optimize management of incidental radiographic findings in the primary care setting: A mixed methods study. Am J Surg. 2022 Feb; 223(2):297-302. PMID: 33810834.
Published on 11/1/2020
Goldman AL, Paasche-Orlow MK, Drake FT. Affordable Care Act Medicaid Expansion and Access to Outpatient Surgical Care. JAMA Surg. 2020 11 01; 155(11):1066-1067. PMID: 32822496.
Published on 7/10/2020
Hsu HE, Ashe EM, Silverstein M, Hofman M, Lange SJ, Razzaghi H, Mishuris RG, Davidoff R, Parker EM, Penman-Aguilar A, Clarke KEN, Goldman A, James TL, Jacobson K, Lasser KE, Xuan Z, Peacock G, Dowling NF, Goodman AB. Race/Ethnicity, Underlying Medical Conditions, Homelessness, and Hospitalization Status of Adult Patients with COVID-19 at an Urban Safety-Net Medical Center - Boston, Massachusetts, 2020. MMWR Morb Mortal Wkly Rep. 2020 Jul 10; 69(27):864-869. PMID: 32644981.
Published on 1/1/2020
Goldman AL, Sommers BD. Among Low-Income Adults Enrolled In Medicaid, Churning Decreased After The Affordable Care Act. Health Aff (Millwood). 2020 01; 39(1):85-93. PMID: 31905055.
Published on 7/23/2019
Gaffney A, McCormick D, Bor DH, Goldman A, Woolhandler S, Himmelstein DU. The Effects on Hospital Utilization of the 1966 and 2014 Health Insurance Coverage Expansions in the United States. Ann Intern Med. 2019 08 06; 171(3):172-180. PMID: 31330539.
Published on 7/1/2019
Agarwal SD, Goldman AL, Sommers BD. Blue-Collar Workers Had Greatest Insurance Gains After ACA Implementation. Health Aff (Millwood). 2019 07; 38(7):1140-1144. PMID: 31260350.
Published on 6/19/2019
Sommers BD, Goldman AL, Blendon RJ, Orav EJ, Epstein AM. Medicaid Work Requirements - Results from the First Year in Arkansas. N Engl J Med. 2019 09 12; 381(11):1073-1082. PMID: 31216419.
Published on 4/22/2019
Sommers BD, Goldman AL, Lee D, Epstein AM. Survey mode effects and insurance coverage estimates in the redesigned Gallup well-being index. Health Serv Res. 2019 08; 54(4):940-946. PMID: 31006859.
Published on 1/22/2019
Goldman AL, Sommers BD. Medicaid Expansion Gains Momentum: Postelection Prospects and Potential Implications. JAMA. 2019 Jan 22; 321(3):241-242. PMID: 30605218.
View full list of 14 publications.