Anica Law MD, MS
Assistant Professor, Pulmonary Disease
72 East Concord Street | (617) 358-2800

anicalaw@bu.edu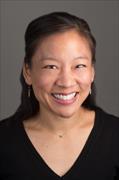 Biography
Dr. Law is a Pulmonary and Critical Care physician, clinical epidemiologist, and health services researcher with a focus improving outcomes of critically ill patients. Her research leverages large clinical and administrative databases to characterize external (e.g. legislation), internal (e.g. hospital and provider), and patient drivers of practice pattern variation, and determines how practice pattern variations (especially related to the placement of tracheostomy and gastrostomy tubes during acute critical illness, and the use use of post-acute care facilities after acute critical illness) affect long-term outcomes of the critically ill.
Websites
Education
MD, University of Pennsylvania School of Medicine, 2010
MS, Harvard School of Public Health, 2020
Biology, AB, Harvard College, 2006
Publications
Published on 10/13/2021
Jain S, Walkey AJ, Law AC, Ferrante LE, Lindenauer PK, Krumholz HM. Association between Residential Segregation and Long-Term Acute Care Hospital Performance on Improvement in Function among Ventilated Patients. Ann Am Thorac Soc. 2021 Oct 13. PMID: 34644244.
Published on 10/1/2021
Joseph B, Mackinson LG, Sokol-Hessner L, Law AC, DeSanto-Madeya S. CE: A Prone Positioning Protocol for Awake, Nonintubated Patients with COVID-19. Am J Nurs. 2021 10 01; 121(10):36-44. PMID: 34510111.
Published on 8/24/2021
Walkey AJ, Law A, Bosch NA. Lottery-Based Incentive in Ohio and COVID-19 Vaccination Rates. JAMA. 2021 08 24; 326(8):766-767. PMID: 34213530.
Published on 8/13/2021
Law AC, Stevens JP, Choi E, Shen C, Mehta AB, Yeh RW, Walkey AJ. Days Out of Institution Following Tracheostomy and Gastrostomy Placement in Critically Ill Older Adults. Ann Am Thorac Soc. 2021 Aug 13. PMID: 34388080.
Published on 12/1/2020
Maley JH, Law AC, Stevens JP. Evidence and Our Daily Risk Trade-offs in the Care of Critically Ill Patients. Am J Respir Crit Care Med. 2020 12 01; 202(11):1493-1494. PMID: 32777189.
Published on 11/1/2020
Law AC, Turnbull AE. Patient-Centered Outcomes After Sepsis: Disentangling Mind and Matter. Chest. 2020 11; 158(5):1808-1809. PMID: 33160521.
Published on 6/25/2020
Law AC, Weissman GE, Iwashyna TJ. A Dangerous Myth: Does Speaking Imply Breathing? Ann Intern Med. 2020 11 03; 173(9):754-755. PMID: 32584592.
Published on 4/15/2020
Law AC, Forbath N, O'Donoghue S, Stevens JP, Walkey AJ. Hospital-Level Availability of Prone Positioning in Massachusetts ICUs. Am J Respir Crit Care Med. 2020 04 15; 201(8):1006-1008. PMID: 31899648.
Published on 3/1/2020
Law AC, Stevens JP, Walkey AJ. The authors reply. Crit Care Med. 2020 03; 48(3):e249-e250. PMID: 32058389.
Published on 11/1/2019
Law AC, Stevens JP, Walkey AJ. National Trends in Timing of Death Among Patients With Septic Shock, 1994-2014. Crit Care Med. 2019 11; 47(11):1493-1496. PMID: 31397713.
View full list of 25 publications.