Anica Law MD, MS
Assistant Professor, Pulmonary, Allergy, Sleep & Critical Care Medicine
72 East Concord Street | (617) 358-2800

anicalaw@bu.edu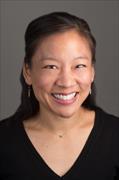 Sections
Pulmonary, Allergy, Sleep & Critical Care Medicine
Biography
Dr. Law is a Pulmonary and Critical Care physician, clinical epidemiologist, and health services researcher with a focus on understanding determinants of outcomes after critical illness. An unprecedented number of patients now survive the intensive care unit (ICU) but suffer severe organ dysfunction, requiring forms of long-term organ support, such as mechanical ventilation or artificial nutrition. Using both granular clinical and national claims databases, and leveraging natural experiments where feasible (e.g., policy changes), the goal of her research is to better inform decision-making during critical illness and the optimal delivery of care after acute critical illness.

Dr. Law serves as Deputy Editor at CHEST Critical Care. Within the American Thoracic Society, she is Chair of the Critical Care Assembly's Planning Committee.
Websites
Education
MD, University of Pennsylvania School of Medicine
MS, Harvard School of Public Health
Biology, AB, Harvard College
Publications
Published on 12/1/2023
Dinh J, Hinkle CF, Law AC, Walkey AJ, Bosch NA. Effect of Respiratory Viral Panel Adoption on Antibiotic Use in Ventilated Patients. Ann Am Thorac Soc. 2023 Dec; 20(12):1777-1783. PMID: 37748086.
Published on 11/1/2023
Vail EA, Bosch NA, Law AC, Gershengorn HB, Wunsch H, Walkey AJ. Adoption of a Novel Vasopressor Agent in Critically Ill Adults. Ann Am Thorac Soc. 2023 Nov; 20(11):1662-1667. PMID: 37590119.
Published on 10/25/2023
Shankar DA, Hawkins F, Alysandratos KD, Wilson KC, Walkey A, Bosch NA, Law AC. Uptake of Antifibrotics for Patients with Idiopathic Pulmonary Fibrosis: 2016-2022. Ann Am Thorac Soc. 2023 Oct 25. PMID: 37879035.
Published on 10/1/2023
Bosch NA, Law AC, Walkey AJ. Immortal Time Bias Possibly Affecting Fludrocortisone-Hydrocortisone Findings-Reply. JAMA Intern Med. 2023 Oct 01; 183(10):1178-1179. PMID: 37669033.
Published on 8/22/2023
Bosch NA, Law AC, Walkey AJ. Understanding the Facets of Emulating Randomized Clinical Trials. JAMA. 2023 Aug 22; 330(8):770. PMID: 37606680.
Published on 6/1/2023
Pang B, Kearney L, Maccarone J, Zhang J, Kearney C, Sangani R, Shankar DA, Gillmeyer KR, Law AC, Bosch NA. Association between Early Venous Thromboembolism Prophylaxis, Bleeding Risk, and Venous Thromboembolism among Critically Ill Patients with Thrombocytopenia. Ann Am Thorac Soc. 2023 Jun; 20(6):917-920. PMID: 36867519.
Published on 6/1/2023
Lee AG, Maley J, Hibbert K, Akgün KM, Hauschildt KE, Law A, Kaminski N, Hayes M, Gesthalter Y, Bosslet GT, Santhosh L, Witkin A, Hills-Dunlap K, Çoruh B, Gershengorn HB, Hardin CC. Medical Societies Must Choose Professional Meeting Locations Responsibly in a Post-Roe World. Ann Am Thorac Soc. 2023 Jun; 20(6):781-784. PMID: 36812378.
Published on 5/9/2023
Bosch NA, Teja B, Law AC, Wunsch H, Walkey AJ. Arterial Pressure Response to an Increase in Norepinephrine Varies Depending on the Baseline Norepinephrine Dose in Patients With Septic Shock. Chest. 2023 Nov; 164(5):1228-1231. PMID: 37169282.
Published on 5/8/2023
Siddiqui S, Kelly L, Bosch N, Law A, Patel LA, Perkins N, Armaignac DL, Zabolotskikh I, Christie A, Krishna Mohan S, Deo N, Bansal V, Kumar VK, Gajic O, Kashyap R, Domecq JP, Boman K, Walkey A, Banner-Goodspeed V, Schaefer MS. Discharge Disposition and Loss of Independence Among Survivors of COVID-19 Admitted to Intensive Care: Results From the SCCM Discovery Viral Infection and Respiratory Illness Universal Study (VIRUS). J Intensive Care Med. 2023 Oct; 38(10):931-938. PMID: 37157813.
Published on 5/1/2023
Bosch NA, Teja B, Law AC, Pang B, Jafarzadeh SR, Walkey AJ. Comparative Effectiveness of Fludrocortisone and Hydrocortisone vs Hydrocortisone Alone Among Patients With Septic Shock. JAMA Intern Med. 2023 May 01; 183(5):451-459. PMID: 36972033.
View full list of 51 publications.