Andreea M. Bujor MD, PhD
Assistant Professor, Rheumatology
72 East Concord Street | (617) 638-4312

andreea@bu.edu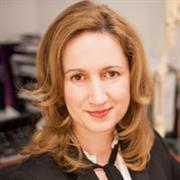 Centers
Arthritis & Autoimmune Diseases Research Center
Evans Center for Interdisciplinary Biomedical Research
Education
Medicine, MD, Iuliu Hațieganu University of Medicine and Pharmacy, 1999
Medicine, PhD, Iuliu Hațieganu University of Medicine and Pharmacy, 2016
Molecular Biology, MS, Iuliu Hațieganu University of Medicine and Pharmacy, 2003
Publications
Published on 8/19/2021
Valero-Muñoz M, Oh A, Faudoa E, Bretón-Romero R, El Adili F, Bujor A, Sam F. Endothelial-Mesenchymal Transition in Heart Failure With a Preserved Ejection Fraction: Insights Into the Cardiorenal Syndrome. Circ Heart Fail. 2021 Sep; 14(9):e008372. PMID: 34407636.
Published on 6/3/2021
Lui JK, Sangani RA, Chen CA, Bujor AM, Trojanowski MA, Gopal DM, LaValley MP, Wiener RS, Klings ES. The Prognostic Value of Cardiac Axis Deviation in Systemic Sclerosis-related Pulmonary Hypertension. Arthritis Care Res (Hoboken). 2021 Jun 03. PMID: 34085410.
Published on 10/9/2020
Mazzotta C, Marden G, Farina A, Bujor A, Trojanowski MA, Trojanowska M. FLI1 and ERG protein degradation is regulated via Cathepsin B lysosomal pathway in human dermal microvascular endothelial cells. Microcirculation. 2021 01; 28(1):e12660. PMID: 32979864.
Published on 7/31/2020
Marden G, Wan Q, Wilks J, Nevin K, Feeney M, Wisniacki N, Trojanowski M, Bujor A, Stawski L, Trojanowska M. The role of the oncostatin M/OSM receptor ß axis in activating dermal microvascular endothelial cells in systemic sclerosis. Arthritis Res Ther. 2020 07 31; 22(1):179. PMID: 32736577.
Published on 5/19/2020
Bujor AM, El Adili F, Parvez A, Marden G, Trojanowska M. Fli1 Downregulation in Scleroderma Myeloid Cells Has Profibrotic and Proinflammatory Effects. Front Immunol. 2020; 11:800. PMID: 32508810.
Published on 9/6/2019
Bujor AM, Janjua S, LaValley MP, Duran J, Braun J, Felson DT. Comparison of oral versus parenteral methotrexate in the treatment of rheumatoid arthritis: A meta-analysis. PLoS One. 2019; 14(9):e0221823. PMID: 31490947.
Published on 8/1/2019
Martirossian L, Bujor AM, Kissin E. Basic Calcium Phosphate Crystal Periarthritis Involving the Distal Interphalangeal Joints in a Patient with Systemic Lupus Erythematosus. Am J Case Rep. 2019 Aug 01; 20:1132-1137. PMID: 31366882.
Published on 5/1/2013
Christmann RB, Mathes A, Affandi AJ, Padilla C, Nazari B, Bujor AM, Stifano G, Lafyatis R. Thymic stromal lymphopoietin is up-regulated in the skin of patients with systemic sclerosis and induces profibrotic genes and intracellular signaling that overlap with those induced by interleukin-13 and transforming growth factor ß. Arthritis Rheum. 2013 May; 65(5):1335-46. PMID: 23335246.
Published on 1/1/2013
Chan ES, Liu H, Fernandez P, Luna A, Perez-Aso M, Bujor AM, Trojanowska M, Cronstein BN. Adenosine A(2A) receptors promote collagen production by a Fli1- and CTGF-mediated mechanism. Arthritis Res Ther. 2013; 15(3):R58. PMID: 23663495.
Published on 10/5/2012
Bujor AM, Haines P, Padilla C, Christmann RB, Junie M, Sampaio-Barros PD, Lafyatis R, Trojanowska M. Ciprofloxacin has antifibrotic effects in scleroderma fibroblasts via downregulation of Dnmt1 and upregulation of Fli1. Int J Mol Med. 2012 Dec; 30(6):1473-80. PMID: 23041765.
View full list of 25 publications.