Amy M. Linsky MD, MSc
Associate Professor, General Internal Medicine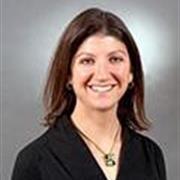 Sections
General Internal Medicine
Biography
Amy Linsky, MD, MSc is an Assistant Professor of Medicine in General Internal Medicine at the Boston University School of Medicine and a clinician-investigator in the Section of General Internal Medicine and at the Center for Healthcare Organization and Implementation Research (CHOIR) at VA Boston Healthcare System.

She obtained her MD from the University of Medicine and Dentistry of New Jersey – Robert Wood Johnson Medical School (now Rutgers Medical School) and her Master of Science in Health Services Research from Boston University School of Public Health. She completed her Internal Medicine residency at the Hospital of the University of Pennsylvania and both her Preventive Medicine residency and General Internal Medicine Fellowship at Boston Medical Center. She is practicing internist in VA Primary Care.

Dr. Linsky's research interests focus on reducing low-value care. Specifically, she has conducted multiple studies related to deprescribing, an intentional, patient-centered approach to reducing overmedication and polypharmacy, that aims to improve patient safety and quality of care. Her work has also focused on medication reconciliation, patient-provider communication, patient engagement, and coordination of care. Dr. Linsky has used a variety of methods to accomplish her work, including qualitative, survey development and analyses, large database studies, and interventions. Her work has been supported by multiple grants from VA Health Services Research and Development, including a Career Development Award.
Education
MD, University of Medicine and Dentistry of New Jersey, 2005
Public Health, MSc, Boston University School of Public Health, 2010
Psychology, BS, Duke University, 2000
Publications
Published on 6/11/2021
Baughman AW, Triantafylidis LK, O'Neil N, Norstrom J, Okpara K, Ruopp MD, Linsky A, Schnipper J, Mixon AS, Simon SR. Improving Medication Reconciliation with Comprehensive Evaluation at a Veterans Affairs Skilled Nursing Facility. Jt Comm J Qual Patient Saf. 2021 Oct; 47(10):646-653. PMID: 34244044.
Published on 6/1/2021
Fix GM, Linsky AM. Leveraging patient-centered approaches to discuss firearm storage safety. J Gen Intern Med. 2021 06; 36(6):1487-1489. PMID: 33791936.
Published on 5/15/2021
Zimmerman KM, Linsky AM. A narrative review of updates in deprescribing research. J Am Geriatr Soc. 2021 Sep; 69(9):2619-2624. PMID: 33991423.
Published on 3/9/2021
Wiener RS, Kim SYI, Fried TR, Cohen J, Foglia MB, Lehmann LS, Linsky AM. Early Changes in Rates of Documented Goals-of-Care Conversations in the Veterans Health Administration During the COVID-19 Pandemic. J Gen Intern Med. 2021 05; 36(5):1466-1469. PMID: 33751412.
Published on 10/13/2020
Mull HJ, Shin MH, Engle RL, Linsky AM, Kalver E, Lamkin R, Sullivan JL. Veterans Perceptions of Satisfaction and Convenience with Anticoagulants for Atrial Fibrillation: Warfarin versus Direct Oral Anticoagulants. Patient Prefer Adherence. 2020; 14:1911-1922. PMID: 33116435.
Published on 10/7/2020
Linsky AM, Stolzmann K, Meterko M. The Patient Perceptions of Deprescribing (PPoD) Survey: Short-Form Development. Drugs Aging. 2020 12; 37(12):909-916. PMID: 33026638.
Published on 10/4/2020
Hawley CE, Genovese N, Owsiany MT, Triantafylidis LK, Moo LR, Linsky AM, Sullivan JL, Paik JM. Rapid Integration of Home Telehealth Visits Amidst COVID-19: What Do Older Adults Need to Succeed? J Am Geriatr Soc. 2020 11; 68(11):2431-2439. PMID: 32930391.
Published on 8/20/2020
Bloomfield HE, Greer N, Linsky AM, Bolduc J, Naidl T, Vardeny O, MacDonald R, McKenzie L, Wilt TJ. Deprescribing for Community-Dwelling Older Adults: a Systematic Review and Meta-analysis. J Gen Intern Med. 2020 11; 35(11):3323-3332. PMID: 32820421.
Published on 8/3/2020
Mitchell NS, Stolzmann K, Benning LV, Wormwood JB, Linsky AM. Effect of a Scoring Rubric on the Review of Scientific Meeting Abstracts. J Gen Intern Med. 2020 Aug 03. PMID: 32748347.
Published on 1/1/2020
Zimmerman KM, Linsky AM, Donohoe KL, Hobgood SE, Sargent L, Salgado TM. An Interprofessional Workshop to Enhance De-prescribing Practices Among Health Care Providers. J Contin Educ Health Prof. 2020; 40(1):49-57. PMID: 32149948.
View full list of 34 publications.