Amy Fitzpatrick MD
Assistant Professor, General Internal Medicine
Instructor, General Internal Medicine
801 Massachusetts Ave | (617) 414-5951

amyfitz@bu.edu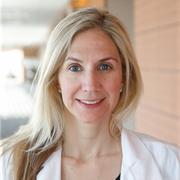 Sections
General Internal Medicine
Centers
Clinical Addiction Research and Education Unit
Center of Excellence in Women's Health 
Biography
Women's Health
Breast Health
Addiction
Websites
Education
Medicine-Internal, MD, Boston University School of Medicine, 2006
MS, Purdue University, 2001
Biology, BS, University of New Hampshire, 1998
Publications
Published on 11/1/2019
Fitzpatrick A, Tutt A. Controversial issues in the neoadjuvant treatment of triple-negative breast cancer. Ther Adv Med Oncol. 2019; 11:1758835919882581. PMID: 31700549.
Published on 1/14/2019
Kijewska M, Viski C, Turrell F, Fitzpatrick A, van Weverwijk A, Gao Q, Iravani M, Isacke CM. Using an in-vivo syngeneic spontaneous metastasis model identifies ID2 as a promoter of breast cancer colonisation in the brain. Breast Cancer Res. 2019 01 14; 21(1):4. PMID: 30642388.
Published on 10/22/2018
Gunn CM, Fitzpatrick A, Waugh S, Carrera M, Kressin NR, Paasche-Orlow MK, Battaglia TA. A Qualitative Study of Spanish-Speakers' Experience with Dense Breast Notifications in a Massachusetts Safety-Net Hospital. J Gen Intern Med. 2019 02; 34(2):198-205. PMID: 30350031.
View full list of 3 publications.