Amresh D. Hanchate PhD
Adjunct Associate Professor, General Internal Medicine
Associate Professor, Health Law, Policy & Management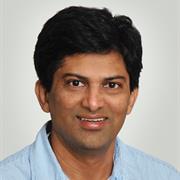 Sections
General Internal Medicine
Centers
Evans Center for Interdisciplinary Biomedical Research
Biography
I am an Associate Professor at Boston University School of Medicine and Health Economist at VA Boston Healthcare System. My research spans multiple areas: a) disparities in healthcare access and outcomes, b) health reform, c) health outcomes evaluation, and d) comparative and cost effectiveness.

I have many years of investigator experience studying the role of uninsurance, out-of-pocket costs and limited health literacy in understanding racial/ethnic disparities in healthcare utilization and outcomes, with recent applications to acute stroke, joint replacement and HPV vaccination.

Current research covers: a) impact of Massachusetts health reform on access to care, b) national estimates in inpatient disparities for Hispanics, c) disparities in access to ED care, and d) sensitivity of veterans demand for VA care to external (non-VA) local and regional conditions. Other topics of current research include, disparities in adoption of HPV vaccination, joint replacement procedure use, comparative effectiveness of high vs. low intensity VTE prophylaxis agents, and modeling the impact of low health literacy on health outcomes.

I also have extensive experience in the use of large observations data (clinical, administrative and survey), and expertise in the application of advanced statistical and econometric methods. My research has been funded by NIH, AHRQ and VA.
Other Positions
Websites
Education
Economics, PhD, University of Wisconsin Madison, 1992
Economics, MA, University of Pittsburgh, 1985
Economics, BA, Loyola College in Maryland, 1983
Publications
Published on 8/9/2021
Yarrington CD, Smith-Lin C, Neuhalfen R, Hanchate A, Connors P, Wang C. Racial and ethnic differences in uptake of cell-free fetal DNA aneuploidy screening in an urban safety net hospital. Prenat Diagn. 2021 Aug 09. PMID: 34369603.
Published on 7/1/2021
Drainoni ML, Biancarelli D, Jansen E, Bernstein J, Joseph N, Eun TJ, Fenton AHTR, Clark JA, Hanchate A, Legler A, Schuch TJ, Leschly K, Perkins RB. Provider and Practice Experience Integrating the Dose-HPV Intervention into Clinical Practice. J Contin Educ Health Prof. 2021 Jul 01; 41(3):195-201. PMID: 33973928.
Published on 6/1/2021
Lasser KE, Liu Z, Lin MY, Paasche-Orlow MK, Hanchate A. Changes in Hospitalizations at US Safety-Net Hospitals Following Medicaid Expansion. JAMA Netw Open. 2021 Jun 01; 4(6):e2114343. PMID: 34191000.
Published on 5/31/2021
McCall MH, Wester KL, Bray JW, Hanchate AD, Veach LJ, Smart BD, Wachter Morris C. SBIRT administered by mental health counselors for hospitalized adults with substance misuse or disordered use: Evaluating hospital utilization and costs. J Subst Abuse Treat. 2021 May 31; 132:108510. PMID: 34098211.
Published on 5/19/2021
Chen MT, Krzyszczyk DM, Brown AGM, Kressin N, Terrin N, Hanchate A, Suzukida J, Kher S, Price LL, LeClair AM, Byhoff E, Freund KM. Diabetes Control During Massachusetts Insurance Reform. J Racial Ethn Health Disparities. 2021 May 19. PMID: 34009559.
Published on 3/26/2021
Lin MY, Hanchate AD, Frakt AB, Burgess JF, Carey K. Do accountable care organizations differ according to physician-hospital integration?: A retrospective observational study. Medicine (Baltimore). 2021 Mar 26; 100(12):e25231. PMID: 33761713.
Published on 3/26/2021
Lu FQ, Hanchate AD, Paasche-Orlow MK. Racial/ethnic disparities in emergency department wait times in the United States, 2013-2017. Am J Emerg Med. 2021 Sep; 47:138-144. PMID: 33812329.
Published on 3/19/2021
Banerjee S, Paasche-Orlow MK, McCormick D, Lin MY, Hanchate AD. Association between Medicare's Hospital Readmission Reduction Program and readmission rates across hospitals by medicare bed share. BMC Health Serv Res. 2021 Mar 19; 21(1):248. PMID: 33740969.
Published on 2/2/2021
Schulson L, Lin MY, Paasche-Orlow MK, Hanchate AD. Limited English Proficient Patient Visits and Emergency Department Admission Rates for Ambulatory Care Sensitive Conditions in California: a Retrospective Cohort Study. J Gen Intern Med. 2021 Sep; 36(9):2683-2691. PMID: 33528781.
Published on 1/21/2021
Brown AGM, Kressin N, Terrin N, Hanchate A, Suzukida J, Kher S, Price LL, LeClair AM, Krzyszczyk D, Byhoff E, Freund KM. The Influence of Health Insurance Stability on Racial/Ethnic Differences in Diabetes Control and Management. Ethn Dis. 2021; 31(1):149-158. PMID: 33519165.
View full list of 83 publications.