Amresh D. Hanchate PhD
Adjunct Associate Professor, General Internal Medicine
Associate Professor, Health Law, Policy & Management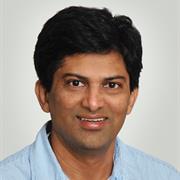 Sections
General Internal Medicine
Centers
Evans Center for Interdisciplinary Biomedical Research
Biography
I am an Associate Professor at Chobanian and Avedisian School of Medicine and Health Economist at VA Boston Healthcare System. My research spans multiple areas: a) disparities in healthcare access and outcomes, b) health reform, c) health outcomes evaluation, and d) comparative and cost effectiveness.

I have many years of investigator experience studying the role of uninsurance, out-of-pocket costs and limited health literacy in understanding racial/ethnic disparities in healthcare utilization and outcomes, with recent applications to acute stroke, joint replacement and HPV vaccination.

Current research covers: a) impact of Massachusetts health reform on access to care, b) national estimates in inpatient disparities for Hispanics, c) disparities in access to ED care, and d) sensitivity of veterans demand for VA care to external (non-VA) local and regional conditions. Other topics of current research include, disparities in adoption of HPV vaccination, joint replacement procedure use, comparative effectiveness of high vs. low intensity VTE prophylaxis agents, and modeling the impact of low health literacy on health outcomes.

I also have extensive experience in the use of large observations data (clinical, administrative and survey), and expertise in the application of advanced statistical and econometric methods. My research has been funded by NIH, AHRQ and VA.
Other Positions
Websites
Education
Economics, PhD, University of Wisconsin Madison, 1992
Economics, MA, University of Pittsburgh, 1985
Economics, BA, Loyola College in Maryland, 1983
Publications
Published on 5/27/2022
Jirmanus LZ, Ranker L, Touw S, Mahmood R, Kimball SL, Hanchate A, Lasser KE. Impact of United States 2017 Immigration Policy changes on missed appointments at two Massachusetts Safety-Net Hospitals. J Immigr Minor Health. 2022 Aug; 24(4):807-818. PMID: 35624394.
Published on 5/1/2022
Ellison J, Wang C, Yarrington C, Connors P, Hanchate A. Insurance and geographic variations in non-invasive prenatal testing. Prenat Diagn. 2022 Jul; 42(8):1004-1007. PMID: 35484945.
Published on 5/1/2022
Kher S, LeClair AM, Price LL, Terrin N, Kressin N, Hanchate A, Suzukida J, Freund KM. Impact of Insurance Instability and Racial/Ethnic Disparities in Hospitalizations for Patients with Asthma. Ann Am Thorac Soc. 2022 May; 19(5):867-870. PMID: 34860640.
Published on 4/8/2022
Eneanya ND, Lakin JR, Paasche-Orlow MK, Lindvall C, Moseley ET, Henault L, Hanchate AD, Mandel EI, Wong SPY, Zupanc SN, Davis AD, El-Jawahri A, Quintiliani LM, Chang Y, Waikar SS, Bansal AD, Schell JO, Lundquist AL, Tamura MK, Yu MK, Unruh ML, Argyropoulos C, Germain MJ, Volandes A. Video Images about Decisions for Ethical Outcomes in Kidney Disease (VIDEO-KD): the study protocol for a multi-centre randomised controlled trial. BMJ Open. 2022 Apr 08; 12(4):e059313. PMID: 35396311.
Published on 3/15/2022
Banerjee S, Paasche-Orlow MK, McCormick D, Lin MY, Hanchate AD. Readmissions performance and penalty experience of safety-net hospitals under Medicare's Hospital Readmissions Reduction Program. BMC Health Serv Res. 2022 Mar 15; 22(1):338. PMID: 35287693.
Published on 11/24/2021
Kapoor A, Sadiq H, Patel J, Zhang N, Mazor K, Crawford S, Chen Z, Gurwitz J, McManus D, Hanchate A. Disparities in Anticoagulation Use by Race and Ethnicity in Long-Term Care Residents With Atrial Fibrillation. J Am Heart Assoc. 2021 12 07; 10(23):e023428. PMID: 34816732.
Published on 11/24/2021
Hanchate AD, Qi D, Stopyra JP, Paasche-Orlow MK, Baker WE, Feldman J. Potential bypassing of nearest emergency department by EMS transports. Health Serv Res. 2022 04; 57(2):300-310. PMID: 34723392.
Published on 8/19/2021
Yarrington CD, Smith-Lin C, Neuhalfen R, Hanchate A, Connors P, Wang C. Racial and ethnic differences in uptake of cell-free fetal DNA aneuploidy screening in an urban safety net hospital. Prenat Diagn. 2021 Oct; 41(11):1389-1394. PMID: 34369603.
Published on 7/1/2021
Drainoni ML, Biancarelli D, Jansen E, Bernstein J, Joseph N, Eun TJ, Fenton AHTR, Clark JA, Hanchate A, Legler A, Schuch TJ, Leschly K, Perkins RB. Provider and Practice Experience Integrating the Dose-HPV Intervention into Clinical Practice. J Contin Educ Health Prof. 2021 07 01; 41(3):195-201. PMID: 33973928.
Published on 6/1/2021
Lasser KE, Liu Z, Lin MY, Paasche-Orlow MK, Hanchate A. Changes in Hospitalizations at US Safety-Net Hospitals Following Medicaid Expansion. JAMA Netw Open. 2021 06 01; 4(6):e2114343. PMID: 34191000.
View full list of 90 publications.