Alena Goldman MD
Voluntary Assistant Professor, General Internal Medicine
72 E. Concord Street | (617) 789-2060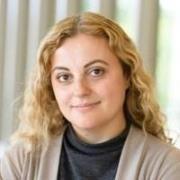 Sections
General Internal Medicine
Websites
Education
Medicine, MD, University of Cincinnati College of Medicine, 2003
BSc, University of Cincinnati, 1998
Publications
Published on 9/21/2022
Orlov MV, Nikolaychuk M, Koulouridis I, Goldman A, Natan S, Armstrong J, Bhattacharya A, Hicks A, King M, Wylie J. Left bundle area pacing: Guiding implant depth by ring measurements. Heart Rhythm. 2023 Jan; 20(1):55-60. PMID: 36152975.
Published on 10/28/2020
Hegde S, Yesodharan G, Tedrow J, Goldman A. Massive Pulmonary Embolism Complicating Coronavirus Disease 2019 (COVID-19) Pneumonia: A Case Report. Case Rep Crit Care. 2020; 2020:8875330. PMID: 33133702.
Published on 10/19/2010
Zimetbaum P, Goldman A. Ambulatory arrhythmia monitoring: choosing the right device. Circulation. 2010 Oct 19; 122(16):1629-36. PMID: 20956237.
Published on 1/1/2010
Peters D, Goldman A, Goddu B, Kissinger K, Manning W, Hauser T, Taclas J. Pulmonary Vein and Left Atrial Changes During the Cardiac Cycle, Pre and Post Pulmonary Vein Isolation. J of Cardiovascular Magnetic Resonance. 2010; 142.
Published on 6/1/2003
Goldman A, Gebrail F, Cualing H. Pathologic quiz case: a 56-year-old woman with a recurring neck mass. Arch Pathol Lab Med. 2003 Jun; 127(6):e285-7. PMID: 12741927.
Published on 1/1/2003
Chow T, Schloss E, Waller T, Chung E, Menon S, Booth T, Goldman A, Ely E, Cohen R,
Kereiakes D. Enhancing Specificity Without Sacrificing Sensitivity: Potential Benefits of Using Microvolt T-Wave Alternans Testing to Risk Stratify the MADIT-II Population. Cardiac Electrophysiology Review. 2003; 7(4):438-442.
Published on 1/1/2003
Goldman A, Bedolla G, Gebrail F, Cualing H. Bronchus-associated lymphoid tissue lymphoma. Arch Pathol Lab Med. 2003 Jan; 127(1):115-6. PMID: 12562279.
View full list of 7 publications.