Afolarin Amodu MD/MPH
Assistant Professor, Nephrology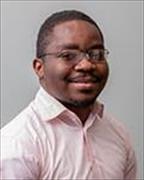 Publications
Published on 11/10/2021
Schmidt IM, Sarvode Mothi S, Wilson PC, Palsson R, Srivastava A, Onul IF, Kibbelaar ZA, Zhuo M, Amodu A, Stillman IE, Rennke HG, Humphreys BD, Waikar SS. Circulating Plasma Biomarkers in Biopsy-Confirmed Kidney Disease. Clin J Am Soc Nephrol. 2022 01; 17(1):27-37. PMID: 34759008.
Published on 9/22/2021
Amodu A, Porteny T, Schmidt IM, Ladin K, Waikar SS. Nephrologists' Attitudes Toward Native Kidney Biopsy: A Qualitative Study. Kidney Med. 2021 Nov-Dec; 3(6):1022-1031. PMID: 34939011.
Published on 3/4/2020
Palsson R, Short SAP, Kibbelaar ZA, Amodu A, Stillman IE, Rennke HG, McMahon GM, Waikar SS. Bleeding Complications After Percutaneous Native Kidney Biopsy: Results From the Boston Kidney Biopsy Cohort. Kidney Int Rep. 2020 Apr; 5(4):511-518. PMID: 32274455.
Published on 12/16/2019
McMahon GM, Amodu A, Sise ME, Mothi SS, Palsson R, Waikar SS. Physician Attitudes on Kidney Biopsies for Research: A Survey Study. Kidney Med. 2020 Jan-Feb; 2(1):82-84. PMID: 32734230.
Published on 9/19/2013
Amodu A, Abramowitz MK. Dietary acid, age, and serum bicarbonate levels among adults in the United States. Clin J Am Soc Nephrol. 2013 Dec; 8(12):2034-42. PMID: 24052219.
View full list of 5 publications.