Adam C. Gower PhD
Research Assistant Professor, Computational Biomedicine
Data Analyst, Clinical and Translational Science Institute
72 East Concord Street | (617) 358-7138

agower@bu.edu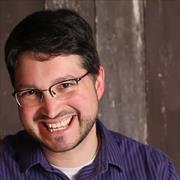 Sections
Computational Biomedicine
Centers
BU-BMC Cancer Center
Pulmonary Center
Education
Bioinformatics, PhD, Boston University, 2012
Biochemistry, MS, University of Massachusetts Amherst, 2000
Biochemistry, BS, University of Massachusetts Amherst, 1997
Publications
Published on 8/17/2021
Koyuncu D, Niazi MKK, Tavolara T, Abeijon C, Ginese ML, Liao Y, Mark C, Specht A, Gower AC, Restrepo BI, Gatti DM, Kramnik I, Gurcan M, Yener B, Beamer G. CXCL1: A new diagnostic biomarker for human tuberculosis discovered using Diversity Outbred mice. PLoS Pathog. 2021 Aug; 17(8):e1009773. PMID: 34403447.
Published on 5/14/2021
Tavolara TE, Niazi MKK, Gower AC, Ginese M, Beamer G, Gurcan MN. Deep learning predicts gene expression as an intermediate data modality to identify susceptibility patterns in Mycobacterium tuberculosis infected Diversity Outbred mice. EBioMedicine. 2021 May; 67:103388. PMID: 34000621.
Published on 1/28/2021
Mazzotta C, Basu S, Gower AC, Karki S, Farb MG, Sroczynski E, Zizza E, Sarhan A, Pande AN, Walsh K, Dobrilovic N, Gokce N. Perivascular Adipose Tissue Inflammation in Ischemic Heart Disease. Arterioscler Thromb Vasc Biol. 2021 03; 41(3):1239-1250. PMID: 33504180.
Published on 6/5/2020
Sofer T, Li R, Joehanes R, Lin H, Gower AC, Wang H, Kurniansyah N, Cade BE, Lee J, Williams S, Mehra R, Patel SR, Quan SF, Liu Y, Rotter JI, Rich SS, Spira A, Levy D, Gharib SA, Redline S, Gottlieb DJ. Low oxygen saturation during sleep reduces CD1D and RAB20 expressions that are reversed by CPAP therapy. EBioMedicine. 2020 Jun; 56:102803. PMID: 32512511.
Published on 5/13/2019
Norman TA, Gower AC, Chen F, Fine A. Transcriptional landscape of pulmonary lymphatic endothelial cells during fetal gestation. PLoS One. 2019; 14(5):e0216795. PMID: 31083674.
Published on 11/23/2018
Abdolmaleky HM, Gower AC, Wong CK, Cox JW, Zhang X, Thiagalingam A, Shafa R, Sivaraman V, Zhou JR, Thiagalingam S. Aberrant transcriptomes and DNA methylomes define pathways that drive pathogenesis and loss of brain laterality/asymmetry in schizophrenia and bipolar disorder. Am J Med Genet B Neuropsychiatr Genet. 2019 03; 180(2):138-149. PMID: 30468562.
Published on 9/26/2018
Kathuria H, Millien G, McNally L, Gower AC, Tagne JB, Cao Y, Ramirez MI. NKX2-1-AS1 negatively regulates CD274/PD-L1, cell-cell interaction genes, and limits human lung carcinoma cell migration. Sci Rep. 2018 09 26; 8(1):14418. PMID: 30258080.
Published on 9/13/2018
Noguchi T, Hussein AI, Horowitz N, Carroll D, Gower AC, Demissie S, Gerstenfeld LC. Hypophosphatemia Regulates Molecular Mechanisms of Circadian Rhythm. Sci Rep. 2018 09 13; 8(1):13756. PMID: 30213970.
Published on 8/22/2018
Francis IP, Islam EA, Gower AC, Shaik-Dasthagirisaheb YB, Gray-Owen SD, Wetzler LM. Murine host response to Neisseria gonorrhoeae upper genital tract infection reveals a common transcriptional signature, plus distinct inflammatory responses that vary between reproductive cycle phases. BMC Genomics. 2018 Aug 22; 19(1):627. PMID: 30134832.
Published on 3/6/2018
Pine PS, Lund SP, Parsons JR, Vang LK, Mahabal AA, Cinquini L, Kelly SC, Kincaid H, Crichton DJ, Spira A, Liu G, Gower AC, Pass HI, Goparaju C, Dubinett SM, Krysan K, Stass SA, Kukuruga D, Van Keuren-Jensen K, Courtright-Lim A, Thompson KL, Rosenzweig BA, Sorbara L, Srivastava S, Salit ML. Summarizing performance for genome scale measurement of miRNA: reference samples and metrics. BMC Genomics. 2018 03 06; 19(1):180. PMID: 29510677.
View full list of 53 publications.