Adam C. Gower PhD
Research Assistant Professor, Computational Biomedicine
Data Analyst, Clinical and Translational Science Institute
72 East Concord Street | (617) 358-7138

agower@bu.edu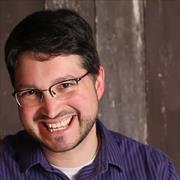 Sections
Computational Biomedicine
Centers
BU-BMC Cancer Center
Pulmonary Center
Education
Bioinformatics, PhD, Boston University, 2012
Biochemistry/Molecular Biology, MS, University of Massachusetts Amherst, 2000
Biochemistry/Molecular Biology, BS, University of Massachusetts Amherst, 1997
Publications
Published on 4/14/2023
Perazza LR, Gower AC, Brown-Borg HM, Pajevic PD, Thompson LV. Protectin DX as a therapeutic strategy against frailty in mice. Geroscience. 2023 Apr 14. PMID: 37059838.
Published on 1/30/2023
Zhang M, Lotfollahzadeh S, Elzinad N, Yang X, Elsadawi M, Gower A, Belghasem M, Shazly T, Kolachalama VB, Chitalia V. Alleviating iatrogenic effects of paclitaxel via anti-inflammatory treatment. Res Sq. 2023 Jan 30. PMID: 36778300.
Published on 1/27/2023
Xu K, Diaz AA, Duan F, Lee M, Xiao X, Liu H, Liu G, Cho MH, Gower AC, Alekseyev YO, Spira A, Aberle DR, Washko GR, Billatos E, Lenburg ME. Bronchial gene expression alterations associated with radiological bronchiectasis. Eur Respir J. 2023 Jan; 61(1). PMID: 36229050.
Published on 11/2/2022
Moreira JD, Gower AC, Xue L, Alekseyev Y, Smith KK, Choi SH, Ayalon N, Farb MG, Tenan K, LeClerc A, Levy D, Benjamin EJ, Lenburg ME, Mitchell RN, Padera RF, Fetterman JL, Gopal DM. Systematic dissection, preservation, and multiomics in whole human and bovine hearts. Cardiovasc Pathol. 2023; 63:107495. PMID: 36334690.
Published on 10/28/2022
Xu K, Shi X, Husted C, Hong R, Wang Y, Ning B, Sullivan TB, Rieger-Christ KM, Duan F, Marques H, Gower AC, Xiao X, Liu H, Liu G, Duclos G, Platt M, Spira AE, Mazzilli SA, Billatos E, Lenburg ME, Campbell JD, Beane JE. Smoking modulates different secretory subpopulations expressing SARS-CoV-2 entry genes in the nasal and bronchial airways. Sci Rep. 2022 Oct 28; 12(1):18168. PMID: 36307504.
Published on 4/28/2022
Tsukahara Y, Ferran B, Minetti ET, Chong BSH, Gower AC, Bachschmid MM, Matsui R. Administration of Glutaredoxin-1 Attenuates Liver Fibrosis Caused by Aging and Non-Alcoholic Steatohepatitis. Antioxidants (Basel). 2022 Apr 28; 11(5). PMID: 35624731.
Published on 12/10/2021
Lu D, Demissie S, Horowitz NB, Gower AC, Lenburg ME, Alekseyev YO, Hussein AI, Bragdon B, Liu Y, Daukss D, Page JM, Webster MZ, Schlezinger JJ, Morgan EF, Gerstenfeld LC. Temporal and Quantitative Transcriptomic Differences Define Sexual Dimorphism in Murine Postnatal Bone Aging. JBMR Plus. 2022 Feb; 6(2):e10579. PMID: 35229061.
Published on 10/28/2021
Xu K, Shi X, Husted C, Hong R, Wang Y, Ning B, Sullivan T, Rieger-Christ K, Duan F, Marques H, Gower A, Xiao X, Liu H, Liu G, Duclos G, Platt M, Spira A, Mazzilli S, Billatos E, Lenburg M, Campbell J, Beane J. Smoking Modulates Different Secretory Subpopulations Expressing SARS-CoV-2 Entry Genes in the Nasal and Bronchial Airways. Res Sq. 2021 Oct 28. PMID: 34729557.
Published on 9/1/2021
Maoz A, Merenstein C, Koga Y, Potter A, Gower AC, Liu G, Zhang S, Liu H, Stevenson C, Spira A, Reid ME, Campbell JD, Mazzilli SA, Lenburg ME, Beane J. Elevated T cell repertoire diversity is associated with progression of lung squamous cell premalignant lesions. J Immunother Cancer. 2021 09; 9(9). PMID: 34580161.
Published on 8/17/2021
Koyuncu D, Niazi MKK, Tavolara T, Abeijon C, Ginese ML, Liao Y, Mark C, Specht A, Gower AC, Restrepo BI, Gatti DM, Kramnik I, Gurcan M, Yener B, Beamer G. CXCL1: A new diagnostic biomarker for human tuberculosis discovered using Diversity Outbred mice. PLoS Pathog. 2021 08; 17(8):e1009773. PMID: 34403447.
View full list of 62 publications.